Famous slave trader celebrated in Bristol again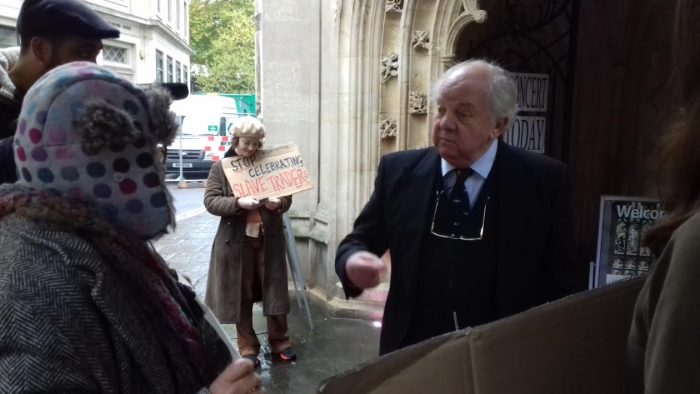 Protests against Edward Colston celebrations continued yesterday as official birthday event marked the end of a fortnight of celebrations and fundraising.
Words and photo: Jenny Stringer
As men in top hats and tails arrived they were greeted with shouts of 'Shame!'
Anger surrounding the celebration of Edward Colston, Bristol's most famous slave trader, continued yesterday (14th November) as campaigners gathered outside St Stephens Church to protest the annual service of 'thanksgiving' in Colston's name.
As a group of mainly elderly white men in top hats and tails arrived they were greeted with shouts of 'Shame!' from the crowd who believe that to celebrate Colston is 'obscene' and an insult to the victims of slavery.
Edward Colston was a 17th century slave trader and Bristol MP. In the mid-18th century, three charitable societies were established to 'honour' his memory (Grateful, Anchor and Dolphin), all connected to the Merchant Venturers, a secretive and powerful group of businessmen and politicians that Colston was also once a member of. They continue to view Colston as a 'generous philanthropist' who deserves to be celebrated, and choose to dismiss his involvement in slavery as an unfortunate element to the story.
The presence of Edward Colston still lingers throughout Bristol; from statues and boats, memorials, street names and schools. For over a decade there have been calls for Colston Hall to change its name and statues to be removed.
Yesterday, Colstons' official birthday, culminated a fortnight of celebrations and fundraising, which has seen a number of protests and actions, including covering his city centre statue with posters stating 'murderer' and 'kidnapper'.
The protest outside St Stephens Church has been organised now for the second year running by a group called 'Countering Colston.' One of their members, Kate Finnegan, is an ex-Colston Girls school pupil who remembers taking part in the Colston celebrations when she was at the school. She spoke about a feeling of betrayal and disgust when she found out who Colston was. Last year, the Daily Mail picked up local news reports, warning pupils to avoid protesters who might spot their uniform and approach them. Inside the church yesterday, members of Colston Girls School choir were keen to talk to campaigners.
After the service, one of the Merchant Venturers, who wouldn't give me his name, came out to explain to the campaigners that Colston 'despite wrongdoings was a huge benefactor' and his contribution should be celebrated as such. The Reverend Daniel Tyndall, acknowledging Colston was 'wrong,' asked campaigners to use 'their passion about history and Edward Colston' to address current wrongs in today's society. As a campaigner pointed out – that's key to their argument: in order to move on and learn from past 'wrongs,' they first need to be acknowledged. The campaigners ask for the groups involved to stop celebrating him, and acknowledge the human 'cargo' that helped him make his name and wealth.,
Edward Colston's view of who was deserving of his help was very narrow. However groups celebrating Colston are very keen to stress the charitable works they do as a means of looking to the future and moving away from the atrocities of the past. However, societies involved in the celebrations did not return calls to comment on the issue.
There are calls throughout Bristol to address the lack of memorial to the undeniable role slavery has in the city's history. There are currently three references; two plaques and Pero's Bridge in the Habourside. The architect Herman Morgan has proposed plans for another memorial at Severn Beach – TSTM (the Transatlantic Slave Trade Memorial). Over six years in the planning now, the project has struggled to attract enough funding. Morgan however confirmed the project is still live and in the New Year a campaign manager will be tasked with moving the project forward.