Hundreds protest against school takeover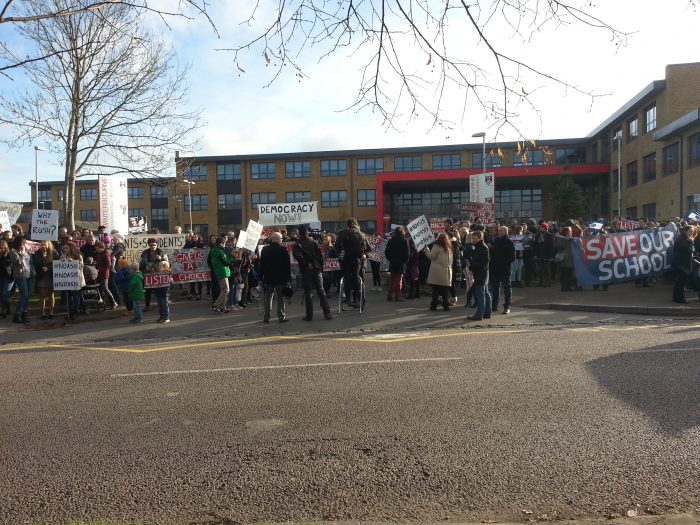 Protest at Winterbourne International Academy to oppose takeover by Oasis academy chain – as school hit by a 'financial notice to improve' from government.
A hundreds-strong protest took place at the gates of Winterbourne International Academy on Saturday, after a week of dramatic developments at the troubled school.
On Friday, the school's management received a 'financial notice to improve' letter from the government demanding rapid and dramatic improvement in the school's financial situation – while on Sunday the school appeared in the Sunday Times' 250 top schools list based on exceptional exam results.
The protest was part of the 'Save our School' campaign launched last week by parents, staff and pupils who are demanding that they be given a say in how their school is run and oppose a potential takeover by national chain Oasis Community Learning.
Despite the top results, the school is currently facing a reported £1million budget deficit by September 2017, prompting a management decision to 're-broker' the school and transfer ownership to a new academy chain – which was taken without consultation from the school community. The protesters claim that a big multi-academy trust such as Oasis could drive down standards at the school.
"I'm extremely concerned about Oasis Community Learning. If we join that MAT [multi-academy trust] then it would be a fundamental change of our school and I'm very concerned about that, as well as the lack of transparency in the decision-making processes." said Susannah Wilkinson, parent of two Winterbourne pupils, at Saturday's protest. "I was told that nothing would happen until at least January. But within four weeks of being told that, we will join a multi-academy trust."
The preferred option of the parents and staff is a collaboration of local trusts CSET and Olympus.
Nigel Varley, joint secretary of South Gloucester NUT, said of the protest: "It's important because its an assertion of community and democratic interests in schools. Schools have to been to all intents and purposes privatised now, turned into businesses. This is showing that parents, loads of kids, the community, want their school back."
"The teachers are being forced to pay for this crisis."
On Friday this week, the staff learned that the school's trust – Ridings Federation, which also runs a sister school at Yate – has been issued a 'financial notice to improve'. Now the Board of Trustees have until February to submit a financial review and action plan to the Education Funding Agency (EFA).
The trust is under threat of having its funding agreement with government terminated if it does not address the reported £1million projected deficit, a figure disputed by staff and the NUT.
The action plan, the letter states, must include details on how the school can achieve a balanced budget by the end of 2017/18, along with a 'clear timeline for the recovery of the repayable deficit funding'. It also stipulates 'a clear efficiency and savings plan setting out specific areas where further savings can be made to include further staffing efficiencies if needed'.
Staff report that the school already has the equivalent of 14.7 fewer full time teachers this academic year compared to 2015/16.
The EFA have instructed the school to withhold the 1% pay increase awarded to teachers by the government, and the pay progression that teachers would normally be entitled to, says Nigel Varley.
"The teachers are being forced to pay for this crisis." he comments, describing the decision as 'madness'. "The only thing that that means is that they're forcing us into strike action. There's nothing else we can do."
Government data shows that the number of 'financial notices to improve' issue to academy trusts jumped to 25 in 2016 from just seven in 2015. Union leaders claimed the upswing was a result of lack of accountability in the academy system amid funding cuts, which resulted in a "toxic environment".
A petition to education secretary Justine Greening has already been signed by over 1,600 people. The Save our School campaign is also encouraging supporters to lobby politicians. Local MPs Jack Lopresti and Luke Hall released a statement last week following an influx of constituents getting in touch about the school, saying they will organise a meeting with the Justine Greening 'next week'.
The schools' chair of the Board of Trustees, Claire Emery, did not respond to requests to comment on this story.
Read more about the crisis at Winterbourne International Academy here.