Mayor pressured to take on Government over cuts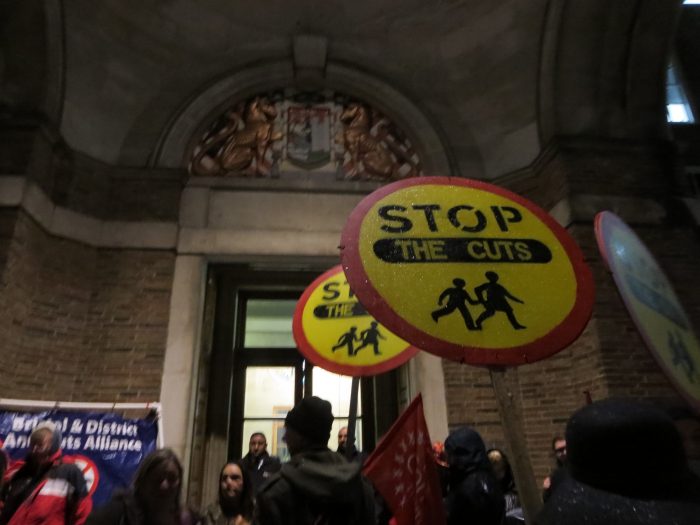 Councillors, activists and trade union members joined council workers and members of the public on Tuesday to protest £92million of proposed cuts to Bristol City Council's budget.
Additional reporting by Isaac Kneebone Hopkins
The demonstration, organised by the Bristol People's Assembly and trade union  Unite, took place on a wet and chilly evening on college green during the full council meeting.
Around 40 protestors, some wearing high-vis clothing and carrying 'stop the cuts' signs, gathered outside city hall to call for Mayor Marvin Rees to put a stop to the cuts and 1,000 proposed job losses – including all of Bristol's 'lollipop' school crossing patrol officers.
The People's Assembly are calling for Marvin Rees to lead a delegation from England's ten 'core cities' to Westminster to demand central government provide more funding to local councils.
A spokesman for the Bristol People's Assembly said: "The proposed cuts to the Council's budget of £92 million over five years would unavoidably mean thousands of jobs being lost and significant negative impacts upon essential services such as care and support for vulnerable adults, children, families and communities, already under massive strain – with "simply not enough staff" and "people left unsupported" – according to social workers."
In August Marvin Rees announced a round of voluntary redundancies as part of the council's plan to axe 1,000 jobs – 15% of the council workforce – before the end of the year in a bid to save around £29million.
Steve Paines, the Unite convener for Bristol council, told the Cable that Unite had been involved in negotiations over the job cuts. Mr Paines said: "The current situation at the moment is 284 [council workers] have gone on voluntary measures. They had over 700 come forward but they've been quite selective about who they've allowed to go. So we now have a situation where it's going to be a lot more complicated and a lot more difficult and this is where there may be compulsory redundancies. It is going to get much more unpleasant and much more difficult as the council moves forward towards next march trying to get their staffing figures down."
The Bristol People's Assembly are calling on Marvin Rees to take the fight to the Tories and reject the cuts outright. They say the fact that Rees was recently elected on an anti-austerity ticket and that Bristol is a net contributor to treasury as well as being disproportionately affected by the cuts means that Rees is the right man to head a coalition of the ten Labour-controlled 'core cities' in demanding an increase in council funding from central government.
Jack Hazeldine a protest organiser from the People's Assembly said: "The consensus has been that we should encourage local councils and city leaders to formulate 'alternative budgets'. So, formulate 'need budgets' and present them both to government and the media, and say 'this is what we need, this the gap between that and the funding we are currently getting.'"
This is reminiscent of the clashes in the mid-80s between Labour councils and Margaret Thatcher's Tory government. As explored by the Cable before, some Labour-controlled councils threatened to refuse to set a budget, this illegal move would have required central government administrators to step in and take over the provision of public services.
The councils eventually backed down and Westminster has retained powers to restrict council budgets ever since, by capping council tax or business rates, for example.
Mr Hazeldine said: "That's a call that some people have been making, to refuse to implement these cuts, to implement an illegal budget, so to speak. [Rees] made it very clear that he won't do that. Its not necessarily the most politically productive thing to keep insisting on that. We've got one of the biggest Labour parties in the country in this city and he was elected on this specific left-wing basis. We should be putting constructive pressure on him and saying OK, so you won't do an illegal budget, but actually what you should absolutely be doing is standing up to government and making these challenges. And before the February budget. Because that is what people elected you to do. Otherwise they didn't elect George Ferguson twice who did nothing on any of this really."
Sherryl
Care worker
I am a care worker and I'm on disability benefits myself. I'm down here tonight because I'm fed up with the cuts, especially to people with disabilities, because so many people have died from it now, thousands of people have died from having their benefits cut.
A lots of these council cuts are going to affect disabled people. I was chatting to someone yesterday who works for a disabilities service doing drop-in for mental health and people with physical disabilities as well. And it looks like they're going to be cut quite a lot too. So its going to be more difficult for people to get help.
I'm hoping to be able to get other people more involved in doing things as well, doing more direct actions rather than just asking nicely.
Paula O'Rourke
Green Party councillor for Clifton
I'm down here today because I want to oppose in any way I can the cuts that are being suggested for Bristol.
Local government is caught in a vice which is being imposed by Westminster and we shouldn't really stand for it anymore. We can't implement these cuts and live in a decent society.
Marvin said that we need to be bold. Well what I'm saying to him is that he needs to be bold for Bristol. He needs to be bold and go to Westminster and make demands and even go to the point where he should threaten not to balance this budget because the austerity package is too steep.
Paul
Library worker
Because I don't want the libraries to be cut, I don't want any of the other public services to be cut either.
I don't think that the cuts actually do anything to help the recession or the economy, I sort of see it as class warfare more than anything else really.
Helen Jack
Regional officer for Unite the union
Unite members are going to be affected by job losses. Unite members are going to be affected by job intensification, for the people that are left. We are concerned about member's jobs and those who are left within the council working in a skeleton service.
Further to that we are very concerned about the cuts in services, especially in social care, putting the most vulnerable at risk. So we are here to support the people's assembly in its anti -austerity brief.
Last time we held a protest, Marvin did come out and he said he did want to go to Whitehall and represent to the government, that Bristol really can't take these cuts, that we're a net contributor and that the most vulnerable will be most effected. Of course we are very supportive of that I just don't think it's going to happen.
(See here for an investigation into the "Efficiency Savings" making the Council more inefficient.)
Stephen Clarke
Green Party councillor for Southville
I think that austerity is bonkers and I think loads of people around the world are realising that and yet in this country the Tories still seem to be pursuing that mad economic agenda.
The Green Party are anti-austerity we don't believe it works. We think it imposes cuts and hardship on the most vulnerable in society and benefits the top 1% or even 0.1%.
I'd like to see Marvin show some real leadership. I'd like to see him be a leader in the other key cities, all of which have Labour leaders and I'd like to see him be more proactive in trying to stop this happening.