'Save our School': Winterbourne International Academy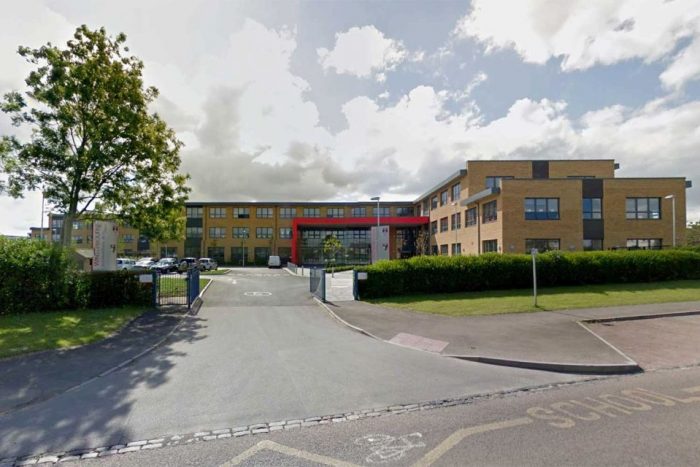 Staff and parents at Winterbourne International Academy prepare to fight school takeover by national academy chain.
A brazen public campaign was launched by staff and parents from Winterbourne International Academy yesterday to attempt to put the brakes on a process to transfer control of the beleaguered but high achieving school to a new multi-academy trust.
Never break the chain?
The Education White Paper released this year outlined the government's plan to promote all schools to join multi-academy trusts (MATs), otherwise known as academy chains. The benefits they cite include sharing leadership and teaching best practice, reducing costs through economies of scale and allowing 'more robust governance'. The optimum size of chain suggested by the national schools commissioner David Carter is 10-15 schools.
Studies done so far on MATs show that results are variable in terms of performance, governance and pupil achievement, and that there is no clear correlation between academy status or chains and better quality teaching or management. A government inquiry is currently taking place to assess the MAT programme, and the Regional Schools Commissioners' (RSCs) role in it.
RSCs are civil servants, introduced in 2014, whose remit is to support academies, intervene to convert schools to academy status and manage 'rebrokerage' between trusts to change school ownership. The RSC for the south west, Rebecca Clark, was previously the regional director at Oasis Community Learning. The RSC group was criticised in another parliamentary inquiry in January this year, which found the system lacked transparency and accountability.
Around 300 parents and pupils packed into Zion United Church in Coalpit Heath, a village just to the north west of Bristol, for a meeting that saw staff go public about their frustration and anger over the takeover process, which has been instigated without consultation from the workforce or parents.
Save our School WIA campaign stated:
"Through successive eras of mismanagement at the top level, a crisis has developed in 2016 which throws light on the centralisation of government control and growing corporate influence in the English education sector, alongside inadequate financial and governance oversight of the Academy system until a crisis such as this emerges."
Three chains are in the running for control of the schools, including national chain Oasis Community Learning, a joint bid by local trusts Olympus and CSET, and Greenshaw Learning Trust.
Winterbourne International Academy, currently part of the small Ridings Federation trust, achieved the best exam results in South Gloucester in 2015, but has been beset by management chaos in recent years – leaving it currently without a chief executive principal.
One frustrated parent told the meeting: "My son is in year 8 and I must admit when I came here a couple of years ago to be sold this school, I feel I've been completely missold. When you look at the timeline of the events that have happened, I've got no confidence at all in anything I'm being told by anyone at this stage and I'm seriously considering taking him out."
The current Board of Trustees, chaired by education consultant Claire Emery, voted through the decision to 'rebroker' the school – to facilitate a takeover by another trust – based on financial projections that the school will be £1million in deficit by September 2017. Staff presume Oasis Community Learning, who run 44 schools nationally, are currently the most likely bid to succeed as representatives are making 'due diligence' visits to assess the school.
Oasis has a strong presence in the Bristol schools scene, running three secondary schools and five primaries. All the Oasis secondary schools in the city currently have 'good' or 'improving' Ofsted ratings, but parents and teachers are concerned the school will lose its ethos and results should an Oasis takeover take place.
Parent Debbie Porteous told the meeting of being alarmed when researching Oasis' standards nationwide: "They are not performing well… Why are we considering an academy chain that is worse than our current situation?"
The chain received bad press after an Ofsted inspection of the Oasis chain in June 2015 found "a legacy of weak challenge and insufficiently systematic or rigorous improvement work has resulted in slow or little improvement for nearly half the academies". The inspectorate also stated, "Disadvantaged pupils, particularly boys, make significantly less progress than their peers nationally."
George Angus, deputy head boy at the WIA, expressed concerns that the school would change: "Personally I've done a lot of research because I care about my school massively… I want to make sure the kids I care about in the lower school manage to have as amazing opportunities as I had."
Concerned teachers are hoping another multi-academy trust will be chosen, which could be the CSET/Olympus collaboration which is more local.
As one teacher told the crowd, "Today is not about actually defying the government so to speak, we're encouraging you guys to have a more active role and have a voice in this process that we feel you've been denied thus far."
"Successive eras of mismanagement"
The schools downward spiral was expedited after it received a 'requires improvement' Ofsted rating in spring 2015. Subsequent visits from the schools inspectorate claim improvements haven't been made.
After its latest monitoring visit, Ofsted noted, "The frequent changes in governance have been unsettling. All of the previous iterations of governance have been ineffective in securing the improvements required." Teachers assert that teaching weaknesses identified in the inspections are due to disruption caused by mismanagement.
The initial Ofsted inspection was conducted under the then-new regime of chief executive principal Beverley Martin, who was a 'National Leader of Education' – a title given by the Department for Education to heads who have purportedly demonstrated leadership excellence.
However the assessment regime imposed under her leadership following the Ofsted rating led staff to stage a three day strike in September 2015 in protest of what unions said created a "climate of fear" at the school. Martin then left the post in February 2016. Her replacement, Adam Williams, has himself since left due to reported ill health, leaving the school with no chief executive principal.
Before leaving Williams instigated an 'external review of governance' of the federation, which saw the entire governing body being disbanded and replaced at the start of this academic year. The school is now perceived to be under the control of the volunteer Board of Trustees chair, education specialist Claire Emery, who was hired during the governance review.
Emery, who has never been a teacher but has a 'corporate background', states on her company website that she is "a contracted education specialist for the Department of Education, Open Academies, Free Schools and Brokerage Division based in the RSC SW office in Bristol".
Claire Emery did not respond to requests to comment for this story.