The beating heart in IKEA car park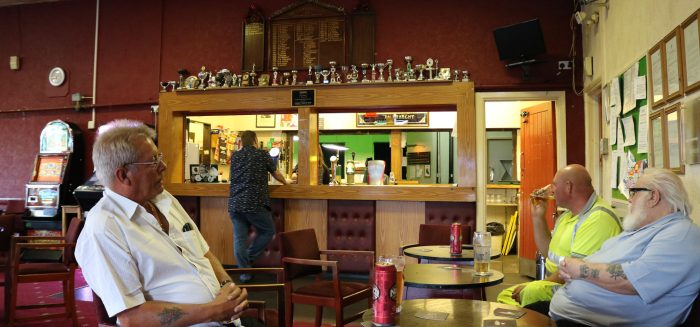 Hidden away in the shadow of IKEA, the Eastville Social Club is still serving local communities.
Author: Alon Aviram, with thanks to Maff Tucker
Illustration: Sam Knock (sknockers.tumblr.com)
Photo: Alon Aviram
Tucked in the corner of the IKEA car park sits the Eastville Social Club. You couldn't pick a much starker juxtaposition of Bristol's changing faces.
The blue building of the Swedish multi-national towers over the club's bungalow, home to a small but dedicated crew of patrons. From games of skittles to cheap pints and darts, this hideout is a window into an older Bristol that's been fading fast of late, with clubs like the Brunswick on the edge of St Paul's closing its doors recently. I'm here with Cable contributor, Maff Tucker, to enjoy a pint and a chat with some of the regulars.
"This was actually the Rovers supporters' club years ago [until the 1940's]," says Kelvin, a coach driver, club patron and committee member. The stadium car park, he says, hosted, "one of the biggest Sunday markets in the South West".
Last one standing
As well as being home to Bristol Rovers for over 80 years (they now play up the other end of Muller Road at the Memorial Stadium), Eastville Stadium was a greyhound and speedway track. Infused into every activity on the site was the smell of the nearby gasworks, hence the 'Gashead' nickname for Rovers fans. Now, all are gone: stadium, gasworks, Gasheads, greyhounds and car boots. Only the Eastville Club remains.
"IKEA bought the plot and owns everything, even this building," Kelvin goes on. Some of the other guys start muttering across the table – there seemed to be some disquiet about the retail giant. "When they first took over, they wanted us out," Kelvin explains, "and everyone got involved and said it was a community club, it's for the community – so IKEA backtracked on that. We pay a yearly rent and they basically leave us alone, and we leave them alone".
And so it is that 260 members just about keep the club alive, giving a beating heart to this grey concrete patch that, bar this one bungalow, is yet another bland retail park. "But we don't see a great deal of them and the membership is spread all over Bristol," says Kelvin. Cheap supermarket beer, changing demographics and the smoking ban have all hit the club in recent years. Sure enough, the place isn't exactly bustling – there are several older men nursing pints in the corner and about four younger blokes in the back room playing snooker.
Over cold pints of Budweiser, two of the older club members, Chris and Geoff, talk of the demise of social and working men's clubs. "We've got a history and we're still here," says Geoff. At over 100 years old, the club is among one of the oldest of its kind in the country, albeit having gone through several transformations, from Rovers supporters' territory to an unaffiliated social club.
Despite that change, you probably still wouldn't want to walk in with a City top, unless you're up for taking some light hearted jip. Above the bar, the name 'A. Biggs' is inscribed on a plaque in homage to the late Alfie Biggs; the Bristol Rovers footballer also known as the 'Baron of Eastville' – a club regular.
Chris, with tattooed arms propped on gut, makes a case for social clubs. "They involve the local community. If there's a problem, whichever it may be, there's always somewhere to go, or there should be…and you sit down and all work out an answer. These places are very far and few between".
On this note, talk turns to the other Bristol clubs to have recently closed. "It used to take two years to get in on the waiting list," says Chris of the Brunswick. "That was a club frequented by dockers," Kelvin chips in with a nugget of local history. "They called it 'The Docker's Club', know what I mean, when Bristol had proper docks".
Beyond the stereotypes
Looking around the Eastville Club, I realise that some of my preconceptions about the social club are off the mark – it's not just old white men keeping the place afloat. Out in the back room there are young Asian and middle-aged Caribbean men playing snooker and occasionally exchanging banter with old boys Chris, Geoff and Kelvin. "It's alright, a good place to come for a quiet game. There ain't no fights or trouble like that," says one punter as he leans down over his snooker cue.
Talking of stereotypes, the only woman in the bar is Hannah – and she's working behind it. But she seems at ease. "It's a really nice atmosphere here. We've had a lot of new sign-ups recently," she says. "It's getting popular with a lot of younger people as well". Hannah's passionate about the place too. "It's kind of like a dying breed here, the social club, the working men's club," she adds. "We need these places to stay alive, cos they bring the community together".
Kelvin tries to set the record straight about the gender imbalance. "Everyone's quite welcome to walk in here," he says. "A mother with two or three children – sit her kids down, buy them some crisps, lemonade and there's no bother. You're not getting strangers like you would in a pub and hassling them, so it's a safer environment for them".
By the time we leave, Maff has been signed up as a member and I've been made to promise I'll come back with a fiver to do the same. Outside in the concrete car park, it strikes home that places like these are fast disappearing from the UK. In many ways their demise speaks of wider problems. The increasing political and social alienation of today's UK has been mirrored by the erosion of working-class spaces, from clubs to pubs to youth centres, over the past couple of decades.
Without wanting to romanticise or gloss over issues, there's something uniquely important about the Eastville Social Club. Ironically, as people increasingly demand a sense of authenticity from where they spend their night out, it's increasingly hard to find a place that hasn't had to buy a semblance of 'character' off a shop shelf. Yet parked beneath the looming shadow of 21st Century uniformity is a social club that bucks that trend. Despite the proximity of IKEA, this community space remains a very long way from flat-pack – and that's something to be celebrated.