Breaking: Uni body votes to divest £3 million in fossil fuels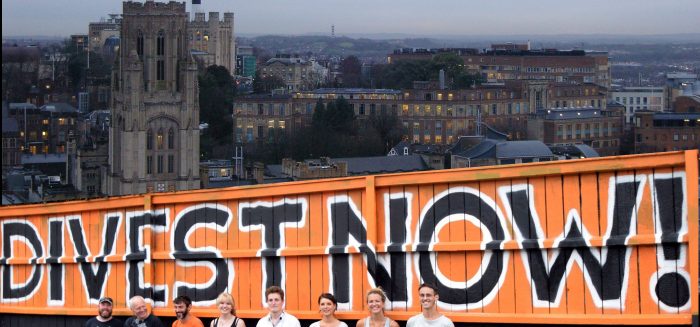 Motion to withdraw investments will pile pressure on executive.

The University of Bristol Court has voted to divest the institution's £3.3 million in fossil fuel companies. The motion submitted by Green party councillor Carla Denyer and citing Bristol Cable investigations follows a similar vote last year that failed by 2% of votes. This year however around 2/3rds of the Court, the Uni's advisory body, approved the motion.
The vote from a selection of councillors, graduates, trade union reps, academics and others will now pressure the university's executive to implement a final decision. Signatories to the successful motion include staff, alumni, councillors, MEPs, an MP and a university chaplain.
The move will delight campaigners following 2 years of increasing pressure amid a series of Cable investigations showing the University's holdings in fossil fuels, among an investment portfolio of £56 million.
"Today's decision has followed a long campaign from students, staff, alumni and politicians." said Councillor Denyer.  "We have heard loud and clear today that the university's own advisory body recognises that investing in fossil fuel extraction, the major driver of climate change, is simply unacceptable."
Green party MEP for the South West, Molly Scott Cato said " today the University has put its money where its mouth is. The University conducts world leading research on climate change and it's time the institutions' policies keep up with that. It makes sense environmentally, politically and economically". MEP Scott Cato expressed confidence that the Uni's executive would follow the Court's lead and join a dozen UK universities who have divested.
Paloma Parkes campaigner with Fossil Free Bristol Uni said " I'm looking forward to our meeting with the University's finance director in January with the weight of this behind us". Paloma added that the new finance director has shown openness to the positions of the campaign.
Campaigners have delivered a double barrelled strategy of making the political-environmental case for divestment, as well forceful financial arguments that investments in the sector present a huge risk for the University.
The Cable will be following developments.