Bristol Uni may move to drop £3 million in fossil fuels tomorrow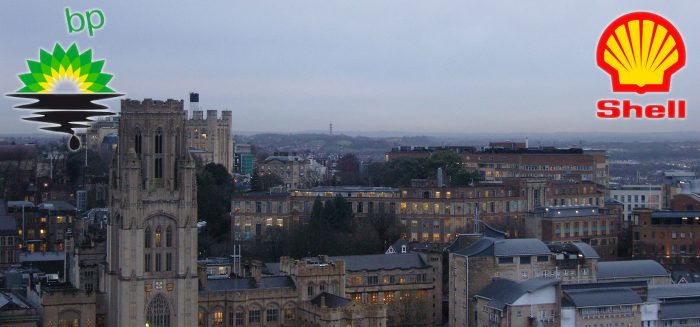 Local councillor and campaigners gear up for vote
Despite Bristol Uni's trumpeted green credentials, Bristol Cable investigations have shown that the Uni continues to maintain over £3.3 million directly invested in fossil fuel companies such as Shell and BP.
This could be about to change. Last year a motion to divest was narrowly defeated by just 2% of 136 votes. This year Carla Denyer, Green party councillor for Clifton Down, will be asking the University of Bristol Court to revisit this decision. The vote of a selection of councillors, uni graduates, trade union reps, academics and others who form the advisory body will inform the university's executive, who will make any final decision. Signatories to the motion include university students, staff, alumni, councillors, MEPs, an MP and a university chaplain.
"Bristol University is now lagging behind" said Councillor Denyer, "a quarter of UK universities have now committed to divest. Worldwide, the divestment campaign has seen leading institutions pledge to phase out fossil fuels from portfolios".
Along with citing the "prospect of catastrophic climate change", Denyer and local campaigners are forcefully putting forward the financial case for divesting from fossil fuels. The primary argument is that fossil fuels are a volatile for investors due to increasing difficulty in exploitation, emergent alternative fuels and global climate change regulations. In September 2015, the Governor of the Bank of England said that "The exposure of UK investors, including insurance companies, to these shifts is potentially huge".
The outcome of the vote will be public tomorrow evening.