TIGER tackles sexism in Bristol schools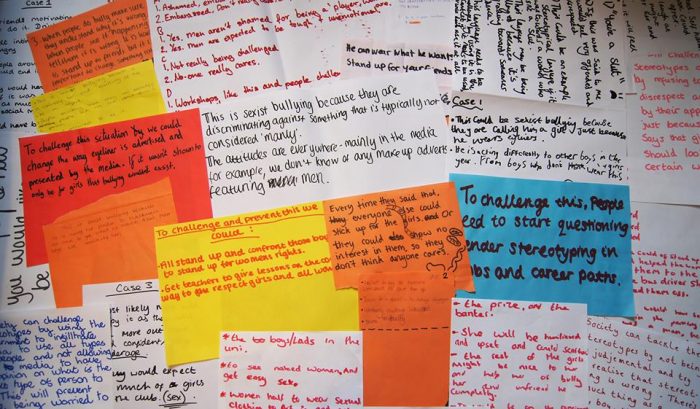 A co-operative is empowering young people to challenge and speak out about gender inequality.
Photo: TIGER
Recently issues around sexism in schools hit the headlines after a House of Commons report found that more than half (59%) of girls and young women aged 13-21 said that they had faced some form of sexual harassment at school or college in the past year.
Here in Bristol, the TIGER co-operative (which stands for Teaching Individuals Gender Equality and Respect) is working to empower young people to recognise and speak out against sexism and gender inequality. The Cable spoke to TIGER founder member Natalie Bennett.
Bristol Cable: What do you do?
Sexist bullying in schools means that boys are told to 'man up', or if you're not doing 'man' right, you'll be called 'gay'. Girls are called a 'slut' if they're seen as being too sexually available.
Natalie: We work to raise critical awareness and provide information so young people are more empowered to make their own choices. Ideas around gender are created ideas – we explore what it means to be a man or a woman, does it even have to be this very binary way of thinking about gender? We encourage them not to judge themselves or others.
Sexist bullying in schools means that boys are told to 'man up' or if you're not doing 'man' right, you'll be called 'gay' – and issues around being gay. Girls are called a slut if they're seen as being too sexually available. These kinds of behaviours affect career choices. For example girls are encouraged to take engineering, maths and science based subjects, but in school they are being influenced by gender stereotyping, decisions now will affect them for the rest of their lives.
Sex education is not compulsory, but if a school does want to do it, they must follow guidelines written in 2000, influenced by Section 28, which made it illegal to 'promote' homosexuality in schools [the act, introduced under Thatcher, was repealed in 2003]. These are the only guidelines that are used. So a lot of teachers don't feel qualified or are apprehensive around Section 28 stuff.
So we also work with teachers, advising them they need a key member of staff so students know who to go to and clear policies around sexist bullying.
BC: What issues do young people in Bristol encounter?
NB: The Bristol Cable article 'Shut the door on your way out', reported that permanent exclusions from secondary schools in Bristol have shot up 48% in the last year. We asked ourselves if that might relate to gender stereotyping. Who are the ones being expelled and why are so many boys acting up? Is it the gender stereotyping they're exposed to, they're not allowed to express any feelings but violence or anger? Not allowed to cry – or they'll be made fun of, so is it the only way they have to express these feelings – that education is not doing much for them?
"We don't have to live by these rules!"
But why are boys expressing themselves in these limited ways? At TIGER we think it's to do with boys feel pressured by the traditional view – still powerful in our society – of what it means to be a man, where status is earned by being the breadwinner, making money or having a nice car.
TIGER would to like work with disadvantaged boys in referral centres, trying to unravel the idea that to be a man is to keep your emotions to themselves, that the only feeling they can show is anger.
BC: How do you encourage young people to speak out and challenge sexism?
NB: Many young people think they can't do anything about it, so we encourage them to believe they can. We run a gender equality programme, training young people in: porn and consent, gender stereotyping, sexist bullying, homophobia, representation of gender and sexuality in the media, 'lad culture' and relationships.
Our aim is to develop critical thinking in how these issues affect their own lives. They develop school projects such as a campaign against sexist language or a film questioning gender stereotypes and see that they can make a difference. We've given them the space to think about sexism, to critically evaluate it and empowered them to find their voice and use it. This grows confidence in how to approach it and how to challenge this stuff when it does affect them.
We are also developing an online presence – or rather supporting young people to have an online presence – around these issues. We encourage them to tweet about workshops they attend and start a conversation. We will be publishing blogs with materials about the issues young people want to talk about – we provide the tools, young people take the lead. And we want to create more of an interactive online space with different themes… We want to make it fun, we're facilitators, not teachers.
BC: Why did you choose to be a co-operative?
NB: It made sense to us – didn't feel right for us to be a top down hierarchical charity, it would not reflect our practice. We are challenging power structures, so to be part of those power structures in our working practice didn't make sense. We wanted to be a living example of the things we are trying to promote to young people, to embody the change of what we want to see in the world.