A victory for housing crisis transparency in Bristol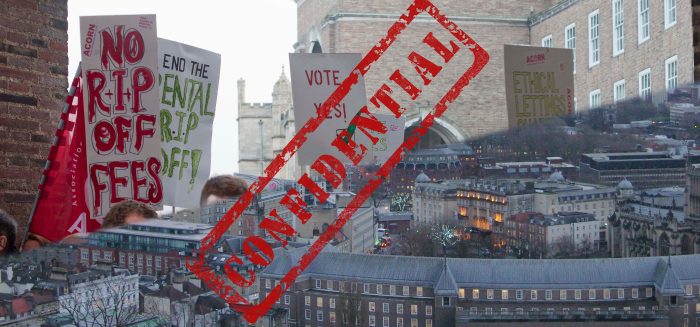 The council have responded to Cable and community pressure and released documents on controversial developments.
Following a 6 page long request submitted by the Cable, the council has decided to make public documents relating to two controversial housing developments, Blackberry Hill in Fishponds and Brooks Dye Works in St Werburghs. 'Viability reports' that outline a developer's argument for including little or no affordable housing are usually kept secret from the public and subject of much criticism. 
The decision to release the viability reports for the two zero-affordable housing developments follows mounting pressure from the community, ACORN, the Cable and councillors themselves, who voted in favour of more transparency in late 2016. The final straw came after the Cable submitted a lengthy Environmental Information Request laying out the arguments for transparency. The release comes in the midst of a campaign for viability report transparency launched in the latest magazine.
While this disclosure follows similar moves by other councils, this action flies in the face of customary commercial secrecy. Despite this break with convention, Paul Smith, Labour councillor and Cabinet member for Homes said "it is our policy to maximise the amount of information which is the public domain." The developers however will not be happy.  Indeed, the Blackberry Hill developer's agent requested "that the report should not be disclosed to any third parties".
While a thorough analysis of the documents has not yet been completed, some figures are likely to provoke outrage from those campaigning for affordable homes in the 300 unit Blackberry Hill development. For example, even when the developer abides by council policy and provides 30% of homes at affordable (discount market rate) they will still make over £12 million in profit. However, in planning terms, this is insufficient to make the development 'viable' as the developer expects at least £17 million in profit, or 20%.
The documents have now been made available online at the council's planning portal, reference numbers 16/05376/F and 15/06475/P. 
The Cable will be following up all developments. Read more on our coverage of housing here.
Join 1,500 people in owning and supporting quality media in our city www.thebristolcable.org/join
Off the back of several Cable investigations and a campaign led by community union ACORN, in December 2016 councillors approved a Green Party motion to publish viability reports when developers attempt to avoid affordability obligations. Bristol councillors followed the lead of Islington, Greenwich and Lambeth councils, and now it falls to Marvin Rees and his team to give force to the motion. With several major developments on the horizon, it's of crucial importance for the city that this happens pronto!