Bristol projects breaking down borders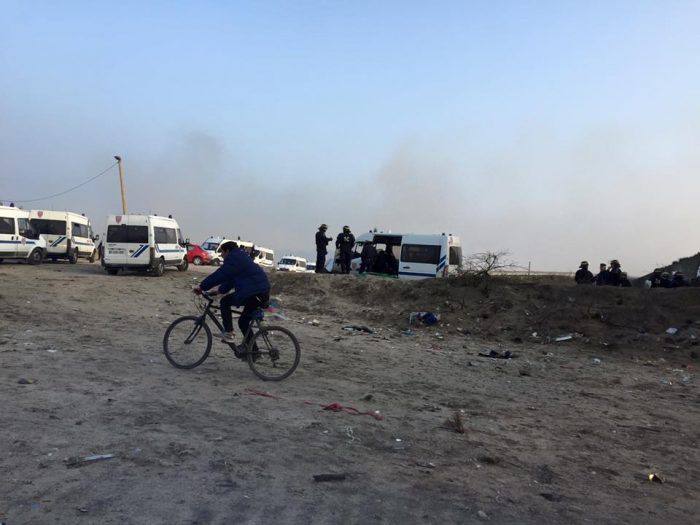 What do Bristolian social workers, herbalists, and circus performers have in common? Using their skills to to provide direct aid to refugees, in border zones and in the city.
Herbalists Without Borders, Bristol
"Setting up the migrant support clinic is a deeply rooted act of resistance against an unjust global political system that has created such unjust borders, as well as this government's introduction of the new immigration bill which further isolates migrants," says Becs Griffiths, co-founder of Herbalists Without Borders, Bristol (HWBB).
HWBB is a branch of Herbalists Without Borders UK. It is a collaboration between local clinical herbalists, herb growers, and the herb community of Bristol. Becs founded the group with Annwen Jones, the two having worked together at Rhizome Community Herbal Clinic.
Photo: HWBB
"Homelessness, unstable housing, poverty,  loneliness and social isolation, and living in a constant state of uncertainty regarding their future and asylum status, are just some of the challenges migrants face daily," says Becs. "Living in such extreme stress greatly impacts their health and wellbeing, by creating high levels of anxiety, insomnia, coughs, chest infections, and low immunity, amongst other more complex conditions."
Herbal medicine is one of the most ancient forms of medicine. Using plants to create medicines, it's based on the theory of addressing all dimensions of health – the physical, emotional, social, political, spiritual, and environmental – to treat a person holistically.
HWBB's vision is to offer migrants access to a mobile herbal dispensary and drop-in sessions treating common ailments, and one-on-one consultations with qualified medical herbalists for individuals with more complex and/or chronic conditions. They also aim to provide self-care workshops that aim to improve general health and wellbeing, and teach basic herbal medicine, along with facilitating time spent in local community garden projects, growing and getting to know the herbs.
"Being part of a herbal growing project, making a connection to the local natural environment, and learning the tools of self-care are an important part in improving health and wellbeing," says Becs.
HWBB have already collaborated with the Asylum Seeker Community Allotment (now New Roots Garden) and Unseen – a project that works directly with survivors of modern slavery and trafficking – and are working towards taking the mobile dispensary into other local projects working with asylum seekers and refugees in the spring.
They will also make medicine for projects working with refugees overseas, and hope that the project becomes a model that can be replicated in other areas of the UK, establishing a wider network of Herbalists Without Borders.
There are various ways you can be involved with HWBB. They host regular medicine making evenings, and need specific herbs grown and harvested for the project, amongst other things – email HWB.bristol@gmail.com if you're interested in being involved.
You can also donate to their crowdfunder here, which ends on 26th January 2017.
Social Workers Without Borders
In March 2016, a small group of social workers started Social Workers Without Borders (SWWB), whose website states: "We believe that our social work skills and knowledge can be utilised to minimise risk and promote the rights and dignity of those affected by borders."
Kate Grant, who co-founded the SWWB South West group, had worked with refugees and asylum seekers in Bristol and volunteered in Calais. "I could not believe the lack of compassion, care and the racism I was seeing for those attempting to secure a future for themselves. As a social worker I encounter situations everyday where I see the impact of the asylum process on individuals. I signed up to this profession because I wanted to support people – borders should not get in the way or exclude people who deserve access to care."
"As a social worker I encounter situations everyday where I see the impact of the asylum process on individuals. I signed up to this profession because I wanted to support people – borders should not get in the way or exclude people who deserve access to care."
SWWB currently organise several different projects. Last year they merged with another organisation, Social Work First, to provide direct social work response within the Calais "jungle" – maintaining a weekly presence at the camp. They helped with legal cases for children in the camp, have been lobbying local and national government, and have drawn up guidelines on how to assist safe passage for those seeking safety.
They also deliver social work education lectures, and advise professionals and potential foster carers on the specific needs of children affected by borders.
In Bristol, they work in partnership with community organising alliance Citizens UK in supporting unaccompanied asylum seeking children from camps in Europe to Bristol. They are also undertaking a research project with Bristol Refugee Rights to allow those who are "experts by experience" to share their experiences of trying to access support from social workers and social care professionals, to inform "a best practice guide" for practitioners on how to support people effectively.
"On a national level we hope to use our voices as social workers to campaign, lobby and raise awareness of the impact that borders have on the lives of others. We hope to bring a voice to the social work profession that recognises the arbitrary and unnecessary suffering that borders create," explains Kate.
You can donate to SWWB here, and follow them on Twitter. Join the Facebook group or email socialworkerwithoutbordersuk@gmail.com if you are a social worker/social worker student and want to be involved with the project or set up your own regional group elsewhere in the country.
Circus To Borders
The Invisible Circus in Bristol has a Social Circus programme, known as The Invisible Youth, where circus is used as a platform for social change amongst young people and vulnerable groups. Circus To Borders (CTB) was formed out of this movement, working overseas in the Calais and Dunkirk refugee camps, and now in Belgrade, Serbia, where the situation is "atrocious" says Abi Hill, a member of CTB.
Photo: Circus to Borders
"It's absolutely freezing. Tomorrow it will be -20. People are sleeping in parks in open air — it's grim," describes another of the CTB team, currently in Serbia. "It's almost impossible to get out of Serbia so the number of refugees who enter Serbia is increasing everyday, and all the official camps are full."
CTB try to have a presence in camps once a month. Abi and a group of others got back from Dunkirk last week. Helen, the manager of Dunkirk Children's Centre, emailed them after their visit: "I just love seeing how animated the kids get when you come. They're always so much happier. You bring a big light to a grey day…can't wait to have the clowns with us again."
Abi describes part of the power of practicing Social Circus and Play being the fact it is about "the journey of the learning rather than the end result", as well as "delivering crucial life skills" and "engaging children with positive role models".
"We also try to use our collective practical skills to fundraise, organise logistics, and deliver aid. The internationally recognised clown/circus thing means that we are instantly recognisable to all as non-threatening and playful, so we are able to access places and people more easily than if we weren't clowns…"
When asked what challenges they've come up against whilst working within CTB, the list included: "deciding how to fairly distribute 3 bikes between 150 young people" and "having your heart broken over and over again by people's stories."
They pride themselves in being a small, grass-roots organisation, without a plan of where they want the project to go, and instead trying "to respond to the ever-developing situation in an intuitive manner", explains Abi.
The majority of the CTB team is based in Bristol, so if you want to get involved, email: keeloverkate@gmail.com. "The best way for people to help is to mobilise and go to these places," says Abi. "But financial donations also help."
You can donate to their latest crowdfunder here.