Plugging Bristol's energy gaps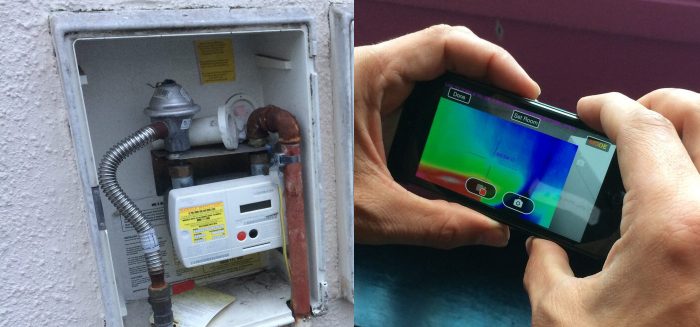 An old and draughty housing stock, high energy consumption and fuel poverty mean tackling energy inefficiency must be a priority for our city
Words: Alec Saelens
On a frosty December morning in Lawrence Weston, Caroline Georges, 41, makes a monthly trip to the local food bank. As her daughter waits in the church hall with bags of food, Caroline goes through a screening process to receive 'fuel bank' vouchers. This recently launched scheme helps people save much-needed money usually spent on topping up expensive gas and electricity prepayment meters (PPMs).
Between "benefit caps, the bedroom tax and all that rubbish", the vouchers, says Caroline, offer a last resort. Her energy supplier previously turned her down from its 'warm home discount'. She can now only hope to be one of 101 successful applicants in Bristol to access this new lifeline helping people in fuel poverty.
In Bristol, the most recent figures show fuel poverty is on the rise and higher than the national average. Some 69,000 people live in households spending more than 10% of their disposable income on energy consumption.
Fuel poverty has been identified as one of the major factors affecting public health. While energy market deregulation has long been pointed to as a contributing factor, national governments have failed to properly contend with the severe impacts of poor household infrastructure.
Curse of the prepayment meters
Set up as a charitable operation by food bank network the Trussell Trust, Bristol's first fuel bank launched in November 2016. It is funded via a £26m penalty levied by the regulator Ofgem against energy firm NPower for consistently inflating customers' bills. The government's Competition and Markets Authority found that each year between 2009 and 2013, the 'big six' companies overcharged customers by £1.2bn.
Caroline's family is part of the 21% of households in Bristol bound to PPMs. Nationally the average is 16%. PPMs are often installed as a result of payment arrears and almost half of households on them are repaying debts to energy providers. PPMs are usually pegged to the highest tariffs, so users on average pay £226 more than direct debit customers, exacerbating fuel poverty.
A survey carried out by Ambition Lawrence Weston (ALW), an organisation established in 2012 to improve local living conditions, shows 79.2% of residents feel they are spending too much on energy bills.
But PPMs aren't the only problem. Mark Pepper, 50, the development manager of ALW, has lived in Lawrence Weston all his life. There's no point, he says, people paying "full whack for their energy and having it all escape through the walls". So, alongside providing advice for switching energy supplier, and developing renewable energy projects, ALW has made resolving problems caused by poor-quality housing stock a priority.
As pointed out in a report by the public health experts of Marmot Review Team in 2011, "one of the most sustainable ways of tackling fuel poverty and limiting the impact of fuel price increases is to build energy-efficient housing and retrofit the existing housing stock to an energy efficiency level that would make it extremely hard for people to fall into fuel poverty."
Insulation failures
"Bristol has one of the highest proportions of old houses in the country. Victorian dwellings, though desirable, are notorious for failures in thermal comfort."
Whereas Caroline lives in recently built social housing in Lawrence Weston, Bristol has one of the highest proportions of old houses in the country. A third of private-sector dwellings were built almost 100 years ago. These Victorian dwellings, though now desirable, are notorious for failures in thermal comfort.
The Green Deal, launched in 2013 by the coalition (which billed itself as the "greenest government ever"), appeared to offer some progress. Under the £400 million scheme, households were able to pay for energy-efficiency installations in their homes – including insulation, draught-proofing and efficient heating systems – via savings made on future energy bills. But problems with its complexity and high interest rates on loans meant uptake was lower than expected. The Green Deal collapsed in July 2015.
A few months earlier, Bristol council launched its Warm Up Bristol scheme, which began with £5.2 million of Green Deal Communities cash and aimed to supplement its offer to households with grant funding, where possible. The council targeted three areas – Easton, Totterdown, and Horfield – with many energy-inefficient homes, and placed an emphasis on delivering external insulation, which can benefit older solid-walled properties.
But Warm Up Bristol ran into trouble. Neil Maggs, 41, a homeowner in Easton, decided to improve the housing conditions for his growing family, but soon had to contend with the poor delivery of works. A subcontracted company, North East Energy, had to come back six times to amend the installations, Maggs tells the Cable, and "pushed for the project to be signed off when it wasn't". It was eventually sacked for recurrent poor service.
Problems weren't confined to subcontractors. Climate Energy, the main company contracted to deliver Warm Up Bristol, folded in November 2015 – leaving in the lurch many householders who had handed over deposits for work. Neil says Climate Energy was trying to take down scaffolding in the weeks before it went bust, but the council denies having advance warning. Kate Oliver, a homeowner living in St Andrews who was unable to get any work done on her home, says she's concerned for people lacking the "resources to cope with financial delays or the confidence to assert their rights, demand information, and recoup their losses."
Despite being critical of the outcomes of the council's procurement choices, Maggs and Oliver each highlight its endeavouring to sort out the mess Climate Energy left behind. Claiming a second wind for Warm Up Bristol, which has now been taken by the local authority, a spokesperson pointed to "1000 energy-saving measures [having been] completed, of which 400 were considered outstanding from when Climate Energy went into administration."
A grassroots approach
While large-scale schemes have floundered, other energy-focused initiatives have picked up momentum. "Grassroots development is more important than having to wait for others to do it," says Mark Pepper.
"In doing it ourselves, we eventually find others in the city that we can collaborate with," he adds.
"In times of austerity, when we're going to lose services, the infrastructure of a network will be crucial to find ways to make money go further," says David Tudgey, who was involved in setting up the Bristol Energy Network, an 'umbrella organisation' for community energy groups, in 2010.
Tudgey was also instrumental in establishing a collaboration between ALW and Cold Homes Energy Efficiency Surveyor Experts (CHEESE) to begin delivering workshops for low-income residents using thermal camera technology to detect insulation issues in homes.
"By pointing out specific issues it is easier for the client to target their spending on things which will have immediate impacts," says Jeremy Birch, co-founder of CHEESE. "This often means cheap and simple measures rather than the much more costly ones."
This do-it-yourself attitude is what has led pioneering organisations such as the Easton Energy Group (EEG) to take up the interests of communities in tackling deficiencies in housing efficiency. To some extent, the council recognised their value in driving Warm Up Bristol at a neighbourhood level. But they were also crucial in providing support for households once the scheme hit problems.
Reflecting on a shift of attitude under the Rees administration, Tudgey says, "It is great that the council are recognising the value of collaborating with the community. Funding has come to the city as a result of the activity and enthusiasm of community developments."
Time to get tough
The council has spearheaded improvements on its own housing stock for the past 15 years. Since 2003, with the advent of the Labour government's Decent Homes programme, installations of central heating and insulation measures have led to a substantial increase of standards in social homes.
On the other hand, the private rented sector, which makes up 21% of Bristol's households, represents "the worst quality of housing", according to Ian Preston, household energy expert at the Centre for Sustainable Energy. He adds that "for the clients we support, often the bare minimum has been done to [address] their homes'" issues. Many of these households live in Bristol's energy-inefficient Victorian housing.
Away from the trials and tribulations of energy efficiency schemes, Bristol council has deployed a range of measures to improve living conditions. After carrying out a Housing Health and Safety Hazard Rating System (HHSRS), action can be taken in order that landlords make improvements and prosecution can take place in cases of non-compliance. Last year, 631 hazards were resolved as a result of the council's intervention.
But getting to the heart of a home's energy efficiency problems isn't always a straightforward matter. CHEESE's Birch, who trained as a domestic energy assessor, says that Energy Performance Certificates (EPCs) "don't identify [individual properties'] issues but just potential, generic ones common to a type of house." Yet 6,000 Bristol properties will be licensed using that measure.
Nick Ballard of ACORN, a community-led union defending tenants rights, is supportive of landlord licensing. He acknowledges the tangible benefits brought to tenants but says, "we do have concerns that many landlords face too little formal action in cases of disrepair". Ballard adds, "we've seen landlords who fail to comply with deadlines given generous extensions that leave the tenants living in poor conditions for even longer". Worryingly, in January 2016 a section of the government's Housing and Planning Bill proposing to require landlords to ensure properties were 'fit for human habitation' was voted down.
"Under the HHSRS the council has the power to take enforcement action in all cases where a hazard is identified," Ballard goes on. "In practice though, we see that a 'softly, softly' approach is too often taken that leads to 'recommendations' only rather than a requirement that repairs be done." (CORRECTION: Under the HHSRS the council can exercise enforcement powers in cases where the hazard is deemed sufficiently severe).
With public-service cuts set to bite even harder over the next couple of years, it remains to be seen what actions – both of enablement and enforcement – take place in Bristol over the remainder of this mayoral term. But at stake will be crucial issues affecting public health and poverty in our city.
"Identify people who care or should, or those who are wasteful"
At the other end of the spectrum from DIY, Green Doors was set up to ride the wave of an emerging home insulation industry, known as 'retrofitting'. It connected individuals with local service providers and celebrated installation achievements through open homes walkabout tours.
However, with government plans in disarray and the retrofit industry hit by a slump, the specialist local companies are feeling the damage and Green Doors has gone into 'hibernation'. Of all the open homes taking part in the annual Green Doors event, only 3 had taken up Green Deal loans.
Retrofitting is also almost exclusively within the purview of the richer home owning white middle class. "They live in old homes that leak heat" says Green Door co-founder Dan Weisselberg, "they can afford it and get the industry going."
This perspective is echoed by UWE academics' research, which affirms "a minority of areas appear to be placing much greater strain on energy networks and environmental systems than they need. Households in these areas are not only the most likely to be able to afford energy efficiency measures to reduce their impacts, but are also found to have other capabilities that would allow them to take action to reduce consumption." Areas around Clifton Downs consume double the amount of energy every year than some areas in Lawrence Weston, Easton or Bishopsworth.
Dan says that "transforming a stock of victorian houses into energy efficient houses, there is a billion pound market there! The government needs to get smarter about this." If the Chancellor of the Exchequer made mention of a fairer energy market, there was no mention of the addressing the fundamental issue of housing energy efficiencies.