"Enough is enough": Campaign launched to support grandfather tasered by police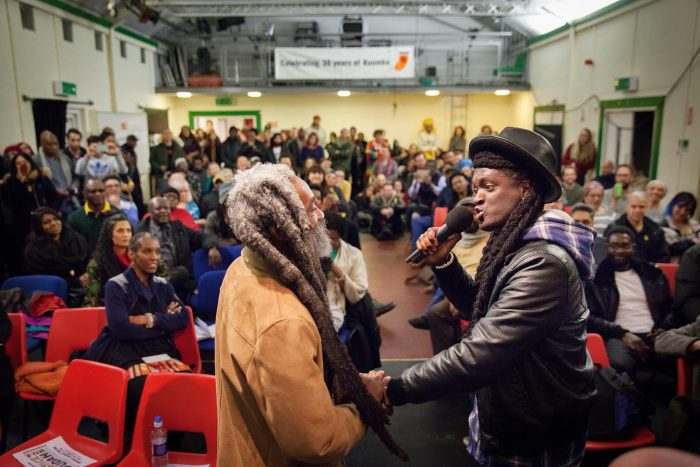 "Without the strength of my God there's no way I would have been here with you. And without my neighbour there's a strong possibility they would have killed me."
– Ras Judah Adunbi, respected elder of Bristol's black community, mistaken for a crime suspect and tasered by police
Photography: Mark Simmons
"If you're a member from the St Paul's community you've witnessed this type of brutalisation from the police all our lives."
Bristol poet Lawrence Hoo
"This treatment wouldn't have been handed out if this was an elderly white man."
campaigner Desmond Brown
Saturday saw a renewed rallying cry to end police violence against black people. More than a hundred Bristolians, among them mayor Marvin Rees, gathered in support of Ras Judah Adunbi, a respected community leader recently tasered by police outside his home.
Disturbing footage filmed by a shocked neighbour showed the 63-year-old grandfather being tasered in the face after refusing to give his name to officers who mistook him for a wanted man. This was the second time Ras Judah, who founded a group to foster better community relations with the force, had been mistakenly accosted by police, even receiving compensation for an incident in 2009.
The Justice for Judah campaign launched last night with a packed emergency meeting at the Kuumba centre. Led by members of the Afro-Caribbean community, the event was an emotionally raw but defiant expression of pain, solidarity and resolve.
Speaking about what happened to him, Ras Judah told the group, "From the outset I've been approaching this in a dignified way, and I intend to continue to do so … [but] it is not right, and it's not fair, it's not equal, there is no justice in behaviour such as that.
"We're not against police," he said. "However we need to identify the weaknesses that there are within. There's an element of people within the constabulary, up and down the country, who have been hiding their racist negative tendency, and then release it on black people."

There was an outpouring of warmth and support for the community elder, with people conveying their shock, anger and tears, as well as respect and admiration for his role in the community.
" What made me cry was that I seen an elder, 63 years old, I said to Judah, I said you're like a Black Santa Claus to me," said Bristol poet Lawrence Hoo. "How can anybody not see who you are; you're loving and you're soft-looking, but no, they tasered him in the face."
Many black Bristolians spoke powerfully about their own lived experiences of police harassment, and the wider structural inequality and racism that they've faced, from inappropriately aggressive stop and searches, to dismissal of racism complaints.
"The police officer told me, to my ear, it was just playground banter," said one woman. "And what my son was called, was not playground banter at all."
Several people expressed their fear of what could happen to their children if they talked back to officers, one woman telling the room "I'm worried every time my son steps out the door". A youth worker said she was tired of not speaking up enough, declaring, "enough is enough. …if they can do that to [Ras Judah], a man who knows the law, what are they doing to the young brothers around this area?"
"I'm worried every time my son steps out the door."
Practical advice was shared for when these fears come to pass. Ras Judah called for black people to make sure they know their rights – pointing out that he had been well within his rights to withhold his name from the officers who tasered him. He and others also advised people to use tools like social media and phone recorders to hold aggressive officers to account. 
Ras Judah's case has been referred to the Independent Police Complaints Commission by Avon and Somerset Police, and the meeting saw heavy discussion about what was needed to bring about wider change. Some people expressed frustration and disillusionment with bodies like the IPCC, and others called for marches and demonstrations.  There was some optimism about Chief Supt Jon Reilly's indication  that Avon and Somerset Police would listen to and engage with the community about what has happened. Council Cabinet Member for Neighbourhoods Asher Craig, and Green Councillor Cleo Lake, called for more young black people to join the police force and local politics. Lake said she became a councillor because growing up she didn't see anyone who looked like her representing her community.
Police and Crime Commissioner Sue Mountstevens, who chairs a Taser Scrutiny Panel, attended the meeting to listen. She later told us she was keen to work more closely with local leaders, saying "I hear the community's anger, I hear the community's pain." Encouraging more community members to engage with the panel's work, she admitted her office could start communicating what it does more effectively.
This meeting saw expressions of solidarity from across ethnic lines, but this was very much a conversation led by and for the Afro-Caribbean community. Mayor Marvin Rees, who knows Ras Judah through his father, condemned any attempts to 'whitewash' what had happened or insist it happens to every community – in the way that some insist on taking the 'Black' out of 'Black Lives Matter'.
"We want to talk about solidarity and standing together, but I just want to say something … don't rob this of race," he said, to loud applause. "This is a race issue. I'm a mixed-race man … I know bad stuff happens across the racial divide. But if you sterilise this of race, in the name of trying to find this solidarity around which we all rally, you'll rob us of the story here. The story is that there is a racial hierarchy in this country."
Ras Judah and other members of the community are due to meet with the mayor, the police and the IPCC at City Hall this week, and campaigners say they intend to take the results back to the community and harness people's energy and determination to create further change. "We need to start somewhere," Ras Judah told the crowd.
"We need to use this as a launching pad in order to safeguard for people up and down the length and breadth of this country," he reflected. "We cannot allow this sort of negative policing to rule … they start out with us – who's next? If we don't put a stop to it, who's next? I'm asking you to show your support fully, and let this campaign take up momentum, because yes it is justice for Judah, but it's justice for black people up and down the country .
"A lot of us have been here since the forties. A lot of us have died for this country. It's only fitting that we be treated with equal rights and justice just like any other culture."