Fascists plan demo in Bristol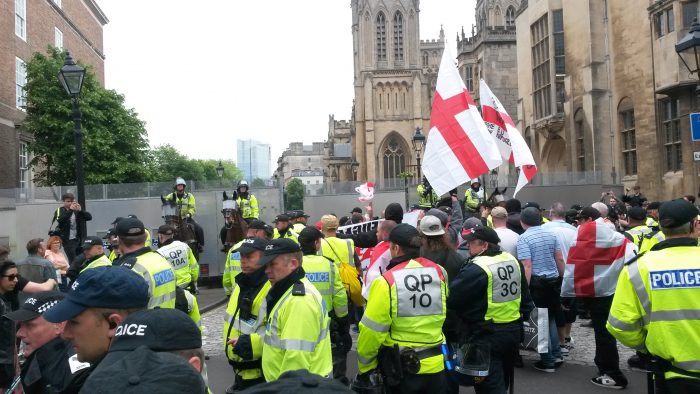 March has backing of former EDL leader Tommy Robinson
The far-right are promoting a demonstration to remember the deceased Kevin 'Bunny' Crehan on 4th March in Bristol.
Crehan died in late December 2016 while serving a 12 month sentence in Horfield prison for racially aggravated harassment at Jamia Mosque in Totterdown. Among the actions that put Crehan in prison was tying bacon to the door handles of the Mosque and shouting racial abuse at an elderly victim.
An inquest is currently being held to look into the circumstances of Crehan's death but the police have said it was 'not suspicious.'
Former English Defence League leader Tommy Robinson took to Twitter last week to say that he wanted to organise the demonstration "under the banner of the EDL". However, the current EDL leadership has distanced themselves from Robinson saying they will be attending the march as "guests".
The march appears to be organised by the 'Pie n Mash Squad', (slang for fash or fascist), a known group. There is also use of "5W", or 5 words, a term regularly used by sections of the British far-right meaning 'We Go Where We Want'.
Although there is no stated route or starting point for the demo, Robinson suggested it should be to the the Totterdown Jamia Mosque, which Crehan was imprisoned for attacking. As of 30th January, the event page has 198 likes. The event also appears to have the support of the South West Infidels, a far-right group active in the city.
On the page, the organisers say that Creahan was a "top lad" and call his sentence 'ridiculous.' Some comments lamented the British court system while others just posted generic racists abuse.
Bristol has a strong anti-fascist presence of different stripes who will be turning out a counter demonstration.