Forget the vinegar, the real reek is inaction on glyphosates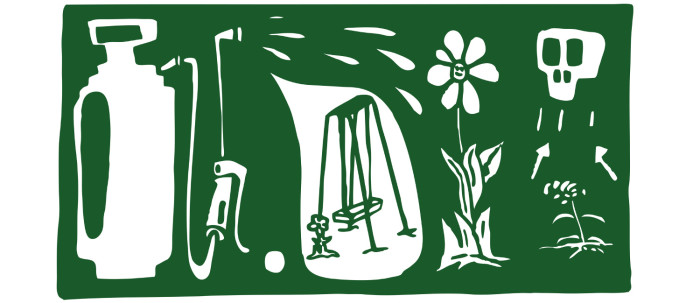 Campaigner Zaheer Mamon asks why Marvin Rees has not lived up to his promise to review the use of 'probably carcinogenic' pesticides in our streets and parks.
Words: Zaheer Mamon
Illustration: Kleiner Shames
The Cable's feature on the use of glyphosates on our streets and parks (edition 5) inspired me to set up a petition against this toxic spraying in December 2015.
The ensuing wave of signatures forced ex-mayor George Ferguson's council to take action, which led to 'vinegar-gate' in April 2016. Fleet Street hacks delighted in the idea of Bristol smelling like a fish and chip shop because of a trial of horticultural vinegar as a pesticide in Cotham ward.
The hype didn't quite mask the real reek, namely that of a trial seemingly set up to fail. As I presented the petition I asked the council for an example of a pesticide-free local authority anywhere in the world successfully using vinegar. I pointed out that viable established techniques include hot water, plant-based foam, steaming, flaming and strimming. No one could answer my question, perhaps because the most basic research into best practice from other towns and cities around the world will show you that vinegar is simply not a credible option.
New mayor Marvin Rees then brought a fresh glimmer of hope, pledging to reduce pesticide use and review the trial to ensure that it was 'fairly implemented using modern technological solutions' with a view to launching a city-wide initiative.
Rees has not delivered. There has been no satisfactory review of the trial. When asked for an update in October the council simply responded that that vinegar was being shown to be less effective than glyphosate. Bizarrely, all other non-toxic methods of weed-control have been ruled out because they apparently lead to vehicles burning more fuel, emitting confirmed carcinogens in the air as opposed to the 'probable' ones caused by glyphosate use.
This is astounding. Even if we ignore the issue of carcinogenicity altogether, there is ample evidence that these chemicals threaten human, animal and soil health for glyphosate-based products to be banned outright as a precaution. Marvin Rees told us he cared deeply about these issues. Towns as nearby as Frome and Glastonbury have taken action to ban the toxic spraying. Bristol's backwardness on this is embarrassing and incongruent with other current and former European Green Capitals. The key question is: Marvin Rees, why are you not delivering on your pledge to the people of this city?
Last year's petition helped bring the glyphosate issue to the table and giving the Council a taste of people power. Now as we begin 2017, it is time to put pressure on Marvin Rees to make good his promise to phase out harmful pesticides. You can help put pressure on Marvin Rees by signing the new petition here. In the meantime, residents and local businesses/community organisations can lead by example and pledge their garden as a 'pesticide-free-zone' via this initiative setup by the Pesticide Safe Bristol Alliance.