The offshore companies and billion pound corporations stealing Bristol's homes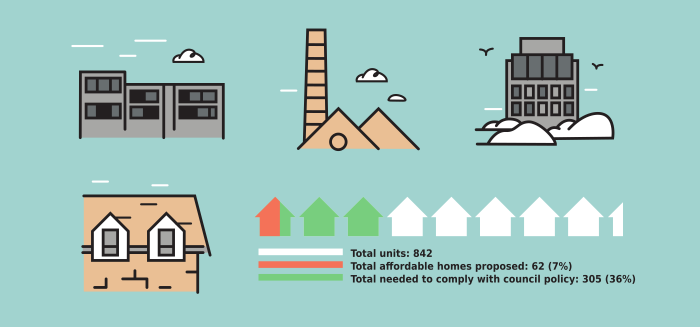 READ MORE: How the housing crisis is not a crisis of housing
Bristol's lost affordable homes from four developments
Four recent major applications reveal a picture of profiteering from the housing crisis
In what sometimes feels like a very local issue, Cable research has found that behind these four major development applications are a global web of offshore companies based in tax havens or billion pound multinational companies. Yet these developers can't dig deep to provide much, if any, affordable housing.
Elizabeth Shaw chocolate factory, Easton

Fun fact: The international bankers financing the development, REVCAP, have significant dealings in tax havens including Luxembourg, Jersey and the Cayman Islands.
Total units: 135
Affordable proposed: 6 / 4.4%
Decision status: Following revelations about outdated profit calculations in the Cable and a concerted community campaign, councillors deferred the decision in November 2016, despite a last minute offer of six affordable units. The developer appealed in January 2017 to the Planning Inspectorate – Stay tuned for updates.
Brooks Dye Works, St Werburghs

Fun fact: The company that owns the land and applicant developer, Folland Limited, is registered to a Post Office box in the tax haven of Jersey. Due to corporate secrecy we don't know much about who is behind Folland, and how much work really gets done in that little letter box.
Total units: 102
Affordable: 24 / 24%
Decision status: Approved by council as an 'outline' application in October 2016, with 24% affordable, following negotiations. A detailed application from a developer is still to be submitted.
Redcliff Quarter

Fun fact: The financier behind the development, ICG-Longbow, is based in the tax haven of Guernsey. In turn, it is owned by ICG PLC, where one director was paid £5.4 million for 2016, earning the same amount in three days as the average UK worker did in a year.
Total units: 300
Affordable: 32 / 12%
Decision status: Approved in November 2016
Blackberry Hill, Fishponds

Fun fact: The developer Galliford Try PLC was initially awarded the contract to build affordable housing by the government Homes and Communities Agency. Despite reporting record profits on its annual £2.76 billion turnover and boosting payouts to corporate shareholders in 2016, Galliford Try now can't afford any affordable housing.
Total units: 305
Affordable: 0
Decision status: Pending decision in early 2017
Off the back of several Cable investigations and a campaign led by community union ACORN, in December 2016 councillors approved a Green Party motion to publish viability reports when developers attempt to avoid affordability obligations. Bristol councillors followed the lead of Islington, Greenwich and Lambeth councils, and now it falls to Marvin Rees and his team to give force to the motion. With several major developments on the horizon, it's of crucial importance for the city that this happens pronto!