Meet the man desperately trying to frack the South West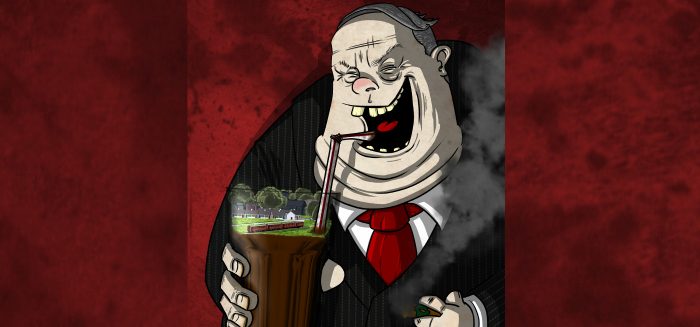 Somerset is the latest target for Gerwyn Williams, who's been leading a one-man dash for gas throughout Wales and the West Country. Lucky for the county, he's got a pretty thin track record of actually getting near any drills.
Somerset: cider, cheddar, Glastonbury and… extreme energy? Still reeling from the green-lighting of Hinkley Point C nuclear reactor last autumn, a quieter announcement about energy generation in Somerset was made in December 2016. This time, it concerned fracking.
"I am not going to give up until we see gas being produced from the areas we've been working on for many, many years."
The CEO of South Western Energy, Gerwyn Williams, appeared on BBC Points West radio programme to announce the plans, with a disclaimer that there were still planning and environmental permits to get through. The drilling itself, he said, could take place within two years. The exploratory drilling of the type Williams proposes looks first for conventional oil and gas, with the possibility of then using fracking to determine the extent of further 'unconventional' reserves.
Given the regulatory hurdles it's far from a sure thing, but, Williams told the BBC, "I am not going to give up until we see gas being produced from the areas we've been working on for many, many years."
Williams, an ex-miner and attempted fossil fuel entrepreneur, has indeed been trying to hit the shale and coal bed methane reserves under the West Country and South Wales for years. He's the man behind most of the successful bids for licences to drill that were offered in the government's 2014 '14th licensing round'.
PEDLs (petroleum exploration and development licenses) were granted for blocks of land throughout the South West, including the Forest of Dean/Wye Valley areas of Gloucestershire and Herefordshire, and chunks of Wiltshire and Devon, along with coastal Somerset. Previously licensed PEDLs, spread over parts of South Wales, were also won by Williams' other companies: Coastal Oil and Gas and UK Methane Ltd.
But Williams has, like many other would-be frackers, hit roadblocks. The 'dash for gas' that a few years ago was expected to occur didn't materialise on a big scale either nationally or in these regions, much to the chagrin of a government hell-bent on opening the hellmouth.
PEDLing in the wrong direction
UK government energy policy.
Cartoon credit: www.KyleVonbrown.com
PEDLs give the license owner the right to explore for oil and gas within the area of the block, subject to landowner and planning permission, environmental permits and other regulatory hurdles. The first step is an exploratory well to ascertain the extent of the reserves beneath and whether they can be exploited. The government is so strongly in favour of drilling for gas that it has implemented a tax break regime, allowing 100% of the cost of plant and equipment to be set against taxable profits in the first year. George Osborne boasted at the time of making the tax regime the "most generous for shale in the world".
Central government is also empowered to overturn local authorities' rejections of planning applications, as happened near Preston in October 2016. Lancashire council rejected a planning application from company Cuadrilla, only for communities secretary Sajid Javid to overturn the decision.
But in dramatic contrast to the diplomatic and political wrangling over Somerset's other power generation behemoth, Hinkley Point, the fracking industry has struggled to attract interest from large scale or experienced oil and gas corporations in the UK, despite the government essentially sticking a metaphorical flag over our island marked 'Frack here please!'.
The reason? Recent rock-bottom oil and gas prices make large-scale investment unattractive. There's also the question of how much gas can even be exploited – not enough test drills have taken place to pin down the truth in some bombastic assertions on the scale of UK reserves (in 2012 Williams stated that he estimated £120bn worth of gas could be recovered in one area of South Wales alone). Without strategic investment from the major players in the industry, a sort of free-for-all of PEDLs has taken hold, with little-known companies such as Williams' behind them.
The Wild (South) West
So what kind of company is South Western Energy? Williams, the director, describes himself as a mining and minerals expert. Always one to swim against the current, he attempted to establish a new coal mine, the Unity Mine, in Wales… in 2006. Williams jumped ship from the unsuccessful endeavour and resigned his directorship in 2009. The company went into administration in 2013.
Now Williams advocates for unconventional gas as being a key to energy independence and industrial rejuvenation in Wales and the West Country. Unfortunately, few agree with him: his winning of licenses and planning applications has been the subject of intense opposition from not only the community anti-fracking campaigns but also local authorities, and in the case of Wales, the Welsh Assembly.
South Western Energy was set up in 2012, and records Williams as sole director and his presumed wife Shelagh Williams as secretary. It's one of a stable of 17 companies listing Williams as a director, most of which are in negative equity, aka debt. For SWE that's to the tune of £8,616 according to the most recent Companies House accounts (2014); Coastal Oil and Gas in the same period recorded debt of £280,938. Only UK Methane Ltd bucks the trend – by being in the black by an impressive £917.
Luckily, Williams is also a director of offshore, ironically named investment company Infinity Energy, based in Luxembourg. Infinity's mission statement states that "tremendous opportunities" exist in UK oil and gas and that its target investments are in companies holding PEDLs, with whom it hopes to co-invest in exchange for "an economic interest".
Somer' to think about
As for expertise, Williams claimed that all his plans are absolutely safe. In his rare public chat with the BBC, he replied to a question regarding the safety of fracking with an apparent contradiction. "Well, firstly the industry is proved to be safe," he said. "By the time we are ready to do anything, other bigger companies will have drilled in the north of England and there will be far, far more information available."
But though gas projects in the region have been slow to get off the ground, there's still the risk that oil prices could rebound enough for the 'dash for gas' to accelerate. In this case, there could be more impetus for companies like South Western Energy to push through with their plans sooner rather than later. Watch this space.
The trials and tribulations of Gerwyn Williams
click map to see original pdf
South Wales
Williams talks of his successful exploration wells in Wales, along with the planning permissions he holds for others, as evidencing his success. Coastal Oil and Gas and UK Methane won licenses in a previous licensing round in 2008. But it's not been plain sailing. At least three applications were rejected, with Coastal Oil and Gas appealing each decision. The company dropped out of one, in Llanharan, but pushed forward in getting others overturned.
In Merthyr Mawr, Bridgend, the planning application was rejected then passed on appeal at Public Inquiry. The council had to pay COG's costs of £40,000, leading one councillor to comment, "We will have to be very careful when considering similar applications in future".
The political context in South Wales is not favourable: in February 2015, the Welsh Assembly passed a motion to "do everything within its power to prevent fracking from taking place in Wales until it is proven safe", a measure some took to be a moratorium on the technology until it was reiterated that the Assembly lacks the power to impose a ban. Instead, all planning applications involving fracking must be referred to Welsh ministers.
Local councils, such as Swansea, have passed motions to oppose all unconventional gas exploration. Anti-fracking campaigns have also targeted the south Wales plans, leading to a 'Frack Free Wales' activist camp in the Vale of Glamorgan in Spring 2016. In July 2016, Coastal Oil and Gas announced it was giving up the license rights to two of its PEDLs in South Wales, but a further four were extended.
Gloucestershire and Herefordshire
The license block on the Gloucestershire/Herefordshire border was particularly controversial because it included the Forest of Dean and Wye Valley, which incorporate 'sites of scientific interest'. As soon as the license block was offered, and unconventional gas exploration a possibility, local campaign group 'Frack off our Forest' sprung up to fight any developments, holding noisy public demonstrations outside the council. One activist, a grandfather, expressed his discontent by planning a walk dressed as a wizard from the Wye Valley to Westminster.
South Western Energy gave up its PEDL for Gloucestershire and Herefordshire, along with Wiltshire, in September 2016, with Williams claiming, "We haven't encountered much objection in Wiltshire, Gloucestershire or Herefordshire", and that the choices were made mainly "to minimise financial exposure during a period of low energy costs and uncertain future prices". In December 2016, Gloucestershire councillors passed a motion reiterating their opposition to fracking in the county.
Wiltshire
In Wiltshire the council supported a motion to look more deeply into fracking to address concerns about the environmental impact. Campaigners in Wiltshire had previously presented the council with a petition calling on the council to prohibit fracking, signed by over 88,000 people. South Western Energy gave up the PEDL in September 2016 (see above).
Somerset
UK Methane has made one previous attempt to frack in Bath and North East Somerset – back in September 2012, when they submitted a planning application to drill for coal bed methane in Keynsham, just outside Bristol. Local environmental groups opposed the plans, and the application was withdrawn just three months later in December 2012.