Not business as usual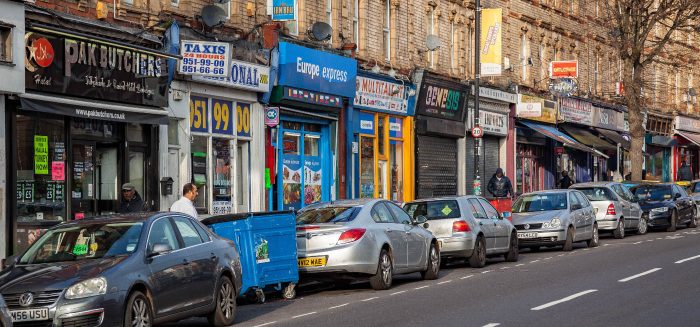 Bristol's small and medium-sized business sector is ethnically diverse – but BME-led businesses face barriers to growth and success. Could 2017 be the year when the city finally starts to celebrate its diverse business community instead?
Words: Lorna Stephenson
Photos and additional research: Dean Ayotte
Where do you think of when asked to imagine Bristol's independent small business sector? Perhaps Gloucester Road, with its health food shops and 'Think local, buy local' and 'Bristol £ accepted here' stickers in windows. Not many people would say Stapleton Road – but could that be about to change?
"We can learn a lot from cities like Leicester. They have done a lot to promote BME businesses – for example, the Golden Mile," says Easton councillor Afzal Shah, referring to Leicester's famous street of south Asian restaurants and businesses, which Leicester's local enterprise partnership (LEP) and council have invested heavily in, and promote as a major attraction of the city centre. "Why can't we turn Stapleton Road into the Golden Mile for Bristol? There is a wealth of different food and business there."
Over the last few months, under mayor Marvin Rees' 'equality'-themed administration, there's been more attention paid to getting businesses run by black and other ethnic minority owners and entrepreneurs included in, and benefiting from, the city's economic strategy. Rees appointed Cllr Asher Craig as lead on Equality and Diversity and Shah as lead on small businesses, with particular emphasis on identifying the needs of existing and future BME business owners and ensuring they have access to business support.
The focus is citywide, but in many ways the issues overlap and are particularly pertinent to the BS5 area, with such a large concentration of small independent businesses and a majority BME population – and with it being Rees and Shah's home turf.
Inclusive growth?
"We need to break down barriers, get more BME people on the local enterprise partnership board, otherwise the perception is that it is another gentleman's club."
For such a proudly diverse city, Bristol has a persistent problem with race inequality. The Runnymede Trust think-tank's Local Ethnic Inequalities report of 2014 found Bristol to be the seventh-worst place in Britain for ethnic inequality based on indicators on health, education, employment and housing – a shift for the worse from the same study ten years earlier.
In November, researchers working for the West of England LEP held a forum at Easton Business Centre with owners of businesses including translating firms, shops and catering outlets, and asked what the barriers to growth and success were. Several themes emerged: competition from supermarkets, the ability to access startup and growth capital, the need for more knowledge-sharing networks and the impact language barriers can have on filing paperwork and negotiating bureaucracy.
For those based in Easton, other infrastructure issues are frequently mentioned, such as the shabbiness of Stapleton Road due to flytipping issues and bins being positioned out in front of shops. The residents' parking zone introduced under George Ferguson has reduced footfall and businesses have suffered. The area also desperately needs banks, pharmacies and other high street staples to increase daytime trade and reduce shop-owners' reliance on the night time economy.
The forum was part of the West of England LEP's efforts to survey how best to engage with the BME business community – addressing equality and women- and BME-led businesses was part of its plan as far back as 2013. LEPs were set up around the country in 2010 to allow regional public/private partnerships with a goal of attracting investment and boosting economies in the wake of the financial crash. In common with other business support organisations such as the Chamber of Commerce, and networks such as the Merchant Venturers, the model has been criticised in Bristol for its whiteness and lack of diversity.
"The problem with the LEP is inclusivity. I don't know of a single BME small business in Easton – in fact, in the whole of Bristol – who have received as single penny in funding from the LEP. Why is that?" asks Shah, speaking after the forum. "To my understanding there is only one BME person on the LEP board. We need to break down barriers, get more BME people on the board, otherwise the perception is that it is another gentleman's club in Bristol."
We ask the LEP how it is progressing on the 2013 goals for a scheduled action plan for engagement with women and BME led business. "Our research is not finished [meaning there are no findings to share] but is asking them what that specific support might be and how we can widen our reach to the many different groups of small businesses," says Julia Dean, the LEP's communications manager. She adds that the LEP's resources were for 'any and all' small businesses, and that the LEP wants to see more people putting themselves forward to get involved or access their services. The LEP plans to publish its findings in March, when it will show whether it can move beyond the PC bureaucratese of its vague 'equalities and diversity' documents and into something more concrete.
For Asher Craig, more diversity is not just a question of getting more people to 'lean in' but of changing cultures of organisations themselves. "Under-represented groups do not lack the skills or qualifications to be on boards, but there is a persistent and unconscious stereotyping of minority groups," says Craig. "The recruitment and selection processes of many boards lack transparency and with respect to culture – as well as the formal structures, boards have unwritten 'rules of the game' which create boardroom cultures that can be hard to penetrate and operate within." She says she's striving for a culture change in the council and beyond, "which will help us to remove the barriers that for so long have restricted BME talent from progressing".
A 'no-brainer'
"What is lacking, is that there is no networking – we are not getting together and we don't know where to seek help."
It's up to each LEP to determine its approach and local economic priorities. The West of England LEP has been strategically focused on attracting investment in the region from large corporations, and supporting the main multi-billion economic 'drivers' of the region, such as the universities, aerospace and defence industries, and now projects such as Hinkley Point C. On the other hand, there's support for startups, but this leaves established small businesses and medium or expanding businesses, no matter who they're run by, in a gap in the middle.
Yet that strategic focus might be the wrong one anyway. The economic benefits of a strong small and medium-sized enterprise (SME) sector are significant. "If you look at the big companies, from every pound that you spend it's 40% that stays locally. For small business, 60% of the money stays local, and is ploughed back into the local economy. So for me, it's a no brainer," says Shah.
But it's the social and community impact of SMEs which is harder to quantify but hugely important to creating resilient communities and social mobility in the long term. It's this holistic view of business and community which Bristol Sweet Mart directors Rashid Majothi and Abdul Ismail are passionate about. Over tea and snacks from the deli of the international supermarket and Easton landmark, a short walk from Stapleton Road, they describe the change of circumstances since the store was founded by their father in 1978, who had left Uganda as a refugee.
"He lost everything overnight, but his knowledge was still there, and he used it – with a lot of difficulty… Put it this way, he had zero help," says Rashid. There is more help available now, he says, and as a successful medium-sized business, Sweet Mart can help and mentor newer businesses. "But what is lacking, is the whole reason we are here in the room now – that there is no networking, we are not getting together, we don't know where to seek help." That sort of connection, perhaps via a local traders network, would help new businesses and existing businesses dramatically, he says.
Rethinking refugees
Another short swerve off Stapleton Road, based at the Easton Business Centre, is refugee support organisation Ashley Community Housing (ACH). Its CEO Fuad Mahamed points to the Sweet Mart as an example of a successful business started from the ground up, and proof that refugees and other newly arrived migrants to the city are an untapped resource. Fuad launched ACH's 'Rethinking Refugees' campaign in autumn 2016, challenging people to stop considering refugees as 'disadvantaged' or 'hard to reach' and instead recognise them as valuable and talented would-be employees and entrepreneurs.
"Many refugees and migrants have a very strong ethic of enterprise, which is something we need more of to keep our economy competitive," says Fuad. He rejects the usual approach to refugee support which focuses on getting people into any job – without considering that that person may not want to be a cleaner, say, for the long term, and getting stuck on entry-level jobs represents wasted potential and often a poverty trap. ACH is working on delivering more employment courses aimed at the self-employed through its training subsidiary Himilo Training.
So can 2017 be the year when Bristol starts to value its diverse business community? Will BS5 shake off its scruffy image and be the next independent business hotspot? It's an issue without easy solutions, although specific steps such as changing council procurement to favour the local and diversifying boards will help. The most positive signs as the new year unfolds is the sense of determination from people in and out of the council to shake up the city's business sector, and put BME-led businesses front and centre.