Air quality: Blue sky thinking?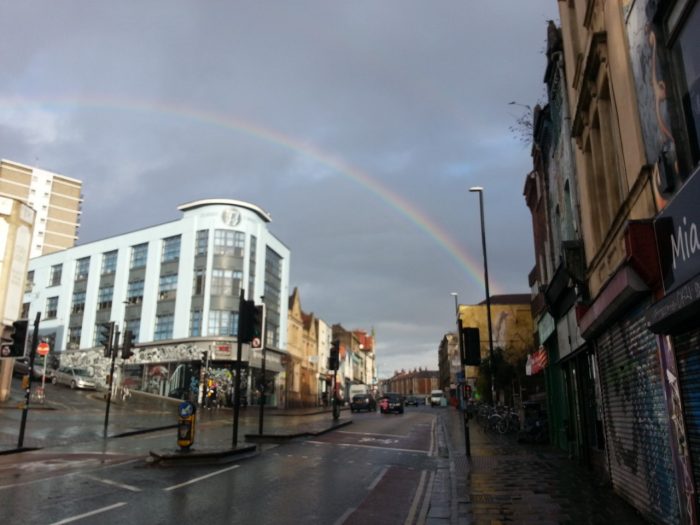 UWE Bristol researchers are creating a 'toolkit' for radical, citizen-led action on air pollution.
How do our everyday choices impact on the air we breathe? What if it was easy to take low-emission options? These questions are the foundation of new air quality research at the University of the West of England Bristol that is focusing on how we, as citizens, interact with our environment.
Dr Enda Hayes, associate professor in Air Quality & Carbon Management, is technical director of the EU-funded ClairCity project, which seeks to overcome the usual problems that arise when it comes to cleaning up our air: People's ingrained behaviour, for one, along with funding, and misconceptions about the real causes and effects of air pollution.
Politically too, air quality is an issue that falls through the gaps between different silos of government – the transport, environmental and public health departments for example – and spheres – such as the local and national governments. Joined-up strategies are hard to conceive or implement.
"We're thinking about society in its larger sense, we're thinking about the environment in which society lives and functions."
Bristol's Air Quality Management Zone. Credit: BCC
The real answer, Dr Hayes argues, is "large scale systematic changes". Of ClairCity, he says, "This is not a behaviour change project, because behaviour change projects often tend to focus on the individual. We're thinking about society in its larger sense, we're thinking about the environment in which society lives and functions."
The ClairCity team, led by researchers at UWE Bristol's Air Quality Management Research Centre (AQMRC), are now starting the Bristol arm of a Europe-wide project looking at developing an adaptable methodological approach and 'toolkit' for policymakers to clean up our air. Across six European cities with different air quality challenges, the ClairCity project is based on collecting data about how people really live in, and interact with, their city and what residents want for the future.
Central to this approach is a computer game and app currently under development to crowdsource information from citizens – users can play in a virtual Bristol.
This understanding of citizen choice and behaviour will then give context to policy decisions and a data-driven blue print for urban planning – breaking the walls between the spheres and silos around environmental policy.
"What we want to do is help cities develop policies over a long period of time – we're talking about the next 25-35 years – in which the city environment enables city citizens to make green choices the social norm," explains Dr Hayes.
"It's not what a handful of well informed, well-meaning citizens might do, it's that you create a city environment where the whole of society can actually make informed, greener choices as standard day to day activities and choices without ever really having to think that much about it."
A computer game and app are in development to crowdsource information – users can play in a virtual Bristol.
It's a leap from the usual manner of dealing with air quality issues. Historically approaches to tackling the air pollution have emphasised technological developments – low emissions vehicles, for example. But so far it's all amounted to "a sticking plaster for a broken leg", says Dr Hayes. Assumptions that increased traffic on the roads will be mitigated by cleaner vehicles being adopted over time hasn't happened. There's just more vehicles.
Then there is the 'hotspot management' approach, for which there are myriad possible solutions but which essentially all focus on identifying a geographical area of high concentrations and bringing in measures, such as a charge or ban on particularly polluting vehicles, to try and bring down pollutants in that specific area. The approach has its benefits for curbing the most harmful excesses but doesn't tackle the broader systemic roots of the problem.
The major one is that air, well, moves. Pollution generated in one part of the city will spread and disperse to other parts. The other is that attempts to address problems in one area can be undermined because the sources of the emissions are not tackled in another area. Bristol, for example, has set its Air Quality Management Area as high traffic areas in the city centre and the major traffic routes in and out of the city. But where do those cars come from?
Looking ahead
The other obstacle to implementing any improvements based on the ClairCity research is funding, which is problematic in the current climate. Dr Hayes is complimentary of Bristol City Council's track record of keeping the issue in the spotlight (Bristol City Council are a ClairCity project partner) but the national government's ambition to tackle air quality is inadequate for the scale of the problem.
However, the project does bridge the gap between politics and people, behaviour and technology, in a way that could reinvigorate the way we address environmental problems.
Find out more at ClairCity.