Bristol's role in arming the world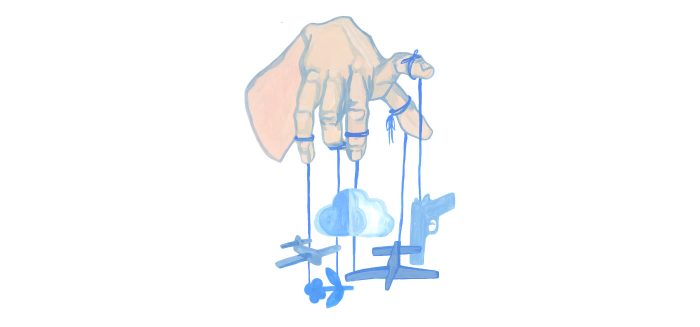 Fighter jets with engines manufactured in Patchway are dropping missiles designed in Filton on Yemen. But can the defence sector be re-shaped to provide real security?
Words: Jo Baker
Illustration: Fran Hooper
Arms and aerospace industries have played a significant and historic role in Bristol's economy, beginning in 1910 when Sir George White founded the British and Colonial Aeroplane Company in Filton. Bristol bombers were used during the first world war and 'aerial policing' was subsequently developed as a strategy of control throughout the empire.
Aircraft made by Vickers in Bristol were bombing the people of Afghanistan as early as 1919. During the height of the Cold War, Bristol's dependence on military expenditure was unmatched by any other European city of comparable size. Later, in 1996 the Ministry of Defence opened its facilities at Abbey Wood in Filton, housing the MoD's buying arm, the Defence Equipment and Support Agency (DE&S), the largest MoD site in the UK employing around 8000 staff. The DE&S in Bristol has attracted the presence of many major arms companies and supporting businesses and research facilities.
While a legal challenge to these sales is set to commence in February 2017, they will be facing down powerful players.
Now Europe's single largest aerospace centre, companies in Bristol are involved in the design and manufacture of components for missiles and fighter jets used in conflicts such as Yemen, Iraq, Syria, Afghanistan, and Libya. According to official government figures, the UK is the world's second largest arms dealer in the world, with 63% of exports to the Middle East. Despite mounting evidence of civilian casualties and violations of international humanitarian law in many of these conflicts, the government has refused to budge on it continuing arms sales to Saudi Arabia and others. One reason is the huge sums involved. According to Campaign Against the Arms Trade (CAAT) the government has licensed over £3.3 bn worth of arms to Saudi Arabia since the bombing of Yemen began in March 2015.
While a legal challenge to these sales is set to commence in February 2017, they will be facing down powerful players. Bristol based companies such as the missile manufacturer MBDA, and giants Rolls Royce and BAE systems are directly profiting from these sales. MBDA's Brimstone and Storm Shadow missiles are being used by the Saudi Airforce in Yemen and Bristol Rolls Royce manufacture the engines for the Eurofighter Typhoon Jets.
In November 2016, donning poppies to remember the war dead, four UK ministers faced down a parliamentary select committee and vowed to continue sales to Islamic fundamentalist family dictatorship of Saudi Arabia.
Other major defence projects in Bristol include the lifting system for the F35-B fighter jets, made by Rolls Royce, and the wings for the A400 Atlas next generation transporter plane, designed and manufactured by Airbus in Bristol. In honour of Bristol's role in the aerospace industry the first A400 Atlas has been named 'City of Bristol' by the Royal Air Force.
Government and arms dealers: A happy relationship
The success of the UK's arms market is due mainly to the extraordinary support companies get from successive UK governments. In her Bristol University PhD Theses (2004) 'A Dead Giveaway' Emma Ann Rose Mayhew states that "No other industry is so dependent on the government to define the parameters in which an entire industry's commercial activities are set. No other industry has such a huge incentive to become as involved as it can be in the formation and implementation of government policy."
Although accounting for only around 1. 6% of exports, the defence industry has a dedicated UK Trade and Industry Defence and Security Group, as well as diplomatic attaches in many countries. It is backed by export guarantees, and arms deals are promoted by the country's elite including Prime Ministers and members of the Royal Family. The 'revolving door' of public sector officials and private sector executives is much higher for this industry than any other, and corporate board members have a significant presence on government think tanks on defence policy. This plays out on a local level with the close interaction between Jack Lopresti, MP for Filton and Bradley Stoke and Bristol arms companies. Mr Lopresti has paid several visits to the dictatorships of Saudi Arabia and Bahrain promoting arms exports at conferences organised by global arms traders with bases in Bristol. Charlotte Leslie, Conservative MP for Bristol North West, recently visited the United Arab Emirates, praising its political "pluralism". When challenged on the emirate's authoritarian monarchies and Sharia law the MP replied "It is easy to carp morally from the sidelines on issues such as human rights… but that is not always the best way…"
The reach of the arms industry penetrates the city in many ways.
Researching the future of war
Bristol Technical and Engineering Academy includes Airbus and Rolls Royce as sponsors, both of which are caught up current major corruption scandals. At higher level education, both Bristol University and the University of the West of England (UWE) are recipients of military funding, mainly in the engineering sectors. In their paper, Behind Closed Doors (2008), Scientists for Global Responsibility revealed that in the academic year 2005/06, Bristol University received government military funding of £2.2 million, and corporate military funding of £1.2 million from Rolls Royce, BAE Systems and General Dynamics. In the same year UWE received £173,355 in government military funding and £840,370 in corporate funding. It also received £690,842 for Home Office security. More recent Freedom of Information requests by The Cable show that Bristol University's engineering department research budget has received almost £4 million from arms companies since 2010.
Despite these hefty donations coming at a time when University budgets are cut by Government, not all students and staff have been happy with this state of affairs. In 2013 UWE students demonstrated against the Defence and Procurement Research and Technology Exportability (DPRTE) arms fair being hosted at UWE. DPRTE has subsequently relocated to Cardiff. In February, 2014 the Bristol Students' Union Annual Members' meeting voted for the union to support 'any action that seeks to raise awareness of BAE's questionable business practices or oppose their presence on campus'.
Furthermore, the prioritising of defence spending appears to run counter to genuine solutions to conflict. In their paper 'Offensive Insecurity' (2013), Scientists for Global Responsibility noted that research and development (R&D) funding for military projects far outstrips R&D for renewable energy or for dealing with the roots of global conflict. They estimated "… that Ministry of Defence spending on R&D per year from 2008 to 2011 was approximately twice the total public R&D spending – and seven times the civilian government departmental R&D spending – that helps to tackle the roots of conflict." £1.5 billion was spent on R&D for combat aircraft alone during this period, but only £179m for renewable energy.
When defence jeopardises security, can there be an alternative future for engineering?
Bristolians are rightly proud of their engineering expertise, and anxious about any loss of jobs.
It is not surprising that policy devised by men with strong military and defence industry connections will favour use of military intervention over more globally inclusive or long term notions of security.
A paper 'Rethinking Security' (2016) written by the Ammerdown Group, a group of peacebuilding practitioners and academics, consider the government security narrative to be outmoded, elitist, and failing as a response to growing global insecurity. Concerns such as climate change, resource depletion and increasing inequality are not acknowledged, nor is the fact that militarism itself is a source of extreme insecurity.
For this reason, it can be argued that the defence/aerospace industries in Bristol do not sit well with Bristol's aspirations of 'green capital'. Bristolians are rightly proud of their engineering expertise and anxious about any loss of jobs. But with the right support and investment, these skills and funding could be diverted to world leading technologies that enhance social and ecological progress. The One Million Climate Jobs campaign, set up by trade unionists within the Campaign Against Climate Change, and CAAT's 'Arms to Renewables' briefing show that there are realistic alternatives to arms industry employment, especially regarding wave and wind technology.
Indeed, such a change is not pacifist idealism, it's about real security versus a false sense of strength.
Jo Baker is a member of Bristol Against the Arms Trade. BAAT is organising walks around the defence industries of north Bristol to raise awareness and invite discussion on an alternative approach to security and job creation. Find out more at bristolagainstarmstrade.wordpress.com