You need the Cable and the Cable needs you!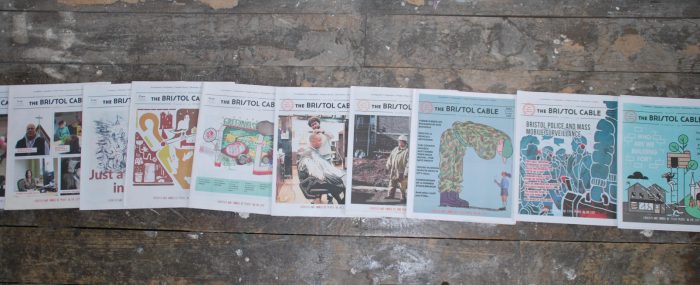 So far, 1,500 people have helped make this happen. But the Cable needs 3,000 to survive. Here's a snapshot of what can happen in just a few months.
The free distribution of quality information and ideas is essential for a healthy city and the wider community. Along with these ideals, at the Cable we're keen to have a more direct positive impact on Bristol. Take a look, and if you like what you see, get involved! Become one of 1,500 owner-members supporting proper media, education and political change. Don't just complain about the media, own it!
Citing Bristol Cable investigations, the University of Bristol Court voted in November to divest £3.3 million from fossil fuel companies. The move followed two years of campaigning by Fossil Free Bristol and a series of Cable investigations into the Uni's stake in these dirty fuels. Bristol Uni has an investment portfolio of £56 million, which continues to include some rather unsavoury companies.
In November, the Malcolm X Centre squeezed in 280 people for an electrifying night with Poetic Pilgrimage – a Bristol born and bred female Muslim hip-hop and spoken word duo. The 'Hip Hop Hijabis' (title of an Al Jazeera documentary about them) dished out a powerful, political and unifying set of rhyme, beats and deep melodies. As usual, this Cable event was free for refugees, asylum seekers and people in financial hardship.
Photo: Alvaro Martinez
The Bristol Cable Media Lab: turning stones
The Bristol Cable Media Lab is the Cable's brand new education and training arm. A group of 15 local people are getting tooled up in journalism for free, learning everything from cracking dodgy company accounts and filing freedom of information requests, to feature writing and media ethics.
The Media Lab is for people who see journalism as key to building a better world, but may not have any previous experience. The 2016/17 programme is supported by the Centre for Investigative Journalism and the Cardiff Centre for Community Journalism.
Watch out Bristol, a team of 15 newly trained local journos are about to be let loose on the city!
Three young women living with cancer were given training in film, photography, illustration, podcasting and writing in a week-long course by the Cable in October. Using their new skills, they went on to produce their own interactive story – which was published online in November. The three women told their stories and shone a personal light on life as a young person with cancer, while having a laugh too!
In our ninth edition, the Cable revealed that at least seven police forces including Avon & Somerset Constabulary had purchased powerful mobile phone spy technology that can hack the text messages and phone calls of all mobile phones in an area of up to eight km2. There is currently no national transparency on how police use this indiscriminate surveillance gear. As testament to the significance of this investigation, the BBC, Guardian and the Times reported on our findings.
Our local force has kept schtum, and in a desperate cover-up removed the previously public documents cited in the investigation. But pressure is mounting and civil rights groups including Liberty and Privacy International have demanded transparency and strict government regulation. The National Union of Journalists has demanded assurances from PCC Sue Mountstevens that journalists are protected from this snooping tech (and is still waiting for an answer), and law firms are exploring legal challenges.
Illustration: Luke Carter
Due to Cable investigations and community campaigning the council is be moving towards a policy of publishing the controversial documents that help housing developers avoid affordable housing obligations.
Powerful member event: Who cares about care?
Cable members joined Meirion Jones, investigations editor at the Bureau of Investigative Journalism, Bristol Independent Mental Health Network's Tom Renhard and Ellen Devine of Healthwatch Bristol for a pioneering speaker event. It brought together healthcare professionals and investigative journalists to scrutinise the care sector in Bristol explore and working towards better conditions.
"I've always thought that it is not enough to publicise something," said Jones, "you have to change things."
credit: Illustration: Rosanna Tasker
Free media for Bristol
In total: 180,000 Cable copies delivered to 650 locations and thousands of residences.
Comments
Related content
Urban growers are quietly laying the ground for a food revolution. Can it become a reality?
Growing fruit and veg close to home is better for our health – and could help keep us fed when climate change disrupts supply chains. Could doing more of it provide a secure, affordable, and sustainable way of meeting Bristol's needs?
Listen: Bristol Unpacked with Babbasa CEO Poku Osei on changing the system from the inside
In the wake of the recent murder of St Pauls teenager Eddie King Muthemba Kinuthia, Neil talks to Poku Osei from Babbasa who aim to empower young people from local income and ethnic minority households.
Turbo Island got tarmacked, was there a better alternative?
An outpouring of posts eulogising the wonders of Turbo Island poured forth on social media, bemoaning the loss of a "cultural icon". But what does it mean for Stokes Croft?
Listen: Skate or Cry by Jazlyn Pinckney
In this audio documentary, five women taking space in Bristol's skateboarding scene speak to Jazlyn Pinckney. Some have just picked up a board for the first time, others have been skating for decades.
Campaigners face uphill battle to save two BS5 pubs from redevelopment
From the Redfield residents trying to preserve a historic cinema to the Barton Hill activists just wanting to keep their last local, there are common frustrations for communities trying to hang on to the places that matter to them.
Could Filwood Broadway finally get the cash boost it needs?
The south Bristol high street might be getting a much-needed makeover. But locals say they should be consulted again because the plans are out of date.