Bristol's DIY communities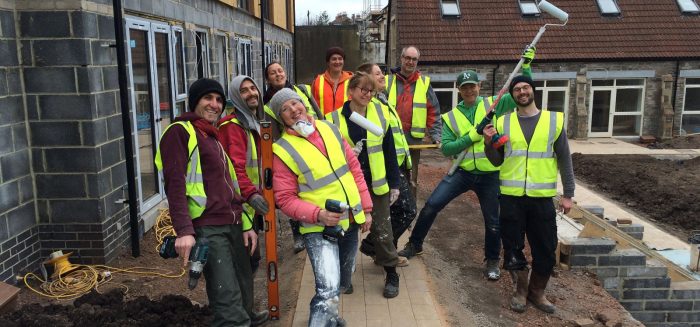 Community and self-build projects can play a small but important role in tackling the housing crisis
"We were living in Eastville and my landlady sold the house," says single mum Virginia. "I tried to find another flat and realised we'd been priced out."
Virginia and her five-year-old son Michael were made homeless
Virginia and her son became homeless; their story is a familiar one. House prices increased by an average of 8.4% in the last year and Bristol's private rented sector now accounts for 22% of homes, with ever-increasing rents. At least 10,000 households are waiting for social housing, while little is built and the Right to Buy policy cuts supply further. More people are becoming homeless, yet 2.5% of homes in the South West lie empty.
There is, though, a growing trend of Bristolians building their own homes and helping house their communities. This approach has, in the shape of the Abolish Empty Office Buildings (AEOB) project, offered a way out of homelessness for Virginia and her five-year-old son. Such endeavours aren't silver bullets – they can only deliver homes in small numbers. But what can be learned from them, how do they work and can they offer any solutions to the crisis?
Responding to local challenges
"It's not going to be a block of flats; it's going to be a small community, though not in a 'knit your own yoghurt' sense!"
AEOB was set up as a response to Bristol's housing squeeze and raised £300,000 via a community share offer to refurbish a derelict office site in St George into six homes. The project is about producing cheap homes for people struggling to rent – including Virginia and her son. Tenants, who offered input in the final stages of the build, say they value the chance to share friendships and responsibilities with neighbours.
"We have to make it work," says 69-year-old AEOB tenant Nicky. "It's not going to be 'a block of flats'; it's going to be a small community, though not in a 'knit your own yoghurt' sense!"
'Knit your own yogurt' is the kind of stigma sometimes attached to certain neighbourhoods closer to town – but in one of them, St Werburgh's, the Ashley Vale Action Group (AVAG) built perhaps Bristol's best-known community housing project, The Yard. Locals banded together in 2000, wanting to keep land out of corporate hands and build environmentally-friendly, affordable homes. The project was mainly funded by inviting people to buy into the land and build their own homes. By 2011 there were more than 40 dwellings, plus creative, work and community spaces.
Elsewhere in Bristol, organisations looking for land or targeting derelict sites include Ambition Lawrence Weston and Southmead Development Trust. They were both sparked by communities' sense of being left behind – of which lack of affordable housing was just one symptom.
"The college closed, the youth centre was threatened with closure, the community just got fed up of being forgotten," recalls Ambition Lawrence Weston's Helen Bone.
The two projects want to regenerate their areas to create not just new housing, but homes better suited to locals. They want elderly people to be able to move out of top-floor flats, and parents to downsize after children leave home. Their ideas are for affordable, ethical rents, shared ownership and space for businesses.
Southmead Development Trust already runs a youth centre, among various services. Unlike AVAG, its ambitious plan for 200 homes won't involve building by residents, but it aims to hire local contractors, tradespeople and apprentices, and consult regularly with Southmeaders.
Facing up to challenges
With every community building approach, there are challenges. Grants and private donations have helped fund AEOB, but high costs have left its founders unable to keep rents at housing benefit levels, though the properties are energy-efficient and still generally cheaper than private rentals.
Keeping projects going in the face of personal conflicts can also be tricky. At the now-desirable Yard, where people own (and so can sell) their plots, there have been accusations of profiteering at the expense of the project's original spirit. The scheme has, however, helped people like Jackson Moulding, a founding resident, develop new skills. Today, he tells the Cable, he works supporting self-build projects through social enterprise Ecomotive, and champions mediation and conflict resolution techniques to resolve disputes.
Moulding also helped found Bristol Community Land Trust (BCLT), which aims to secure permanent land for locals to build on. Its first project is 12 homes in Fishponds, part-built by residents on land bought from Bristol council for a nominal £1 – a deal that came with its own headaches. The group spent time and money on the site on the understanding of the £1 "peppercorn" fee, only to be told by the council at the last minute that it could not happen due to European state aid rules, taking a year of delays and the involvement of then-mayor George Ferguson to sort it out.*  BCLT director Keith Cowling explains that this kind of gift of land or money is essential to getting off the ground. Whereas mainstream developers borrow to build, and use rental or sale income to pay back loans, commitments to affordability mean that land trusts struggle to do so.
New optimism
Community building on Fishponds Road
Despite the risks of council bureaucracy hampering projects like the Fishponds development, encouraging signs from the Rees administration – in particular the appointment of Paul Smith as housing lead – have fuelled optimism. Smith has spoken of wanting to cut bureaucracy and empower community groups with ideas for housing to come forward. He acknowledges that this must sit alongside achieving the council's larger-scale development plans, which will hardly have been helped by its recent worsening financial picture.
"The government's austerity programme is breaking the back of the council," he says. "But we're not saying, 'People, do it because we can't'. It's saying, 'Why haven't we done this before, working closely with these communities?'"
Bristol is known for seizing fresh ideas. Both Smith and Ambition Lawrence Weston's Helen Bone feel that a lot of people with the right ideas and skills have found each other here. But it's a tempting comfort to talk about how creative Bristol is, while forgetting that our housing crisis is particularly bad.
"Obviously, Bristol, it's quirky, wonderful, entrepreneurial – but there is stark inequality," points out Alex Kittow, Southmead Development Trust's chief executive.
Community building can't slay that inequality. But Bristolians are building connections through CLT networks and community housing hubs, learning from and supporting each other. Charitable trust Power to Change has just announced a £1 million funding programme for community housing endeavours in Bristol and Leeds, which could give an early-stage boost to ambitious projects like the one in Southmead. New funding opportunities like this, alongside a supportive council, could help these initiatives flourish – and make an increased impact.
"People-led housing is not really in the UK mindset, but we can start to change that story," says Moulding. "People are increasingly trying to find solutions through this chaos."
* The print version of this article mistakenly identifies the mayoral election as the reason for the delay of BCLT's deal with the council. We apologise for this inaccuracy.