Half a billion to shareholders, next to no affordable housing for Bristol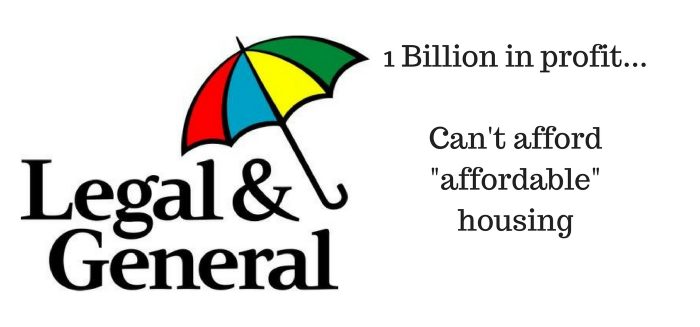 A developer that made £1 billion in profit after tax in 2015 (yes, you read that correctly) is wriggling out of affordable housing obligations in yet another large development up for decision on Wednesday.
Legal & General (L&G) initially submitted the Temple Meads area application with zero affordable homes for rent. Now a council report is saying that councillors should only approve the 255 unit application with of 10% or 26 affordable units. While this is a full 30% below council targets, L&G have been able to take advantage of policies that aim to prevent elected councillors from blocking un-affordable developments, if the developer can show they won't make enough profit.
According to confidential documents released by the council following pressure from the Cable, L&G is able to cry poor whilst still making between £12-13 Million profit on this specific development, even when 10% of flats are allocated for "affordable" rent.
"Easing the inter-generational housing crisis"… (by providing expensive single bed rooms)
In company documents, under the heading "Easing the inter-generational housing crisis" complete with a picture of a happy child with a Jenga set, Legal & General proclaim how they are "keen to see a greater supply of affordable homes and social housing".
We asked L&G how this positive vision squares with their foot dragging over affordable housing contributions, and the fact that 70% of all planned units are non-family friendly single bed apartments. They did not respond to our request, but the documents do the talking: In 2015, £600 million was paid to corporate shareholders.
Asides from affordability, the type of units available will do little to alleviate the needs of families in Bristol. All 26 "affordable" units outlined in the scheme are 1 or 2 bedroom flats, with a monthly rental cost of £525 and £656 respectively. 

Speaking to the Cable, Anny Cullum an organiser with ACORN said
"developments below the council's calculated desired affordable or social housing do nothing to help ease the housing crisis and only serve to increase the already rather considerable profits of shareholders. In this case, not only are L&G exacerbating the housing crisis by building housing that the average Bristolian won't be able to afford (thus pushing local prices higher and local people out) their feigned concern for the future of young people struggling to get by is both transparent and offensive. ACORN is already fighting other developers in the city who also show disregard for the needs of our communities and have already won concessions on the planning application of the Greenbank Chocolate Factory site. Now more than ever, it is important for tenants and Bristolians to come together to make sure that developers aren't deciding the future of our city and young people."
2pm, Wednesday 22nd of February will see councillors decide on this application, as well as whether or not to defend the appeal by the developers of Greenbank Chocolate Factory. Find out more and object to this application here using reference 16/04561/F.