Hundreds meet to stand up to racism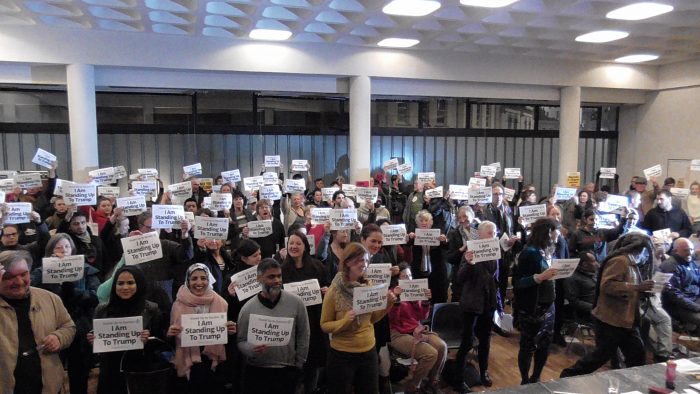 "We need to organise so we are the biggest voice."
"They've got the money but what we have is our unity."
Hundreds of people gathered last night at a public rally organised by Stand up To Racism, a national campaign to oppose the far-right.  Key figures in the movement against Islamophobia addressed the packed Broadmead Baptist church, filled with a diverse group of people from across Bristol.
Speakers included Judah Abundi, local civil rights activist who was recently tazered by the police, Moazzam Begg, a former Guantanamo Bay detainee, Hibaq Jama, Labour councillor for Lawrence Hill and former refugee, and Terry Karampini, an EU migrant worker.
The Q&A session offered the audience an opportunity to share their own ideas with the speakers and explore ways in which they were challenging the politics of division on a local level.  One woman in the audience pointed out that "movement means movement, not just meeting". There was a tangible sense across the room that people were energised to stand up and challenge Islamophobia.
One of the key aims of the rally was to act as a mobilising force for the annual Stand up to Racism demonstration on 18 March. The meeting came after a far-right group announced a demonstration in Bristol on the 4th of March. 
People shared experiences of racism and brutality, but the messages that reverberated loudest across the room were ones of hope and solidarity.  Every speaker expressed that if activists and groups continue to mobilise effectively, the collision course that the world currently seems to be on can be averted.
Terry Karampini, referring to the ascendant political right-wing, urged the crowd: "They've got the money but what we have is our unity, and we need to demonstrate our unity… We need to organise so we are the biggest voice."
After the meeting there was the opportunity for the different groups and people in attendance to connect, exchange contact details, and, importantly, galvanise support for the nationwide demonstrations that will take place on Saturday 18th March.
For more information on how to get involved with Stand up to Racism, go to standuptoracism.org.uk