The rise and fall of Bristol's print industry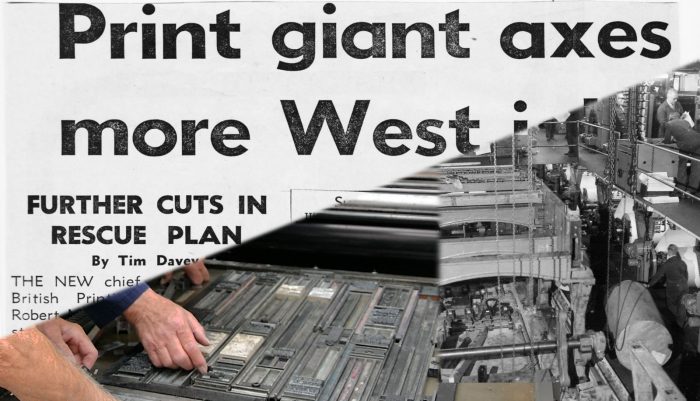 Memories of hot metal, union pride and livelihoods in the city
Words: Charlotte Biszewski
The printed word propelled mass communication and knowledge dissemination. As a medium of power and influence, it enabled the political establishment and intellectuals, as well as the less educated and oppressed, to receive and express ideas. But while the printed word and texts changed the course of history, the skills and livelihoods of the people who banged them out on factory floors receive little account.
Today's laptop-to-digital-printer process makes historical practices seem long-winded. Yet, except for a boost in scale during the Industrial Revolution, the two phases of the printing process remained almost unchanged for 500 years. First, compositors' skilled hands arranged individual lead-cast letters and spaces to form lines locked into place in galleys. Then, machine men inked the assembled type's surface and pressed it against sheets of paper.
'Bristol's printing industry peaked in 1901, when 72 letterpress firms and five daily newspapers were active.'
Regional rise
Although printing presses were used in the UK from 1476, Bristol had to wait more than 200 years for its first printing house. In 1702, William Bonny seized upon a change in regulations, which had prevented printing outside of London, to set up Bristol's first newspaper, the Bristol Post Boy, which still has a tribute on Small Street. The single-sheet weekly publication can still be found hidden away in the Central Library, one of the oldest surviving examples of a provincial newspaper.
Bristol's printing industry peaked in 1901, when 72 letterpress firms and five daily newspapers were active. The sector never had the fame of London's newspaper presses, nor the traction for academic publishing of Oxford or Cambridge. That said, some of the bigger firms, such as Mardon, Son & Hall, were mammoth operations, and the sector grew to become one of the country's main centres of production. In 1938, 14,383 people (women, men, girls and boys) were employed in the city's printing industry – 8.7% of the total contracted workforce – and many considered it more than just a job.
"Not only was it a trade; most printers had an affinity with the history," says Colin West of the National Society of Operative Printers and Assistants (NATSOPA). "The smell of ink, the relentless rattle of machinery, the weight of the lead cast letters – a strange alchemy works its way under the skin."
'Printers' unions were famed as an industry backbone and had a grip over its governance.'
Collective pride
Nigel Dando, a former chief reporter at the Bristol Evening Post, remembers the time of 'hot-metal' and the print process in the newspaper industry. "If it was a busy day it was an exciting business to be in, whatever part of the chain you were in, whether you were a journalist, a compositor, a printer – or a van driver getting the stuff out there."
The London Union of Compositors appeared in 1834 (unions only became legal in 1871), and went on to spawn numerous splinter organisations. Referring back to the origins of print, when books were produced by monks, these 'chapels' represented different workforces and their needs. The Bristol Typographical Society was formed in 1852.
"[A union] was not an organisation for a political party, but merely [one] for the people" says Andrew Yerbury from Purnell & Sons. "I worked with Tories and Communists, but they were unionists. They were about the union, not what government we had."
John Roberts, a proofreader at John Wright & Sons between 1961 and 1985, recalls the strength of the unions in the printing trade. It was known as a 'closed shop'. "You couldn't get a job in print without being part of the unions, [which] in those days were very strong," he says. Printers' unions were famed as an industry backbone and had a grip over its governance.
Industry decline
From the 1970s, the British print industry came under pressure because of competition from cheaper labour abroad and the advance of technology. With redundancies looming, disputes flared between companies and unions. Rupert Murdoch's closure of the Fleet Street presses and the 54-week 'Wapping dispute' of 1986-7 marked a turning point for the print industry and, ultimately, a crushing defeat for the trade union movement.
In the years leading up to Wapping, Bristol's print industry was no stranger to industrial action. A key example was that of Purnell & Sons' factory, based in Paulton, a small village to the south of Bristol. The company, established in 1839, had a long history as a family business and was at one stage one of Europe's largest print plants, contracted to print many colour magazines including the Radio Times and the Sunday Times magazine. High wages made it a hugely attractive South West employer. ''We used to call it 'Fantasy Island', because of the high pay," says Dando, though he acknowledges the money was reward for doing a "hot, sweaty, tough, dirty job".
Purnell & Sons merged with the Hazell Sun group to form the British Printing Corporation in 1964. While the company had big contracts, the introduction of new machinery and overstaffing eventually meant it was losing money. The controversial (and later disgraced) media baron Robert Maxwell stepped in to purchase the company, taking full control in 1982, and told unions the only way to save any jobs was to cut the payroll from 13,000 to 7,000 workers.
In his bid to strip the company down, he faced countless disputes. The National Graphical Association (NGA) union would call strikes, and deploy flying pickets, at Maxwell's other printing plants. "There was a lot of support for the strikers […] the local village organised cash collections for them while they weren't earning," recalls Dando. By 1982, after a long and bruising stand-off, the NGA had managed to secure a three-year guarantee of non-enforced redundancies, temporarily saving 1,200 jobs. But after the agreement ended, disputes began again and Maxwell fought back, taking 174 members of the NGA to court and threatening families with financial ruin. As time went on, further agreements led to new survival plans and more redundancies; the Paulton factory closed in 2005, with 400 jobs lost.
Similar processes unfolded elsewhere in and around Bristol. In 1993, the Arrowsmith's dispute saw the printer's 120-strong workforce dismissed and offered re-employment under changed working conditions, including non-recognition of unions. Staff led an 18-month picket that saw only five return to work; the firm took on new workers but ultimately ceased operating as a printer in 2006. Today, up and down the country, the process of sending words to print, with the added phases of proofing and production of the printing plates, has disappeared, along with the jobs that went with it.
Survival in the margins
While the printing industry has withered, many of the ex-members still keep up with their union friends today. "I feel so sorry for the working youth today, because they haven't got any of that [union strength] any more," says Yerbury.
During the 1990s, letterpress printing became almost extinct, and museums were inundated with the relics and scraps of printing presses. In Bristol, just a handful of small printers continue to exist, remaining as family-run businesses such as Taylor Brothers in St Paul's, Burleigh's, now in Portishead, and Mitre Printing in Kingswood. But almost all have adopted lithographic and digital printing in order to survive. According to a 2010 University of the West of England study of the city's top employers, 'printing, packaging and publishing' accounted for fewer than 2,500 jobs.
The practice of letterpress, as well as other print techniques such as photogravure (the main form of printing at Purnell & Sons) has, though, experienced a revival in the hands of artists and designers. In picking up the lead, they have taken print into a new configuration – many crave its tactile beauty and have rejected the cold computer screen for a more hands-on approach to communication. Studios such as The Letterpress Collective are dusting off old presses, collecting together jumbled type, and ensuring that the art of printing doesn't fade away completely.
---

For more information about the history of the Bristol Print Industry:
www.bristolsetinprint.com
Upcoming exhibition at:
Bristol Central Library, 30.01.17 – 28.02.17
Exclusive film screening & launch night – Thursday the 2nd of February 5pm -8pm.