Levelling renting's uneven playing field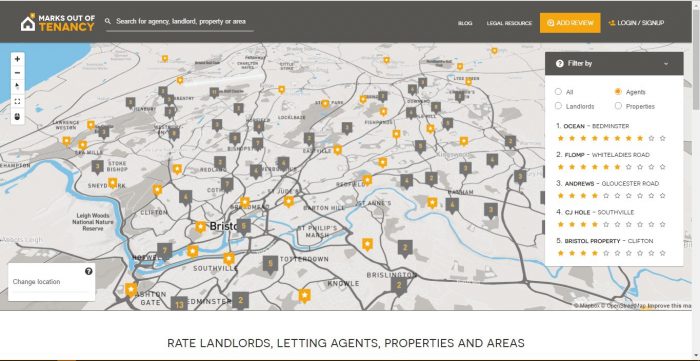 A new Bristol-based service, Marks Out Of Tenancy, is giving landlords and letting agents the TripAdvisor treatment.
In a city centre cafe, laptop cursor hovering over a grid of Horfield streets, Ben Yarrow is recalling how a note he once left stuck to a boiler inspired him to create a service that's been described as a 'TripAdvisor for renters'.
Marks Out Of Tenancy enables people to grade their private renting experiences in detail.
"I'd had a bad experience with a landlord – I ended up writing a message I hoped the next person in the flat would read," he says. "I couldn't find anywhere online suitable to leave a review and thought, hang on, there's a gap. It's shocking that this site doesn't exist."
Now, it does. Marks Out Of Tenancy, which launches UK-wide this week, enables people to grade their private renting experiences in detail. Following on from the government's unexpected announcement last year that it will ban agency fees, it strikes another rare positive note for the nation's tenants – who have long been accustomed to the shitty end of the stick.
But the site isn't just meant to be a weapon with which to bash slumlords and rip-off agencies with. It's also designed to make sure those doing the renting are fully in the picture regarding what they're doing well, and badly. Yarrow's hope is that Marks Out Of Tenancy, which will also share anonymous data with councils and charities, can help push up standards by putting knowledge in the hands of everyone who can benefit from it.
Breaking down the whole tenancy
Marks Out Of Tenancy, which is free for tenants, is based around enabling people to rate the different elements that can make a tenancy good, or godawful: the landlord, the agent, the home and the area. The thinking is that this will give others the details with which they can make informed decisions. For instance, a 10-star rated agency may be letting a property for a landlord rated only two stars. Renters browsing the site might want to give the landlord a wide berth, without necessarily writing off other properties advertised by that agent.
Of course, people also have wildly different standards, and a range of priorities, when it comes to what constitutes a 'good' property or area. Text boxes on the Marks Out Of Tenancy interface are designed to add "a bit of narrative", as Yarrow puts it, putting flesh on the bones of the ratings. Bristol has its own page, as do suburbs – so Henbury, or Cotham, or Lawrence Hill – postcode areas and individual streets.
Prospective tenants can switch between viewing their options by landlord, agency, property or area. If you want to leave a review of an agency property, a database of more than 20,000 agents is pre-loaded so you can attach it to the right branch. If it's a privately let address you're rating, you enter the landlord's details and the site goes off and verifies them.
A strength of Marks Out Of Tenancy is that it protects your identity via an anonymised ID, or 'identicon' – so while landlords may be able to figure out who has left a glowing, or scathing review, there is no username for them to feed into a search engine (and possibly trace your current whereabouts). "As soon as you start your account, our system generates various random sets of numbers, processes that data, adds more random numbers to the end and generates a unique identity," explains Yarrow.
Marks Out Of Tenancy will also offer help for tenants to keep in control of their tenancies – for example, an image gallery where you can upload 'before' and 'after' photos for deposit protection purposes, and an automatic notice-letter generator. "We were chatting to [Bristol] council and they suggested adding a disrepair complaint letter too," says Yarrow. "That can be a bit of a barrier for people, who are not sure how to go through that process properly – and it could protect them against revenge evictions."
Universal coverage
Paul Smith, the council's housing boss, is predictably pleased to see a project arrive that could offer protection – even in limited form – for Bristol's tenants. As the Cable has reported previously, government stats show that hundreds of households are losing their homes here because of private tenancies being terminated – and the council is struggling to cope.
"This isn't a panacea for quality in the private rented sector, but people will be informed – and forewarned is forearmed"
Marks Out Of Tenancy is hardly going to stop buy-to-let owners eyeing the opportunity to sell up. But it could help families avoid nightmare landlords in the first place – and data from the site could also flag up concerns to the council's private housing team that they may otherwise have been unaware of.
"It's not a panacea for quality in the private rented sector and of course it won't affect supply, but at least people will be informed – forewarned is forearmed," says Smith. "It will help drive improvement – I can't think of any negatives."
Nick Ballard, community organiser at tenants' union ACORN, says he's also looking forward to working with Marks Out Of Tenancy. "The ability to rate letting agents in an accessible and useful format is something ACORN members have wanted for some time," he says. "Leaving honest reviews and being able to freely share experiences are crucial tools for tenants."
Of course, both Ballard and the council mainly come into contact with people having grim experiences with their housing. ACORN and the council's licensing schemes also share a focus on homes in the east Bristol inner city.
"[Marks Out Of Tenancy] will cover rural areas; outer estates which are often forgotten," says Smith. "It will hopefully fill gaps that our regulatory approach and ACORN leave. There's also an opportunity for the good agencies and landlords to promote themselves, knowing that [their line] will be tempered by residents' views."
Quality control
Marks Out Of Tenancy founder Ben Yarrow (left) and operations manager Tom Dickinson
Whether the service succeeds or not will depend on the lettings industry taking up that opportunity. Its business model rests on agencies signing up, via a monthly subscription, in order to take ownership of their page on Marks Out Of Tenancy.
This will mean they can respond to reviews (as restaurants can do on TripAdvisor), add a few corporate touches such as their logo and Twitter feed and – most importantly – access detailed analytics about the good and bad aspects of the tenancies they control. Small landlords who handle their own lettings pay a flat fee for a simplified setup.
"We would promote it to our tenants," says James Anscomb, who runs the Temple Homes agency near the city centre. "We want to encourage tenants to comment – like 'great house, wish the bathroom had been updated' – because it's good feedback for to us to take to landlords and persuade them to invest. It promotes communication, not just sitting back taking people's money."
Yarrow admits that he has spoken to agents whose attitude has been "I don't care what tenants think". But he also says that some of Bristol's bigger players – a few of whom have had some pretty bad press over the past couple of years – have been receptive to signing up. "Branches get it passed down from board level, a mandate saying: 'We need a product that helps us improve services and show we're a good agency for tenants'."
Ultimately it's up to renters to decide whether Marks Out Of Tenancy becomes, like TripAdvisor, a quality-stamp that businesses can't really ignore. It's not going to solve the housing crisis; nor is it likely to eradicate the truly appalling landlords operating below the radar and catering to desperate people at the bottom of the chain. But it could pick up agents trying to 'pass on' costs to renters after fees get banned. It will publicly separate the wheat from the chaff. And in cities like Bristol, or London, it has potential to act as a subtle corrective for what's become a very uneven playing field.