Bristol Uni announces big plans for fossil fuels divestment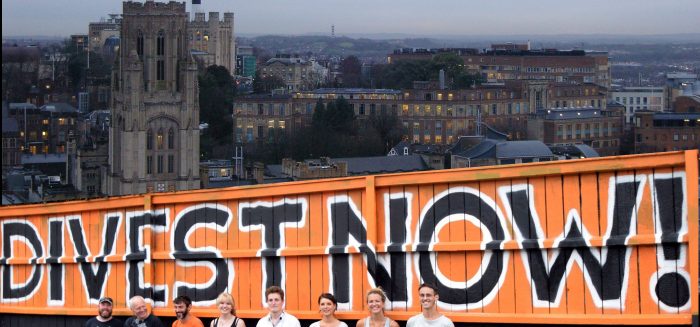 The outcome of a long campaign for fossil fuels divestment
The University of Bristol has announced plans to divest from some the most controversial sectors of the fossil fuels industry, thermal coal and tar sands. According to the University, investments in the energy sector will now focus on companies which are having the greatest impact on reducing carbon emissions. However, shares will still be maintained in conventional oil and gas extraction, though there is a commitment to reduce this too.
The result follows a campaign by the University's Fossil Free Society, exclusive Bristol Cable investigations and a fossil fuels divestment vote by a University advisory body in December last year. Campaigners from Fossil Free Bristol Uni have praised the new policy for being 'one of the clearest and most wide-ranging in Britain' although stating that there is more to do.
Fossil Free campaigners and University staff
A key aim is to end investment in companies that derive more than five per cent of turnover from the extraction of thermal coal or oil and gas from tar sands by January 2018. The University has already moved £3 million (five per cent) of its endowment into a fund that invests in companies that are deemed environmentally sustainable. The commitment does not amount to full divestment as the University will still maintain shares in conventional oil and gas. "This is a brilliant step. But we must now build on this t push for full divestment from all fossil fuels at Bristol Uni" said Chris Chalkley, who has been behind much of the high profile street art on this matter.
Previously coming under heavy fire for hypocrisy regarding sustainability, the University says the new fossil fuels policy demonstrates a strong commitment to fighting climate change. Professor Guy Orpen, Deputy Vice-Chancellor of the University of Bristol, said: "We are proud to be a sector-leader in sustainability – from the research we support, the curricula we teach and the student experience we offer, to the way we behave as an organisation. Our new investment policy has been developed to be consistent with our sustainability aims." The University has also set a target to be carbon neutral by 2030.
Nick Wood, Head of Research of the Fossil Free Society, said: "Our agreed plan of divestment with the University is one of the clearest and most wide-ranging in Britain, so we're very pleased. The target on coal and tar sands is very strict, clearly defined and time- limited – the gold standard for divestment targets. How far the University divests from fossil fuels will depend on how this policy is implemented."
Paloma Parkes, Head of the Fossil Free Society, added: "This has demonstrated how far perseverance and environmental commitment can go. We will continue to be involved and will keep pushing for continued improvement."
Local Green Party councillor, Carla Denyer, became involved in the campaign in November2015 and used her position on the University's Court to propose a motion on divestment attheir annual meeting. Carla said: "In December 2016, the 585 member-strong advisory body called for the Board of Trustees to take immediate action to ensure the University is fossil free by 2021. I am absolutely delighted that the Board took this advice. Over a quarter of UK universities have now made divestment commitments, and I am proud that Bristol is one of them." The University's Board of Trustees has agreed to new criteria, which include a commitment to:
End investment in companies that derive more than five per cent of turnover from the extraction of thermal coal or oil and gas from tar sands by January 2018.
Actively manage other areas of its portfolio of energy investments, including those in oil and gas, to achieve a material reduction in carbon emissions from these investments. This will include investing in companies at the leading edge of carbon management and in companies with strong, deliverable commitments to improving their carbon efficiency, as well as a greater investment focus on non-fossil fuel energy providers.
The development of these criteria has been informed by discussions with staff and students, including those who represent Fossil Free Bristol.
Representatives from the University of Bristol Students' Union (Bristol SU) and University staff will also be involved in the tender process and an annual review which looks at the progress being made in implementing the new policy.
---
The Bristol Cable's journalism was key to this outcome. Join 1,500 and keep the Cable sustainable too!