Can you cover a black hole with a MAT?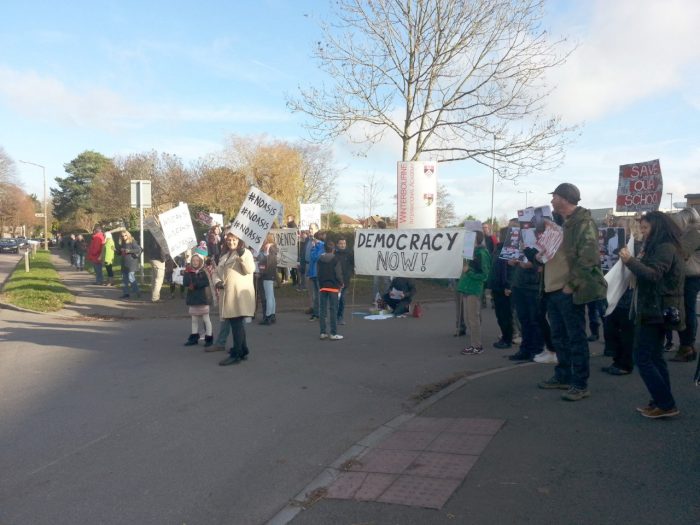 The grammar schools debate has been making headlines, but is this to distract you from the black hole of education funding and the corporate franchising of schools?
Words: Daniel Fox
Mainstream media coverage of education has been dominated by the grammar schools debate. But this is deflecting attention from an even greater change in schooling: the incorporation of schools into the academy chain system and the enormous funding shortfall used to justify it.
"It's more difficult to be loyal to a giant corporate machine and its web of managers, boardrooms and CEOs than to your local community."
In December, parents and pupils protested in their hundreds at Winterbourne International Academy, itself part of small chain the Ridings Federation, about the possible takeover by a vast Christian-ethos behemoth known as Oasis Community Learning (OCL), a subsidiary of Oasis Global.
The government is pushing for all schools to join academy chains, also known as multi-academy trusts (MATs). The biggest, such as OCL, which includes more than 40 UK schools, are supposed to be efficient machines. Part charity, part company, they are designed to run on business principles like economy of scale and increased layers of management. They are even permitted interests in the companies they contract for services – dodgy-dealing renamed 'related party transactions'.
Indeed Oasis UK, OCL's parent company, is partnered with corporate giants Starbucks, Virgin and Sodexo. Walking into the reception of an open-plan Oasis academy feels like you're in the departure lounge of an airport and you've forgotten your passport. How is such imposing corporate architecture supposed to make students and parents feel at home?
Whatever 'brand' the uniform has on it though, there are many dedicated teachers and support staff who continue to focus on the kids despite difficult conditions (ask them – that's why they're doing their jobs). But it's more difficult to be loyal to a giant corporate machine and its web of managers, boardrooms and CEOs than to your local community.
One teacher who left when his school was taken over by the 15-school Cabot Federation (corporate sponsors Rolls Royce), told me the "school community suffered", particularly in terms of "staff morale, pastoral provision and community spirit". Staff were axed from vital roles, with "unqualified and under-trained" others taking their places, and meetings were "underscored by a corporate discourse, which negated any discussion".
Individuality, independence and the personal touch have been lost from most of our high streets, but now they are being taken away from our children's schooling too. Instead kids will be expected to feel loyalty to a branded corporation.
The bribe a school is given by central government to become part of an academy is soon spent, often on the shortfall due to a lack of funding in the first place. Then teachers are put under further pressure (of course, it's always their fault) and there is a cull of vital learning support assistants and whatever else can be sold off – even the library in the case of Cabot's Hanham Woods Academy.
It wouldn't be so bad if MATs actually worked, but there is no evidence that becoming part of a large multi-academy chain helps your children. Winterbourne has the best 2016 GCSE results in the county – testament surely to the hard work of staff and students (despite Ofsted reporting poor management) belonging to a partnership of only two secondaries and a primary. So why go large?
Pulling the wool over our eyes
Forget about that, we're told. It's okay. Don't worry about your kids' education, Theresa May proposes to save the day by with the UKIP policy of opening grammar schools. Never mind that just about every teacher I've ever met thinks grammars are a step backwards, the Sutton Trust educational charity shows there are major inequality issues in the grammar school system, and even the head of Ofsted (quoted in the strictly Tory Telegraph) says bringing back grammars would be "tosh and nonsense".
The focus on selective schooling might lead you to think that the ideological battle for education is about what your children are taught or how they are segregated. But as well as appeasing the UKIP-leaning right, the question of grammars serves to distract people from questioning the corporate takeover of academies.
We need to be asking questions about the damaging cuts in school funding: 92% of schools will be affected by the giant black hole in education spending in the next few years, due to rising pension costs and national insurance increases, coupled with a 'protected' education budget which takes no account of inflation – a cut in other words.
Individual schools, whether academy or local authority comprehensive, are going to suffer unless they have large cash reserves or land to sell off. The Ridings Federation is already suffering. This will make appalling headlines for the government unless it can push MATs, in which the financial reserves are held by the corporate trust. The bigger the better as far as the government is concerned, to be used as a buffer when the funding runs dry.
We should support those parents and teachers fighting to keep independence in their children's schools, like those at Winterbourne. They are fighting the 'McDonaldisation' of education. And we should argue strongly against pointlessly retrograde, 'highly socially selective' policies designed to vacuum up UKIP support. But don't be distracted from the elephant in the room: education in this country is facing cuts like never before and privatisation by the back door.
Daniel Fox is a teacher and Cable member.