Legal aid cuts keeping refugee families apart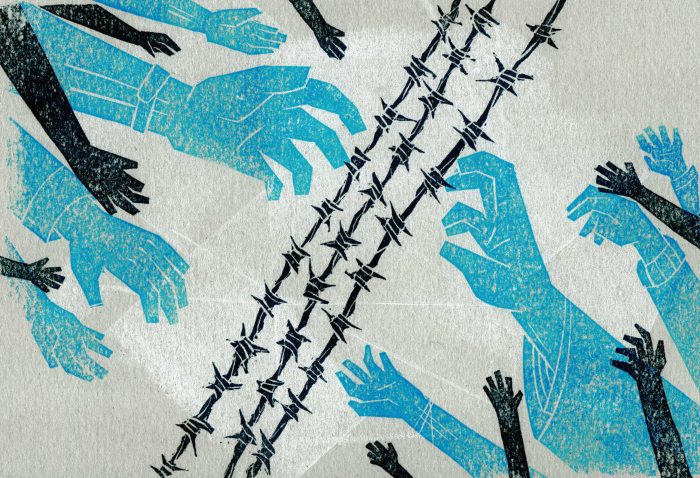 A systemic squeeze is making it far harder for people fleeing violence and oppression to reunite with loved ones.
Words: Koel Mukherjee
Illustration: Luke Carter
Almost four years of legal aid cuts are causing suffering among Bristol's hundreds of asylum seekers and refugees. The system as a whole has been in disarray since 2013 when, after years of small cuts, a huge round of austerity measures amputated entire areas of law, including family, welfare and immigration, from eligibility for assistance.
The now notorious Legal Aid, Sentencing and Punishment of Offenders Act (LASPO) didn't appear to affect asylum cases, because basic claims are still covered. However it has, in fact, caused a lot of pain.
It is now harder for refugees to reunite with family. People fleeing war zones or persecution often cannot bring their families with them. Once offered asylum in the UK, they try to bring their loved ones over, but there is no longer any legal aid to help them do so. They must foot the legal bills themselves.
Years apart
"A couple of times the police came to my house and broke everything, my computer, they wanted to take me away… and my family were there alone."
Thirty-nine-year-old refugee Davoud fled Iran after facing religious and political persecution. He had to leave his wife and children behind, and once in the UK had to wait two years – through at least five refused asylum claims – before he could apply to bring them here.
"My daughter at that time was 11, my son was 13, and they were alone," he says. "[It was] difficult for my wife… working hard to look after and earn money for my children. A couple of times the police came to my house [in Iran] and broke everything, my computer, they wanted to take me away… and my family were there alone."
When Davoud was finally granted asylum, he could not afford a lawyer. His ability to apply for a family reunion was down to the charities Bristol Refugee Rights (BRR) and Bristol Hospitality Network (BHN), which introduced him to a lawyer who could help him pro-bono. Four months later, at Heathrow, he saw his wife Maryam and their teenage children for the first time in two years.
Davoud counts himself lucky, knowing others who have applied multiple times and waited years to reunite with their family. He was fortunate enough to have his application accepted first time round because he had documents showing he was married. While he, like many asylum seekers, left his country with no paperwork, an Iranian friend was able to sneak back into the country and get the documents, at great risk to his own life.
Proving family ties
This isn't an option for most, so even if they can get funds together for a private lawyer, the complexity of their case could mean a host of related expenses that are no longer covered by legal aid.
For example, without relevant documents it's hard to prove that your family are related to you – and you may have to pay for DNA tests. Anglia DNA Services, a firm approved by the government, charges £540 for a paternity test for a father in the UK with one child overseas.
You may also need to pay for interpreters and translators for official documents, because they must be in English when submitted. This would cost at least £100 for something like a marriage certificate.
Other indirect costs put further pressure on people. Somebody who has escaped to the UK may have loved ones who have only been able to go elsewhere, such as Syrian families fleeing to Turkey. The person in the UK may be paying ongoing living costs for their stranded family while waiting for their application to be processed.
Only immediate family members, including children under 18, are usually allowed to join relatives here. Yet people living in turbulent and dangerous situations may have lost their closest relatives and be relying on extended family. There may be a protracted process of proving that you are the primary caregiver to your child over 18, nephews, siblings, and so on, all taking time and money.
"The Home Office wouldn't believe a couple had been living together because that kind of thing 'would not have been allowed' in Syria."
There can be other barriers too. Mark Shepherd, a lawyer with Bristol's Migrant Legal project, highlights "culturally insensitive" Home Office attitudes.
"I represented a Syrian man who had a partner in Syria but wasn't married to her," he says. "They were living together, but he couldn't prove it because all his documents had been destroyed or stolen when his house was raided.
"The Home Office said they wouldn't have been living together because that kind of thing 'would not have been allowed' in Syria – they had this idea of Syria being a 'traditional' Islamic state with none of that 'modern' stuff going on," Shepherd explains. Rules dictate that unmarried partners can only be reunited when they've been living together – something unlikely to be possible in more conservative countries.
"We went to court and lost, and she had to take a very risky journey here to claim asylum separately," Shepherd says. "It took a couple of years, and was very stressful.
"You're just encouraging [people] to take a perilous journey," he adds. "Because people are going to find a way somehow, but the whole thing causes a lot of distress."
Additional costs mount as you move deeper into the family reunion process. And though the government has thankfully reversed a recent, unprecedented tribunal fee increase in the face of huge condemnation, it can still take a year of emotional and financial strain to get to that stage. As Shepherd puts it, "You're almost encouraged not to appeal."
Loss of trust
In Davoud's experience, the very fact that you are appealing could prejudice the courts against you.
"If you are refused the first time the Home Office can't believe you again," he says. "When your case is refused, you go to court, and level by level they less trust you, understand? This system is not fair."
Underpinning all of this is the fact that asylum and immigration is one of the most complicated areas of law, and just putting forward an initial application can be very difficult without a lawyer; never mind representing yourself in court.
Many asylum seekers and newly recognised refugees have English language difficulties, are unfamiliar with the British court system, and are suffering from severe trauma, stacking the odds of success against them. By the time people get the chance to actually apply for a family reunion, they are already exhausted from the long asylum-seeking process.
For Davoud, even the thought of one day reuniting with his family seemed distant while he was struggling to survive with depression and trauma, multiple fresh asylum claims, and a financial situation that sometimes forced him to sleep in parks.
The emotional impact on those left behind is also considerable, Davoud points out. "My daughter was very close to me. At that time [during the two years of separation] she had lots of problems, and she couldn't sleep."
Taking legal aid out of this gruelling process has compounded people's suffering. People can apply for Exceptional Case Funding where they can prove destitution. But, says Adam Sinfield of Albany Solicitors, that just isn't practicable a lot of the time.
"It takes more time and money to put together the funding applications and liaise with the Legal Aid Agency than it is worth," he says. "There is a large disincentive to use the mechanism available."
As in Davoud's case, this leaves desperate people relying on charities, and lawyers who can work for free.
Squeezing the system
Unfortunately, the 2013 cuts have seriously limited lawyers' ability to do this regularly. There are fewer legal aid contracts for the cases that are eligible, and less money from those contracts. That leaves barely any time or money for pro-bono work.
Bristol has a healthy legal sector, Sinfield points out. His firm, as well as Avon & Bristol Law Centre and others, still work pro-bono on family reunion cases. But in the post-cuts financial situation, this is increasingly tricky to sustain, particularly because of the complexity of these cases and time spent on them.
"People like to accuse lawyers of being greedy and that legal aid was some kind of gravy train," Sinfield says. "I would say they have no idea what they are talking about. The rates of remuneration for legal aid work are, and always were, almost a joke."
Avon and Bristol Law Centre says it receives calls from around the country, because of the scarcity of support available elsewhere. Its calls went up by 50% in 2015, to just under 8,000 per year, and it lacks the resources to help all those people. While the centre says it tries to direct callers to other avenues of assistance, sometimes nothing is available.
As for charities, BRR has become invaluable to the lives of hundreds of asylum seekers and refugees in Bristol, as the government continues chipping away at the systems of support for people like Davoud. Alongside providing social, welfare and emotional support, it can sometimes – as with Davoud – put people in touch with lawyers who can help.
"I will never forget the BHN or BRR," Davoud says. "They [gave me] back my life again, because I was hopeless. Two or three times I wanted to kill myself… in a quick time, all my life was gone."
"It means people being stuck in war zones, unable to join their families, without access to fundamental human rights."
BRR supports hundreds of asylum seekers and refugees, with a small staff team, limited resources, and the help of more than 100 volunteers.
More and more people have no choice but to rely on the organisation. "We have seen the impact of legal aid changes… we're seeing lots of people coming to us, and we have nowhere to send them," says Tom Daly, a community engagement manager. "It is bitter that, after finally being recognised as a refugee, people are still unable to be reunited with their nearest family members.
"When you break it down to what it really means, it means people being stuck in war zones, unable to join their families," he adds. "It means people without access to fundamental human rights – by design, really."
Under the European Convention on Human Rights, this country has a moral obligation to offer sanctuary to those fleeing persecution. Also enshrined is the fundamental human right to a family life. But in the reality of the post-LASPO world, the British legal system prolongs the rupturing of families, making it harder for refugees who have found a home here to give their loved ones the same safety. The situation in Bristol reflects that national picture.
What does sanctuary mean if you're parted from the people you love?
"We are together, [after] two years," Davoud reflects, "but we couldn't forget that time [apart]. It is like a bad pain, like a cancer. You need time to forget and for all pain to be gone."