Bristol goes nuclear: Hinkley, Oldbury and the defence industry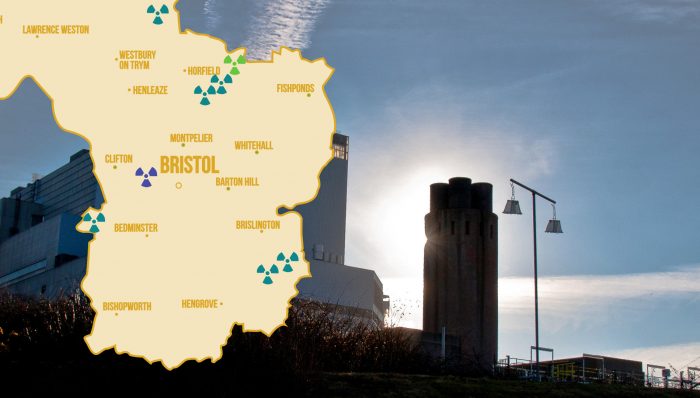 Bristol and the South West are gearing up to be a hub of the revived UK nuclear industry. But is there more to the 'nuclear renaissance' than low carbon power?
Words: Lorna Stephenson
Design: Adam Wilkinson
The Hinkley Point C Saga
Unless you've already been hiding in your bunker, you'll probably have heard about the problems that have beset Hinkley Point C since it was proposed 10 years ago. To recap:
EDF financial officer Thomas Piquemal quit in March 2016, worried the project would sink the company. EDF, under May's deal, has been guaranteed £92.50 for every megawatt hour of electricity produced, rising with inflation, for 35 years. That's more than twice the current wholesale price of electricity. The National Audit Office has estimated consumers will end up paying almost £30bn in subsidies to EDF over the contract. Meanwhile, investment and government subsidies in promising advancements in renewable and battery storage technologies have stalled.
Then there's Hinkley's older brother, the French nuclear new build at Flamanville, which shares Hinkley's model and is seen as a test run. It's more than three times over budget and years behind schedule, while France's nuclear safety authority has discovered faults in the reactor steel. The UN recently warned that construction at Hinkley should stop as the government has not adequately consulted with neighbouring countries for plans in the event of an incident at the plant. Bodes well.
The government's nuclear power aspirations don't begin and end with Hinkley Point C. The new Somerset reactors are the first nuclear new-builds in two decades and estimated construction costs alone are £18bn. Hinkley Point C is advertised as a vital low-carbon power source, necessary to provide 7% of UK electricity needs.
After years-long wrangling between the government and EDF Energy, and more lately with Chinese state-backed newcomer CGN, Hinkley's construction is finally in process. There are also plans for a national fleet of smaller reactors, including a plant proposed for Oldbury, South Gloucestershire – 13 miles outside Bristol.
"Successive UK governments have been unusually attached to the nuclear industry, and its revival, despite worldwide trends towards investment in renewable technologies in recent years."
The city's location means it's poised for a central role in the so-called 'nuclear renaissance'. Companies have flocked here to open offices, while huge concrete shells for Hinkley's construction will be built at Avonmouth, which is also the endpoint of a new 400,000V overhead power line from Hinkley Point. Bristol Port Company is in line for two multimillion pound contracts from Hinkley for 'marine services'.
Local authorities and local enterprise partnerships are working to harvest as much dosh from the mega-project as possible. Public-private partnership Nuclear South West was set up "in recognition of the area's unique potential for transformational growth through the nuclear sector", which offers "£50 billion of investment on our doorstep", and Somerset Chamber of Commerce, backed by EDF, is leading the Hinkley Point Supply Chain portal to connect local businesses to the project. Hinkley Point C itself is expected to employ 25,000 people and to provide £100m a year to the regional economy.
What's under the surface?
So far, so lucrative. Yet the bigger questions around nuclear remain as controversial as ever. Successive UK governments have been unusually attached to the nuclear industry, and its revival, despite worldwide trends towards investment in renewable technologies in recent years. Nuclear power is becoming increasingly expensive, while the costs of other options are falling – and with no new reactors built since the 90s, the sector had faced a retiring workforce.
The government's fixation therefore seems, like much of its energy policy, perplexing. The mysterious question of 'why?' was the basis of research published last year by three academics at Sussex University: Andy Stirling, Philip Johnstone and Emily Cox.
Their answer? "The unusual intensity of UK commitments to civil nuclear power are especially understandable in light of a parallel but distinct policy aim that also deeply pervades elite British political cultures. This is the goal of maintaining national capabilities to build and operate nuclear-propelled submarines".
The UK government has been steadfastly determined to maintain the Royal Navy's fleets of nuclear-propelled submarines and the Trident nuclear missile deterrent. To keep the show on the road, the Sussex academics argue, you need a solid nuclear-industry supply chain that spans auxiliary tasks from transport to engineering, a specialist workforce, and more contracts that businesses can work on between military jobs.
The evidence is compelling, not least when you consider the sheer scale of the military nuclear sector and its supply chains, which according to the government support 30,000 jobs. Currently under construction are Astute-class submarines, four of which have now been built of a total of seven, at a cost of £1.2bn each. In late 2016 construction also started on four new Trident-armed Dreadnought-class submarines, at a cost of £31bn in construction alone (plus £10bn contingency). The Telegraph reports (albeit in content sponsored by submarine builder BAE Systems) that the programme will involve a UK-wide supply chain of up to 1,000 companies.
Unseen links
As Stirling, Johnstone and Cox outline, linkages between the civil and defence sectors are almost invisible in energy policy documentation, but are more forthcoming from the military side. In Parliamentary select committee evidence from 2006, for example, a Dr Jeremy Stocker of the International Institute for Strategic Studies states that the British submarine force may not remain large enough to support submarine building capacity, and that "this will especially be so if, despite renewed calls for them, a new generation of civil nuclear power stations is not constructed". Similar sentiments are expressed in Parliamentary and industry documents from major companies such as Rolls Royce and BAE Systems.
In the South West, more obvious links can be made, probably because of the defence industry's prominence in Bristol, and the 7,000-plus Defence Equipment & Supplies workforce – the MoD's procurement arm – up in Abbey Wood, where the submarine programme is being contracted from. Nuclear South West hasn't been shy about adding a reference to 'defence' as an offshoot opportunity for supply chain companies, but hasn't belaboured the point.
Of course, bringing the question of military nuclear into the limelight raises questions that the government might prefer not to answer. £50bn, the rough combined costs of the Astute and Dreadnought submarine fleets, could buy the Crossrail project, the most expensive infrastructure project proposed in recent years, almost three and a half times. It's 137 times Bristol City Council's 2017-18 budget. In February the British Medical Association said the NHS needed a comparatively small cash injection of £9.5bn to secure its future. What, exactly, are we choosing when we choose the nuclear option?
Would you like missiles with your low-carbon power?
Perhaps not surprisingly, given the defence industry's presence, Bristol is home to many companies with one foot in the civil new build sector and another in defence. Here's a taster of those with Hinkley or Oldbury links and who are also integral to the nuclear defence industry – and who have offices in Bristol.
Join 2,500 Cable members redefining local media
Your support will help the Cable grow, deepening our connections in the city and investigating the issues that matter most in our communities.
Comments
Related content
Bristol: Living in the nuclear shadow
The future of a new nuclear power station at Hinkley Point, near Bridgwater, hangs in the balance – as does Bristol's safety.