Off the streets and into the ring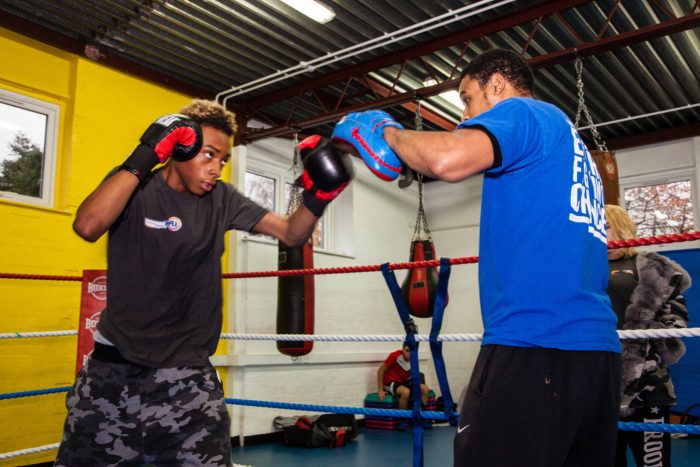 Bristol's inner-city boxing clubs are teaching lessons that reach beyond fitness and footwork.
Words and photos: Dean Ayotte
"The kids see they can do things, not just in the gym, but out in the world as well."
Can a boxing club offer more than just a place to train and spar? Two recent visits to Bristol clubs suggest the answer is 'yes'.
First up is Barton Hill Amateur Boxing Club, which has been running at the Dug Out centre, a former youth club and music venue, since 2007. I'm shown around by Tom Foley, one of the gym's trainers and founders. The first thing he shows me is the Bristol Post Community Club of the Year award it won in October.
As young kids run sometimes raucous training drills, Foley tells me that 500 people come through the doors here every week. I can believe it. Over the course of the evening dozens of people turn up to train, their ages ranging from five to 60 years old.
While kids and teens do pad work, some of the adults take on punching bags while a couple of 16-year-olds spar in the ring. Parents and grandparents mill about at the ringside or in the foyer, chatting among themselves and with Lin, the club's secretary and one of the co-founders. The place is a hive of activity – all run by volunteers on a shoestring budget.
One young boxer tells me the gym is a great place to "learn how to do something that matters"; another says it's made him feel more able to try new things. A third is more direct, telling me his experience at the gym has helped him stand up to bullies at school. Self-confidence shines from all of them.
A Fighting Chance in life
Over in Easton, close to where the M32 carves a border between BS5 and BS2, another boxing club is using the sport as a vehicle for alternative education and mentoring as well as for fun and fitness.
When I arrive at the Empire Fighting Chance (EFC) gym on a Tuesday afternoon, all is quiet. But this soon changes when a group of teens arrive for a training session, and within a few minutes the room is alive with people (initially somewhat reluctantly) warming up. Justin, a mentor and coach at EFC, tells me during a spare minute between sets that the aim of his job is to "promote positive social circles" outside the ring. "I see all the kids who come here out on the street and they know me," he explains. "It's good to be a part of the community."
Many kids and teenagers who come to the Empire gym are dealing with problems in their lives – whether that's because of exposure to drugs and alcohol, potential exclusion from school, or being bullied.
Between routines of pads, footwork and sparring, Justin chats to the kids and tries to instil lessons about schoolwork – something that doesn't always seem easy. This is a process that can take months, and with limited contact time the impact can be gradual.
But the statistics collected by EFC speak for themselves. Of kids who come here, 71% say they're likely to behave better at school, 83% say they're less likely to bully others, 67% say they're less likely to end up in a gang – and 93% say they have gained more confidence towards dealing with other problems in their lives.
As I leave at the end of the session, Justin sums up the essence of a boxing gym that carries on delivering after the bell is rung. "Boxing works well for the kids we get because it helps instil confidence and drives their ambition," he says. "It allows them to see they can make progress and self-develop. The kids get a sense of achievement from developing their skills here. They see they can do things, not just in the gym, but out in the world as well."