Annual General Meeting "fun" shocker!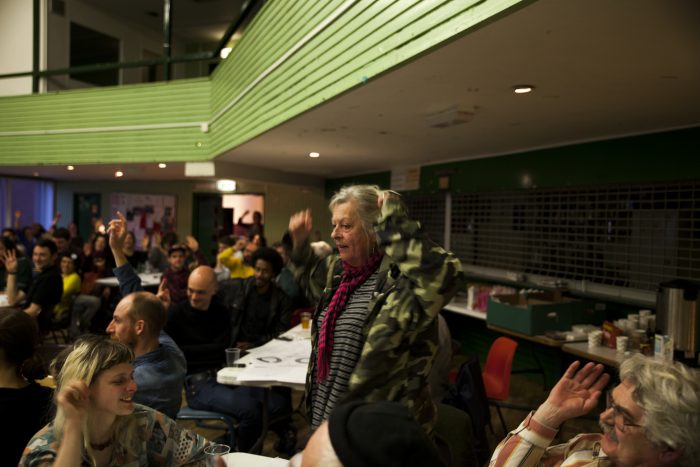 VOTING RESULTS INCLUDED. On Wednesday 5th April, 104 Cable members crowded into the Malcolm X centre in St Pauls for the Bristol Cable AGM 2017.
Photos: Norberto Fernandez Soriano
Another year, another great Bristol Cable Annual General Meeting (AGM).
As a co-operative, Cable members are shareholders of their media organisation – one person, one vote. And we don't do dry, boring meetings: with group discussion, priority-setting activities and secret ballots, members discussed, debated and voted on the direction the Cable will take over the next year.
Members grappled with…
The Cable's financial projections and expenditure priorities
The nature of the campaigning journalism the co-op should pursue
Whether or not to apply for a Google News Initiative grant
Electing Directors
How as a growing co-operative we can ensure we take decisions democratically
…and much more
The minutes are available here.
The voting results:

Thank you to all members who came, shared your views and knowledge, and helped shape the Cable's direction and priorities for the next year.
If you weren't able to get there, don't worry. We'll be continuing our discussions on these issues and more at our monthly members' meetings (on the first Monday of the month – for details see our events calendar) and on our online discussion and decision-making platform, Loomio.
If you're a member, you'll have received an invitation to join our Loomio group when you signed up. But if you didn't, just drop an email to membership@thebristolcable.org and we'll send another invitation.
Congratulations to the new directors joining our Board:
Kate Whittle
Kate Oliver
Ben Sansum
Nathan Fitzpatrick
And re-elected for another term:
Drew Rose
Their bios will soon be available to see on the directors page.
Here's what some members said on social media: