Is the Bristol mental health sector healthy?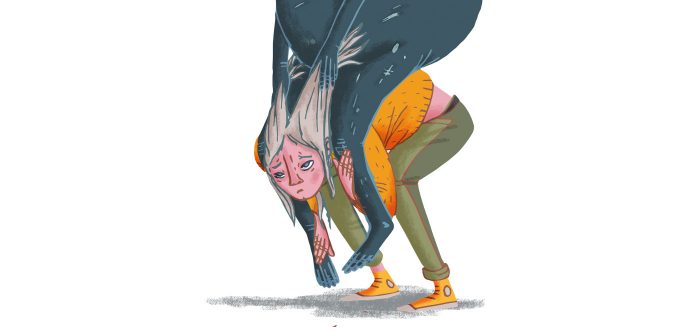 Mental wellbeing is finally getting recognised as being as important as physical health. Squeezed budgets mean progress isn't easy, but there are positive steps being taken in Bristol.
Words: Sid Ryan
Illustration: Jes Hunt (jeshunt.co.uk)
Mental health services in Bristol are about as complicated as the human minds they treat. The array of different providers have to cope with people who're feeling depressed and anxious, people with long-term conditions they need help managing like autism, ADHD or dementia, right up to people who are in crisis, where providers may work with the police and A&Es.
Although Jeremy Hunt pledged in 2015 to make clinical commissioning groups spend more on mental health, and in January Theresa May lamented the 'dangerous disregard' shown to services, many involved in the sector feel that this is just empty rhetoric. Mental health still has a lot of catching up to do, but it's struggling just to keep pace.
Where we've come from
Not that long ago, in 2014, the sector was shaken up to move away from siloed services treating specific conditions, and towards a rounded and cohesive service. Funded by Bristol Clinical Commissioning Group (CCG), and with the majority of services provided by Avon and Wiltshire Mental Health Partnership, the new system puts all of the assorted public sector and charitable organisations under the umbrella of Bristol Mental Health. This semi-formal partnership works to design the services and make sure they all link up together.
Dr Will Hall is a consultant psychiatrist two days a week, but also leads the system leadership team for Bristol Mental Health. "We had to develop models of care that could win in a competitive tendering service. On the one hand, we're writing specifications about what conditions are to be treated and the 'must-dos' and 'should-dos'. On the other, we're asking how we can do that within the budget commissioners want to spend on mental health."
That budget is far smaller than anyone would like. Research by the BBC and social care news site Community Care showed that between 2010 and 2015, national funding for mental health dropped by 8.25%, almost £600m. Only recently, a leaked letter from NHS England's finance chief indicates that a promise of £800m funding is going to be diverted to bail out struggling NHS trusts.
"I don't think it's unusual to say that mental health services have been underfunded for very many years," says Dr Hall. "There's a need to provide more services to more people. There isn't more money coming into the NHS. We're overspent and it's tough to see how we can continue doing what we do now. So finding new models of doing that, that can be afforded, is the reality."
In effect, the big reorganisation that started in 2014 has never really stopped and work is always underway to keep improving. But after such sustained underfunding there is a lot of catching up to do, and while both patients and providers are dreaming of expansion, the budgets are contracting.
Under pressure
The most immediate consequence of this lack of funds is the daily struggle to manage the stream of people seeking help. For instance, people with ADHD can go to their GP and be referred onwards fairly quickly. But the time between referral and treatment can be far, far longer.
Service users the Cable has spoken to say that the wait in Bristol can be 12-15 months before they can actually get an appointment with the ADHD assessment service, and that the waiting list is around 600 people. While it's not great for anyone to be waiting that long for their treatment, living for a year with an untreated disorder can have devastating effects on the health and wellbeing of that person, along with their friends and families.
Richard Lyle, programme director for Bristol CCG, thinks that services like the adult ADHD clinic, which he helped set up 10 years ago, are almost victims of their own success. "We set this clinic up based on the number of younger people graduating from the children's service, so they could get some continuity of care. But with the massive increase in awareness and visibility, more and more people were being diagnosed. We've been able to increase the funds to the clinic over the years but it's not been able to keep pace. Demand has outstripped supply."
"With more money we could provide more access," says Lyle, but what's holding the service back often isn't just cash. "If you've got a waiting list you've probably got one of a few problems, one would be access to clinicians. Even if you have the money you don't have the people." Just finding a place to hold a clinic can also be an issue.
Another major concern is the capacity for inpatient and recovery beds. When someone is in crisis and they need to be admitted, there is rarely a place to put them. So if a bed is to be freed up then someone needs to go home, that is if there's even a home to go to. Although the CCG has opened 10 extra beds in Callington Road Hospital, the pressure to admit only the most critical patients and discharge people before they're totally ready remains.
"The pressure on assessment and early intervention services is huge at the moment," says Tom Renhard, the secretary for local service user group Bristol Independent Mental Health Network. "Pressure is services not being delivered, or not being delivered as well. It can also be about 'gatekeeping', where people are stuck and can't be referred forward to the further services they might need."
He also says that staff are being put into increasingly compromising positions. As caseloads increase staff find that even when there's just enough time to treat their patients, finding time to complete the case notes and care plans is a real struggle: "This is where you start having problems missing things that turn out to be crucial. This is where incidents happen, and where serious case reviews come from."
A new way of working
It's important to recognise that because "life sucks sometimes", feeling down is natural
Although there are many problems with the current services, it would be unfair to suggest there's been no progress. Although Dr Hall says that Bristol Mental Health's early efforts "weren't very sophisticated", it is putting a lot of work into co-producing the service specifications with users, clinicians and the voluntary sector, and trying to develop a more rounded service.
What's come out of this exposure to the wider world is a 'social model for mental health', the idea that few people become depressed without external factors – and that it's the stresses and strains of modern life that make us that way. This means that now there is a lot more work with groups providing housing, financial advice and community work. Missing Link provides support and housing for women with mental health problems, Nilaari works in BME communities tackling mental health and substance abuse, and Second Step provides housing and works with homeless people.
Off The Record, a small Bristol-based charity helping young people, is emblematic of this shift in emphasis. Dr Nicklas Serning, a psychotherapist and the organisation's clinical director says: "On one hand we have a medical model, the service, the NHS. Where you are broken in some way. [People see it as] you can break your leg or you can catch depression. So people come in and say 'I'm suffering from depression. Please fix me.' On the one hand, OTR has to accept that. That's your story and we work with that."
But, Dr Serning adds, it's important to recognise that because "life sucks sometimes", feeling down is natural – so to avoid outcomes like self-harm, people need coping mechanisms.
Off the Record spend a lot of time teaching children 'basic intellectual self-defence', a missing part of the traditional curriculum. But it's what happens next that excites Dr Serning: "Then we start looking at the big picture and thinking: 'Yeah, its pretty fucked up that neither you or I have a job that we're happy with and we don't have a meaning in our lives. What are we going to do about it?'" In that way, the self-harm becomes a relatively inconsequential part of a bigger question: How do I find a purpose in life?
The purpose that a lot of Off The Record members find is in political action, feeding their experience of using the mental health services back into the co-production of a better version. "Where we're moving towards,' says Dr Serning, "is that you've got your tools, and your mates and you feel normal. Now let's mobilise. Let's get some community action. For me, the best parts are when we're doing something useful, when we feel like a progressive movement. When we're fucking shit up."
So even if the mental health sector needs a lot of work itself, at least there are growing numbers of people working towards making it better. They might be clinician/commissioners like Dr Hall, patient representative groups such as Bristol Independent Mental Health Network or the young firebrands from Off the Record – or perhaps even you…