"This plan empowers and gives us a stronger voice"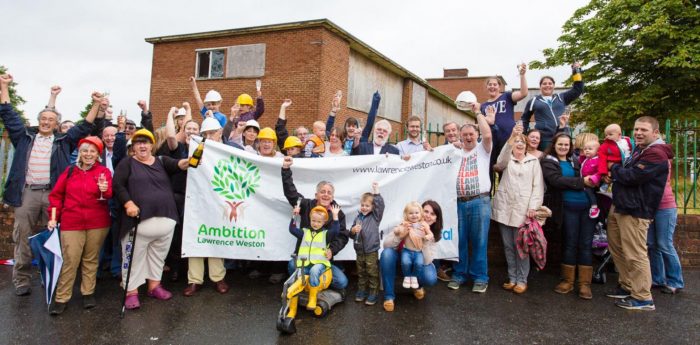 Lawrence Weston's Neighbourhood Development Plan shows what reclaiming local power can look like.
Photo: Ambition Lawrence Weston
How Neighbourhood Development Plans work…
Since the Localism Act was passed in 2011, new rights and powers allow local communities to shape new developments in their area.
To benefit from this, residents of a local area must apply to gain recognition as a Neighbourhood Planning Forum from the local council. Once granted, a Neighbourhood Planning Group focuses on producing a Neighbourhood Development Plan (NDP).
The NDP must be approved by the local population through a referendum and becomes incorporated with legal force in the local authority's Local Plan after ratification by the council.
Both the NDP and the Local Plan must comply with the overarching National Planning Policy Framework.
In March 2017, Lawrence Weston became the second area in Bristol to have successfully produced a Neighbourhood Development Plan (NDP), after Old Market, which saw its local plan adopted in 2016.
NDPs are documents to guide the planning within a local area, produced by the residents of the local area themselves.
The scope of the NDP is wide-ranging. Specific policy recommendations outlined in the plan pertain to: housing; traffic and transport; jobs, skills, business and retail; open and public spaces; community facilities; and health and wellbeing provisions.
"It will give us, the residents, far more say in how our neighbourhood is developed in the future," says Mark Pepper a local resident and chair of the Neighbourhood Planning Forum. "This plan empowers and gives us a stronger voice than we have witnessed in the past."
Following a referendum consulting the local population in February, which saw 94% of voters support the plan (of a 12.5% turnout), and ratification by the council in March, Bristol City Council has adopted the NDP as part of its statutory Local Plan.
The council is therefore required to consider Lawrence Weston's NDP as part of any planning decisions and changes affecting the area.
In control of development
Among other priorities, the plan has a clear focus on housing, and "seeks to ensure the creation of a mixed, well-balanced community with high-quality, energy-efficient, affordable accommodation".
As there exists a disproportionate amount of social housing in Lawrence Weston, constituting 50% of the area's housing, the document states "it will be necessary to develop a range of housing types and tenures and promote more low-cost home ownership options".
"The key purpose of us writing this plan," says Mark Pepper, "was firstly to ensure any built development or land use issues are more aligned to fit local needs than just private developers and city wide needs."
Key provisions seek to ensure local residents benefit first. A 'local lettings policy' agreed with the council means that 50% of all new affordable homes that are built for rent will be offered to current residents of Lawrence Weston.
The Neighbourhood Planning Forum had made an impact even before the finalised NDP was signed off. The council and housing associations agreed to the development of over 300 new passive homes – designed to create very energy efficient buildings.
Together with tackling issues of fuel poverty Mark Pepper, says "these new builds will free up larger homes that residents will move from and therefore help to address the crisis the city is facing with available affordable homes."
The Neighbourhood Planning Forum has also already had an impact beyond housing. Cllr Helen Holland, cabinet member for Place at Bristol City Council, with responsibility for planning, adds: "Through the emerging plan they have helped to get high environmental standard housing on site, commitment for a community hub and a new GP surgery, and have worked with the council on proposals for a new supermarket in the area."
Neighbourhood power & the council
As an area of high deprivation on the outskirts of Bristol, with many local services closing in recent years, initiatives to develop this plan were first taken a few years ago. In 2012, local research for this plan started by consulting with local people through door knocking. Over a five-month period, 951 responses were collected to create a 'Community Plan' for the area.
A collective of 21 people representing residents, councillors and business owners, came together in 2013 and after two years of producing several drafts, the plan was submitted to the council in March 2016. Once reviewed by an independent examiner, the NDP was recommended to be put to referendum.
"Neighbourhood Development Plans demonstrate how the community can take the initiative, identify local issues and concerns and turn these into positive outcomes for the community."
Following the vote, Cllr Asher Craig, cabinet member for Neighbourhoods said, "The completion of a Neighbourhood Development Plan is an exciting step forward for any community. It demonstrates how the community can take the initiative, identify local issues and concerns and turn these into positive outcomes for the community."
In the context of ongoing cuts, such plans could represent a useful vehicle for local communities to express a vision for their areas and see the council act on it. Indeed, the Neighbourhood Partnerships, which have typically been the space for local communities to engage with issues affecting them, are seeing their budget reduced by £1m over the next two years. The council's corporate strategy document stated the council "will work with councillors and communities to change the focus and scope of this in the future by looking at what individual communities need."
Mark Pepper reflects positively on the relationship built over the years with the council while making the NDP. "They have supported us throughout the journey without trying to take over or control our plan," he says.
"We have challenged them as they have us on occasions, through trust, negotiation and sometimes compromise with both parties we have now delivered a plan that will better serve our residents and the community, and the city as a whole."
Three other Neighbourhood Planning Forums – Lockleaze, Redcliffe Way,  and Hengrove and Whitchurch Park – are currently working on producing their own Neighbourhood Development Plans.