McDonald's to battle Fishponds residents at planning inquiry tomorrow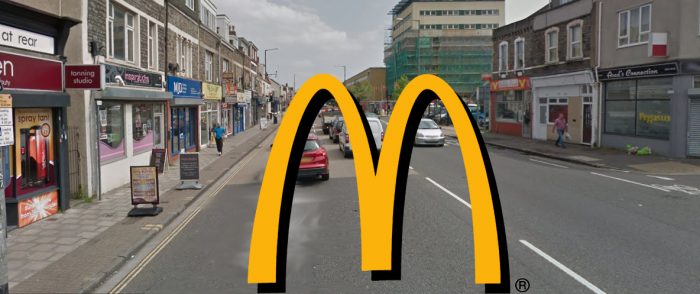 Will McDonald's win its two-and-a-half-year fight to build a new, 160-seater 'drive-thru' on Fishponds Road?
Community campaigners with 'Say no to McDonald's in Fishponds' – or NoMacInF – will come to the final stretch of a long battle tomorrow, when the decision on the fast food chain's plans for Fishponds Road will be decided at a planning inquiry.
It's not the first time that the fast food behemoth has been at loggerheads with a local community.
The plans have been vehemently opposed by the campaigners since they were first announced in September 2014, on the basis of traffic and environmental disruption and the pubic health impact. The campaign points out that the road is already saturated with fast food and other eateries, and that the new two-story restaurant will do little to enhance the local area.
It's not the first time that the fast food behemoth has been at loggerheads with a local community. Similarly unpopular plans have been fought in recent years in Kenton, Derbyshire, Enfield, and Wallington.
The inquiry comes after McDonald's appealed Bristol City Council's refusal of its plan. Planning officers had recommended refusal on the basis of the traffic impact on busy Fishponds Road and noise and light pollution.
However, the multinational may be particularly focused on success in this appeal as soon even more unfavourable planning considerations come into play, as more attention is paid by planners to the influence of environmental factors in public health.
The planning policy landscape is gradually becoming increasingly hostile to fast food takeaways situated near schools. Public Health England proposed in 2012 that proximity to schools, youth centres and leisure centres should be a material planning consideration and most councils, including Bristol, introduced a 400m buffer zone for new takeaways and schools.
The council is now understood to be considering increasing its buffer zone to 800m – which would impact McDonald's Fishponds plans which are within striking distance of three local schools. The council could not comment for this article because the McDonald's Fishponds appeal is in process.
The public inquiry, with representatives from the corporation, the council, and experts and witnesses from the NoMacInF campaign, will kick off tomorrow.
Fishponds vs. McDonald's – the saga so far
September 2014: Planning application is submitted for a derelict warehouse, which had been empty for a year after its previous use as a tile factory. McDonald's plan to build a two-storey 160-seater restaurant with a 'drive-thru'.
A local campaign, Say No to McDonald's in Fishponds springs up, pointing out problems with traffic, light, noise and smell pollution and the health impacts the restaurant may have on the local school children: three schools are within walking distance of the site. The proposal is opposed by local councillors and MPs.
February 2015: The planning application is refused at planning committee. Councillors on the committee refused the application unanimously, on recommendation of refusal by planning officer on grounds of traffic impact on Fishponds Road and the odour, light and noise pollution impact on nearby residences.
September 2015: McDonald's lodges a last-minute appeal against the refusal.
November 2016: The public inquiry is set to be heard – but is postponed at the last minute due to the barrister for McDonald's being unable to attend.
March 2016 – Public Health England makes recommendations to the Neighbourhood Scrutiny Committee in Bristol City Council suggesting changes to takeaway licensing. They recommended the expansion of the distance necessary between new takeaways and schools to 800m from 400m, a measure introduced by other local authorities such as Brighton and Hove. The matter is yet to be addressed by full council.
April 2017: The public inquiry takes place. Campaign group Say No to McDonald's in Fishponds will take part alongside Bristol City Council and McDonald's representatives. The inquiry is set to last 6 days and will involve interrogation of witnesses from both sides of the debate, presided over by a planning inspector. NoMAcinF are crowdsourcing costs that will be accrued by taking part in the inquiry.