Suffering in silence: mental health in Black communities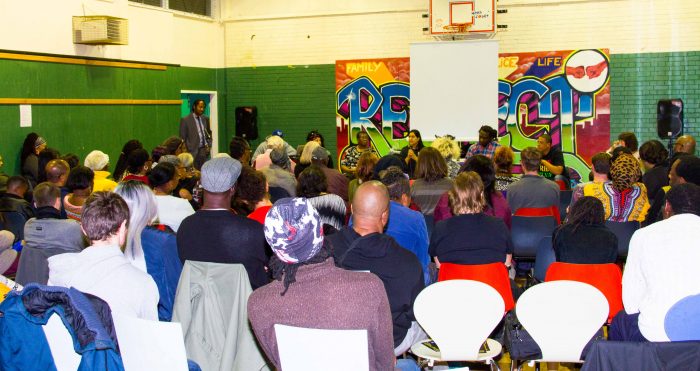 Why do we have a culture of silence around mental health, and how do we end it?
It is no secret that there are enormous barriers to mental health support in this country, not least due to brutal austerity cuts. The situation particularly disadvantages Black and Minority Ethnic (BME) people, who have higher suicide rates, and are between 6 and 30 times more likely than white people to be diagnosed with mental illness. In Black communities we face broad inequalities, including higher levels of hate crimes, poverty, unemployment and poor housing. This can all affect mental well-being – but a lot of this suffering happens in secret. Why don't we talk about our struggles, and why don't we ask for help?
For one thing, it's not always easy to trust the help on offer. Marcella Maloney, a Bristol Carer Involvee with charity Rethink Mental Illness, tells me that Black men in particular find it difficult to disclose what they're going through.
Growing up on the receiving end of racism and police bias, I felt castrated by the "angry black man" stereotype.
Overrepresented in the criminal justice system and more likely to experience police violence, we are often criminalised when needing mental health support. Once in the system, we are likely to have the complexity and nuance of our needs ignored in favour of prematurely drastic measures like sectioning and over-medication. The Bristol Mental Health Partnership says that Black patients in the UK are 50% more likely to be referred to high-level psychiatric services than white patients.
Bristol poet Miles Chambers saw a family member prematurely sectioned, experiencing racist attitudes within the system before he was finally diagnosed correctly and given help that fitted his condition. A relative of Marcella's suffered from severe trauma and psychosis. He was repeatedly misunderstood as criminal, arrested, became violent, and ended up in prison rather than hospital.
"My family had to fight the system," she says, "firstly for him to be seen, recognised and heard as a young Black man in his own right…"
He is now in recovery after finally receiving appropriate care, but Marcella cannot help but feel frustration and loss. "I truly believe that if we were listened to in the first place, he would not have lost twelve years of his young life."
The European Commission against Racism and Intolerance (ECRI) has stated that institutional racism in mental
Wordsmith and campaigner Lawrence Hoo performs at a mental health event.


Credit: Rethink / Rickey Thompson
health hospitals is a key factor in inequality in the UK. So why would we trust institutional help?
Beyond institutions however, there are social and cultural complexities in Black communities that make it difficult to show you're struggling, to show you're different. Many of us have complicated identities. Both Miles and I have regularly felt displaced and rejected when British people define us as Caribbean, and Caribbean people define us as British – always seen as different, wherever we are. Creating space for this complexity within the Black community is hard when it is not well understood outside it. Black people, our identities and cultures, are often lumped together and defined as 'other' by institutions and people.
The experiences in Marcella and Miles' families are examples of how we, whether in the criminal justice or healthcare systems, are heavily stereotyped. We're cast as "shouting or being aggressive" – our emotions trivialised, our individual and cultural expression demeaned. Growing up on the receiving end of racism and police bias, I felt castrated by the "angry black man" stereotype. Hardened by the experience of being 'othered', I clung to my pride and tried to avoid being seen as victim, despite needing help with my mental health.
As poet Lawrence Hoo points out, our walls go up when we're being misunderstood and demonised – and we're more likely to judge and police signs of vulnerability in one another. Singer Melissa James observes that mental health problems are commonly "rubbished" within West Indian communities because "it's like a sign of weakness".
We have to resist hardening ourselves so much that we can't ask for help – and recognise that, as complex as our culture is, it has the potential to be flexible. We do that by reaching out to one another and acknowledging our shared experience. That is the only way we can normalize the process of speaking out, and build solidarity and understanding around mental health. Although institutions need to change, we need to look to what we can do within our own community while that long process is happening.
Marcella thinks this is where Black Lives Matter, and other visible BME organisations can play a role. She and Miles both want to see more awareness events from people and organisations who have influence in the community, like the Two Way Street service, which supports young Black African Caribbeans who have been culturally misread and misdiagnosed in the healthcare system. "Words to Wellbeing", a recent cultural event hosted by Rethink's Bristol Community Support Services, challenged perceptions and promoted support services through the personal testimonies of Black Bristolian poets like Lawrence Hoo and Miles Chambers.
Meanwhile Marcella talks about these issues in local schools, encouraging young people to use the help currently on offer. "There're people who will continue to care," she says. "When you know that door is there you have to open it."
People do continue to care. In fact many of us are caring for loved ones with mental health struggles behind the scenes; it's just not acknowledged in public, and our community's culture of silence makes it harder. Local charity Bristol Black Carers (BBC) does outstanding work supporting carers. BBC support worker Anndeloris Chacon urges people to reach out to them. "We're there to support you and your family," she says. However the charity, like so many community-led initiatives, needs more funding to continue. That's difficult when even official services are hampered by austerity.
There are some institutional moves towards change. NHS Bristol Clinical Commissioning Group is offering funding for specialist work with BME communities. Acknowledging that racism contributes to the culture of silence around mental health, these pilots will in theory be informed by sources such as anti-racism charity Stand Against Racism & Inequality (SARI) and the Community Development Worker at Rethink. However there are concerns that similar schemes in the past have not taken BME feedback on board, and Miles is wary of putting too much trust in the system. "There have only been marginal improvements," he says, "institutions may work but have been disappointing for Black people, especially men."
That's why WE have to be the difference, engaging with community initiatives to get us talking and learning, being aware of existing support, fighting to have a say in how support is designed, and supporting each other to speak out. With institutions slow to change, we need to acknowledge how much we need each other, now more than ever.
Challenging perceptions through poetry at "Words to Wellbeing". Credit: Rethink / Rickey Thompson
This article is part of our ongoing series on mental health, supported by HealthWatch Bristol.