The community razed to the ground for a road that was never built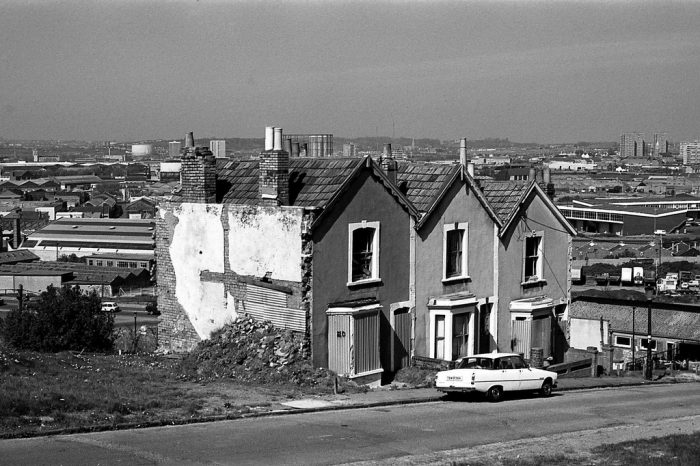 In the 1960s the council demolished most of Totterdown, in a planning disaster still remembered by Bristolians today.
Words: Koel Mukherjee
In the early 1900s, the south Bristol suburb of Totterdown was a magnet for people from across the city. Shoppers flocked to the eccentric neighbourhood, where century-old businesses were crammed up and down the Wells and Bath Roads, alongside the homes of working class families who'd been there for generations.
That thriving mix of life and commerce no longer exists because the council knocked most of it to the ground, in what is arguably Bristol's worst planning disaster.
Three lamps Junction 1968
Photo: Knowle and Totterdown Local History Society
Three lamps Junction 2017
Photo: Ed fielden
What the planners did
In the 1960s, the planners of Bristol City Council had big dreams of an outer circuit road, a highway around the centre ploughing through several inner-city suburbs, including vast swathes of Totterdown. The controversial scheme ultimately failed, but not before a painful mass eviction that still scars people and landscape today.
In the space of less than ten years, more than 550 homes and businesses, including historic pubs and shops, were demolished, with 2,000 people evicted. Homeowners were served with compulsory purchase orders, tenants were moved to other areas, and business owners had to start again somewhere else. In a deeply rooted community where everybody knew each other, relationships suffered as the neighbourhood fell apart.
The family of Marilyn Webb, now 80, was split up. She had recently bought a house on the same street as her mother and sister. After their street was knocked down her mother had to move to Brislington, her sister to Stockwood, and she and her newborn baby to a council house i n Bedminster.
"They took all three houses," she recalls. "We used to see each other every day, but then we were completely pulled apart."
Brothers Paul and John Atwell, both now in their seventies and living in Keynsham and St George, have a similar story. Their father Reginald had planned for individual homes on his property, so his children could live nearby. "Family was very important to him," reflects Paul. "He wanted us to stay close … we would have all been there together."
Worse, the family home was also their parents' pension, a large house with space for flats that would have produced rental income for their retirement. Their sons say the demolition left the couple "devastated". It was tough for their father to restart his newspaper delivery business, and much of the money he got from the compulsory sale of the family home was eaten up by a sales tax. The couple had to move to Hanham, where they struggled financially.
The disruption might have been bearable, if not for the chaotic and bureaucratic rollout of the demolition programme. In her 2006 book, Totterdown Rising, Kate Pollard documents how the plans went ahead without proper oversight or approval, leading to indecision and stagnation.
In one instance, a mix-up led to the demolition of an entire row of homes that didn't need to be torn down. And Marilyn Webb ended up having to pay for her own house to be destroyed, a "heartbreaking" experience which, even if it was only an isolated incident, shows the council's haphazard approach.
Resistance
Some disparaging comments in the local press at the time described the neighbourhood as a 'slum' that needed to be replaced – but those supporting the scheme were in the minority. The Atwells, while acknowledging small pockets of decline, remember the neighbourhood as still thriving, with most people as deeply attached to it as they were.
The demolition was gradual, so organised resistance was too. The uncertainty of the situation inevitably left people disempowered. "It just wore you down in the end," John Atwell explains. "People were just despondent, they didn't have the life in them they used to have."
"In the war, Churchill said 'Fight!', and we did," he reflects. "But you didn't perceive the same threat with the council as you did with Hitler, because Hitler was the enemy, whereas Bristol City Council was not supposed to be."
Nonetheless, there are stories of determined individual resistance. Elderly Totterdown resident Henry Bradbeer was the last person to move from the demolition area, defying the council to the end, and is still remembered with admiration today. Another was 74-year-old Jane Hopeson, featured in a 1969 Bristol Evening Post article as the 'battling granny', declaring 'I'll push them in the river sooner than move'.
By the early 1970s, local groups like the Totterdown Traders' Association and the Totterdown Action Group (TAG) were formed. They were supported by city-wide opposition to the Outer Circuit Road and other planning projects from students, lawyers, environmentalists and engineers. But Graham Davey, who was there at the time, says the outsiders' impact was marginal compared to the local campaigners like TAG and the residents at their public meetings.
The meeting that sticks out in Davey's mind saw Tony Benn (then MP for Bristol South East) arriving to hear people's concerns, but none of the councillors did. Frustrated Totterdown residents walked straight to City Hall to confront their absent local representative, F.E. Sprackling.
"He wrote a letter to the Evening Post protesting about this posse which had come up from Totterdown to get him," says Davey. "But the approach had been made politely and courteously, from a meeting where he ought to have been present!"
"I'll push them in the river sooner than move."
Davey believes the council saw Totterdown residents as apolitical and easily manipulated, never expecting resistance from defiant grandparents, let alone community organisers. The Bristol Evening Post also endorsed the anti-demolition campaign, keeping stories of resistance in the news and letting the locals write in to share their experiences and opinions.
The end
As the 1970s continued there were new politicians, new financial realities, and continuing indecision about the road plan. The demolished area sat blighted for years. Both local historian William Evans and Paul Atwell describe it as a "bomb site", with those left unable to sell their homes. There continued to be public anger and demands for the council to do something with the land. The council was soon under pressure from homeless charity Shelter to use the wasted area for accommodation as, even then, Bristol had a long waiting list for social housing.
In 1974 the new local authority of Avon took over some planning responsibilities from Bristol City Council. Eventually it became clear that the road was not going to happen – all that hurt and hardship had been for nothing. "Such a waste," John Atwell laments. "Such an absolute waste of resources, of human life, of a community. Families who'd lived there generations."
Both John Atwell and his father avoided driving through the area for years, so as not to be reminded of what they had lost. "I just felt so hurt," says John. "I just couldn't face it." William Evans' Totterdown in-laws eventually moved out of Bristol altogether.
Totterdown's story didn't end there, of course. Eventually building resumed, businesses came back, and the neighbourhood was revived. That said, there are still older people in the area who remember the demolitions of half a century ago and mourn close-knit, working-class Totterdown as it was.
It's fitting that the neighbourhood revival is about both moving forward, and remembering. Part of the derelict land, known as Zone A, was gifted to the community as an acknowledgment of what was done to them. The active local residents' association TRESA (Totterdown Residents Environmental & Social Action) has put down a mural there, honouring the families uprooted by the road scheme, and hoping the memory of the struggle still has a place in this resurgent community.