Dont knock EastEnders, it has important lessons for us all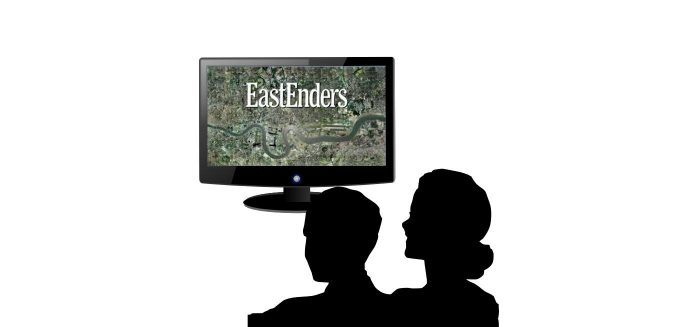 A social worker justifies their not-so-guilty pleasure.
Words: Anonymous
So Bex and Shaki used to really like each other, but now, since the naked selfie got sent around school, they can't trust each other anymore and they're both really upset. It doesn't seem like they'll ever be friends again, while the other kids are just laughing about it…
I'm not chatting at the water cooler, or on the phone, or even tweeting about what I've seen on EastEnders last night. I'm a social worker, in a school, trying to talk to a teenager about why sending and asking for naked pictures might not be a good idea.
At the age of 27 I am already unbelievably out of touch with what is going on for teenagers who have endless options for communication and social media just sitting in their pocket. But by using the Bex and Shaki 'sexting' saga in EastEnders, we're able to have a meaningful conversation about people we both know. We use the soap to talk about a situation that is without doubt directly applicable to this girl's life.
The storyline can be used further, to talk about how the adults are out of touch with the younger characters, for example, or the complexity of trust and relationships in your teenage years. Through EastEnders we find a world that both I and the girl I'm talking to inhabit, and where characters provide the third person scenario so often needed when talking about difficult and personal topics.
For me this is also another perfect example for the argument I have been on a bit of a soap box about for years, particularly when mocked by my educated (and frankly snobby) housemates about my committed EastEnders viewing.
EastEnders is viewed by between 5 and 20 million people four nights a week. Since I started watching as a nine year old it has taught me, from the comfort of my sofa, about many complex issues: Living with, and myths around, HIV; young girls being groomed in their homes without anyone noticing; the difficulties and joys of having a child with Down's syndrome; coming out as gay to a homophobic family; and postpartum depression, to name just a few.
Currently, I'm seeing a loved and active member of the Albert Square community getting older and becoming isolated, as those around her are wrapped up in their own hectic lives. I'm watching as two adult sisters try to juggle caring for their mum as her dementia worsens. I'm seeing a young man get caught up in repayments of pay day loans. I'm willing Whitney not make excuses for her husband hitting her, while knowing the stress he is currently under as a veteran, struggling to readjust to civilian life and the expectations on his macho identity. These are fictional characters, playing out very real issues.
Right now women's support services are being drastically cut, despite just 5.7% of reported rape cases resulting in conviction, according to Rape Crisis England and Wales. So watching a strong character who I respect have nowhere to turn after she is raped by a family member, her pain and distress of being interviewed, having to face her perpetrator, and then be told there isn't enough evidence, is haunting. We were there, we saw it happen. We totally understand her decision making process and why she acted as she did. And yet, nothing happens. And life goes on. On screen, as in life.
A couple of weeks ago, a Polish-themed night at the Queen Vic resulted in the pub being vandalised with anti-Polish graffiti. The residents of Albert Square casually discussed this and set about scrubbing it off as a community, apologising to their new Polish friend. Without a fuss, and without telling people what to think, this subtle demonstration of community action was beamed into millions of living rooms.
When thinking about this article I Googled 'best EastEnders storylines'. In a list put together by the Daily Telegraph, the top ten are the dramatic shootings, the pushing over cliffs, the car accidents, explosions and affairs. These are the scenes people are thinking about when they dismiss soaps as a sensationalist and miserable portrayal of the darkest depths of human life. And maybe it is these storylines that provide the entertainment and keep people watching. But underneath that are the constant portrayals of contemporary and relevant issues, a window into a private struggle you don't see often in real life.
It may not be considered 'high culture' like art house cinema or theatre, but the stories in EastEnders often reflect the realities of life in the UK today. In this way it helps us empathise with experiences we don't have and people we don't know, as well as providing a way to talk about the issues we may face on a daily basis.
And that's why I watch EastEnders. At least that's what I tell my snobby housemates.