Refugee return policy "an insult to the Geneva Convention"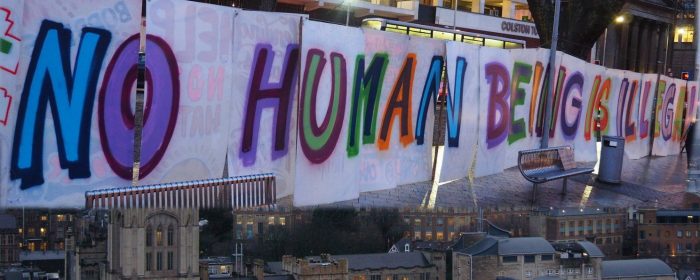 There is anger in Bristol at what is being seen as yet another attack on refugees in the UK.
Photo: Mat a
While the headlines are discussing the Conservatives' re-stated pledge to reduce annual immigration numbers to the tens of thousands, another anti-migrant measure, quietly pushed through earlier this year, is being condemned in the city.
According to recent Home Office guidance, refugees applying for permanent settlement after five years in the UK, will be subject to an automatic "safe return review". The policy, which would see refugees returned to the country they fled from after five years if the government decides it is safe, was lambasted by more than 50 organisations around the country in a recent open letter – and condemnation has since mounted in Bristol.
"We love people here. We won't let them force us to leave what we love again."
Some of that criticism comes from incumbent Bristol West Labour MP Thangam Debbonaire, who chaired a recent inquiry by the All-Party Parliamentary Group on Refugees. The panel's 'Refugees Welcome?' report, also published in the last few weeks, explores the disadvantages faced by refugees in this country in multiple respects. It considers various evidence from Bristol refugees and refugee charities, and, among other things, calls for the immediate reversal of the automatic safe return review policy.
"In Bristol we provide a warm welcome to asylum seekers and refugees," Debbonaire told the Cable, "but the system is often difficult, frightening and off-putting for those seeking refuge from conflict and persecution … Refugees are the best people to decide when it is safe for them to return."
43-year-old Iraqi refugee KC cannot imagine returning. He and his family fled Iraq after being threatened with kidnap and murder. He, his wife and three children are still afraid, and he insists that, though they miss Iraq, they will not give up their newfound sanctuary without a fight.
"This policy will be disastrous and devastating for us … This threat still lives with us till now. We can't believe we will go back there again. We have found peace and stability here in the UK. My kids are growing up here. We love people here … we won't let them force us to leave what we love again."
KC and his family have been supported by Bristol Refugee Rights (BRR), one of several busy non-profits working together with the hundreds of asylum seekers and refugees in the city.
Rachael Bee of Bristol Hospitality Network (BHN), which signed the recent open letter, describes the long asylum-seeking process as already causing "significant mental ill health," from the barely subsistence-level support asylum seekers are forced to live on and an inability to work, to the fear of being rejected for asylum. Both she and BRR's Tom Daly are concerned that the safe return review will compound those mental health dangers by subjecting traumatised refugees to "terrible uncertainty and fear" for years after they thought they were safe.
There are also fears that, considering the numbers of Home Office asylum refusals that are overturned on appeal, decisions about whether a country is now safe to return to will be unsound – at the cost of lives.
The most pressing concern across the board, from national organisations and Bristol charities to Debbonaire's enquiry report, is the "huge barrier" this will put in the way of integration.
"Most refugees I have met in Bristol tell me they want to return to their country if it is safe to do so," says Debbonaire, "but also want to integrate to this country and work, study and contribute whilst they are here. Putting in place an arbitrary review point risks making it difficult for refugees to stay in employment or studying."
As with KC's family, five years into their settlement most refugees have put down roots, developed relationships – and still have reasons to fear what they escaped from, reasons that could slip through the cracks of an arbitrary government assessment.
Bristol Refugee Rights, Bristol Hospitality Network and Bristol City of Sanctuary all work to help refugees integrate into the city, and condemn how much harder this will be under the new guidance. And as BRR's Tom Daly points out, this is particularly ironic considering that integration is "something that the government is supposedly committed to promoting."
BHN's Rachael Bee and Bristol City of Sanctuary Co-ordinator Forward Maisokwadzo see this dissonance as symptomatic of the government's overall contempt for its human rights responsibilities, with Bee saying the policy "goes against the very heart of the Geneva Convention". "It is a direct attack on basic human rights," Maisokwadzo insists, "an inhuman policy".
The Home Office could not respond to the criticisms due to pre-election purdah restrictions. Bristol North West's incumbent Conservative MP Charlotte Leslie, who has consistently voted for stricter asylum and immigration policies – including against allowing unaccompanied child refugees into the UK – could not be reached for comment.