School cuts: difficult questions at Education Question Time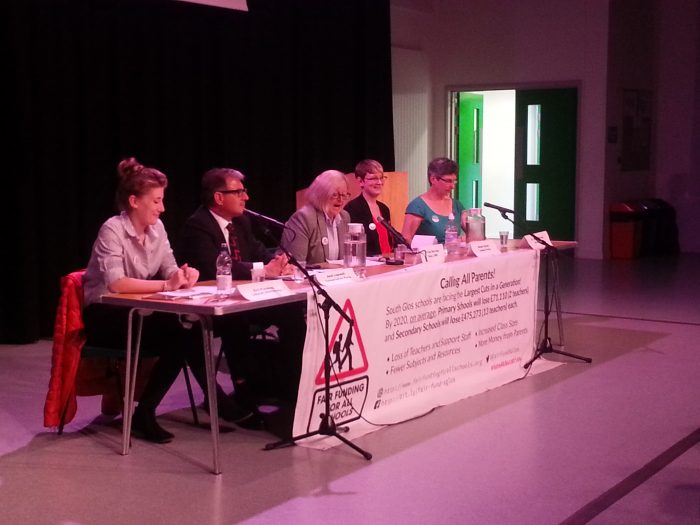 What did we learn about party positions on education from the Bradley Stoke and Filton parliamentary candidates' 'Education Question Time'?
Yesterday all four Bradley Stoke and Filton parliamentary candidates faced an auditorium of angry parents, pupils and school staff in Abbeywood Community School for 'Education Question Time' – hustings organised by parents' anti-school cuts group Fair Funding for all Schools.
The event was never going to be easy for incumbent Conservative MP Jack Lopresti, representing the ruling party that's seen schools' budgets squeezed across the country, and particularly savagely in Bristol and South Gloucestershire.
The panel also included Labour candidate Naomi Rylett, Dr Diana Warner for the Greens and Lib Dem Eva Fielding. All three women were able to confidently address the audience's concerns, with the promise of more resources and funding – with the handy disclaimer that the ins and outs of budgeting would be decided by government if and when their party got into power.
L-R: Eva Fielding, Jack Lopresti, Dr Lisa Harrison (chair), Naomi Rylett and Dr Diana Warner.
For Lopresti, the Conservative line that 'schools have record levels of funding' was met with boos and shouts of 'Liar!' from a visibly riled audience. (While true that more money has been allocated to schools than ever before, schools have a plethora of increased costs and rising numbers of pupils. The Institute of Fiscal Studies says the biggest real term cuts to per pupil funding in a generation are underway.)
What else did we learn from the Bradley Stoke and Filton parliamentary candidates' 'Education Question Time'?
"We are not stupid!": Parents are angry. Very angry.

Lopresti's repetition of the 'record levels' claim only served to further alienate the audience, who questions often reflected personal or school-specific challenges, including teachers leaving the profession or being made redundant, and cuts to support staff and special needs provision.

Mental health in schools is a significant and growing problem, and those pupils are going to be left with no support – at all.

A visibly upset local teacher and a sixth form student raised mental health support as a critical issue now threatened with widespread cuts to school counselling services.

Warner, a GP by profession, was unable to offer any hope, saying that within the NHS they had "no resources to treat anything but the most extreme cases" such as anorexia or suicidal depression.

Except the Greens, who don't have much of a track record to go on, education is not a proud topic for any party…

Rylett had a go at defending the New Labour record, referencing the Building Schools for the Future programme (BSF) – but an audience member pointed out the 20-plus year contracts for repaying PFI (private finance initiative) loan debts that still plague BSF schools.

Fielding (LD) managed to dodge the question of tuition fees once (to noticeable relief) but gamely circled back to address the elephant in the room. She said she thought the Lib Dems had achieved 80% of their manifesto promises in the Coalition – tuition fees not being one of them.

Rolling back the academy system is no-one's priority.

Would any party bring schools back under local authority control? Lopresti was, unsurprisingly, in favour of the academy programme. The others pronounced they, and their parties, were vaguely in favour of greater accountability – but 'vaguely' is the operative word.
A March Against School Budget Cuts is taking place on
Saturday, May 20th, 11am at College Green.
Bristol NUT 'Election Question Time' is taking place on
Tuesday, May 23rd, 7pm at Tony Benn House, Bristol.