Voices: Who is the Tory aristocrat running for Bristol East?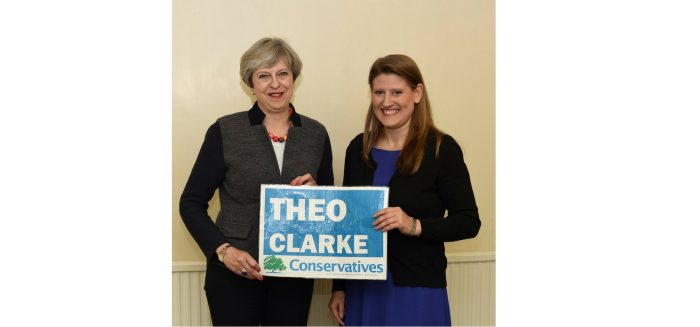 Who is Theodora Clarke, the Conservative candidate who wants to be a "strong voice for Bristol East in a strong and stable government"?
Theodora was a second place contender in the 2015 election for Bristol East. However, in an interview in 2015 she said her favourite cities are London & New York, saying "I'm probably biased as I live in London." Running again this time around, last week Theodora told the Bristol Post that she now lives "near Stockwood".
She's an art historian and entrepreneur specialising in Russian art, and doing well out of the influx of rich Russians to London. Asked in 2014 why sales of Russian art was so popular Theodora replied that "A huge number of wealthy Russians have homes in London and reside in the UK". In the run up to the 2015 election she stated she set up her business in Bristol, however Companies House shows her business is registered in Kensington, London.
Theodora is the daughter of Sir Charles Mansfield Tobias Clarke, 6th Baronet, an aristocratic family with historic connections to rural Gloucestershire. Her uncle by marriage is Jacob Rees Mogg who infamously claimed that "UKIP are the natural allies of the Conservatives". Indeed, UKIP are deliberately standing down in East Bristol to give Theodora a "free run", according to a UKIP spokesperson quoted in the Bristol Post, "as the lesser of two evils". (Correction; A previous version incorrectly stated that Jacob Rees Mogg is knighted.)
The majority won by incumbent Labour MP Kerry McCarthy in 2015 is about half that of the 7,000 votes for UKIP, who came in third place, meaning that Bristol East now becomes a potential swing seat to the Tories.
This is not to say that Theodora couldn't adequately represent one of the most ethnically diverse and deprived areas in Bristol. However she has been notably absent from a prominent community campaign, 'Say No to MacDonalds in Fishponds', which she has claimed on Twitter to support. A spokesperson for the campaign says they haven't heard from her, while incumbent Labour Bristol East MP Kerry McCarthy and Labour candidate for Kingswood Mhairi Threlfall actively campaigned alongside the community.
To be fair, Clarke recently claimed to have organised 'East Bristol's first ever jobs fair' – though strangely all online references to this appear to have been removed, save a single photo, taken by the Conservative Deputy Mayor of Bradley Stoke.
Theodora and Boris
She was in Bristol East the other day, supported by Boris Johnson, a visit which unfortunately made the national news. As The Daily Mirror describes, 'gaffe-tastic' Boris had to apologise for using his visit to a Sikh Temple in St George to talk about reducing alcohol tariffs to India, much to the outrage of those in the temple.
On a previous visit this year Clarke brought along uncle Jacob Rees-Mogg. In 2013 Jacob distanced himself from the far-right Traditional Britain Group after attending a black tie dinner with the organisation.
One major issue much discussed in Bristol East is the need for social and affordable housing. It's interesting then to note that Jacob Rees-Mogg's wife's family home Wentworth Woodhouse received a £7.6 million hand-out 'for repairs' in Hammond's Autumn Statement last year. The chancellor justified this by claiming that Jane Austen had based a fictional manor house on the property, a claim subsequently rejected by the Jane Austen Society. Now refurbished with public money, Wentworth Woodhouse, the 'largest privately-owned house in Europe' is open to the public for weddings and corporate events. For £25 you can tour the 23 rooms and 57 acre.
So who is Theodora? She seems to work in London, UKIP are hoping she wins, and her uncle's family has benefited hugely from a budget which for many in Bristol East meant desperate austerity, especially disabled people when the Employment Support Allowance was cut to the bone.
If only they'd said they might be the inspiration for a novel.