Bristol's co-op businesses: Top tips for success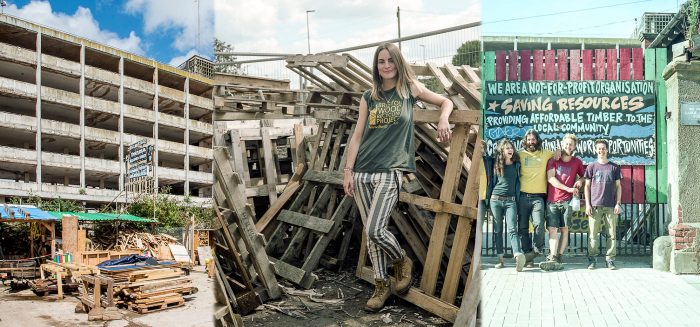 If you were inspired by the Cable's AGM, want to find out about other Bristol co-ops, or discover the top tips on how to set up or run a co-operative, take a look here.
Words: Kate Whittle and Maff Tucker
This article is by Kate Whittle and Maff Tucker, recent graduates of the Cable's Media Lab course, and in the case of Kate, a newly elected Cable director. They both have extensive experience in the cooperative movement: Kate has worked in and with co-ops for over 30 years including The Phone Co-op, Essential Trading in Bristol and Unicorn Co-operative Grocery in Manchester. Maff has worked with the Bristol Wood Recycling Project, Kebele Community Co-op and Hydra Bookshop.
What exactly is a co-op? Simply put it's a business run for the benefit of its members, be they customers (convenience stores), employees (Bristol's Kino Co-op), tenants (Cog Housing Co-op) savers and borrowers (Bristol Credit Union) or members of the community (the Bristol Cable).
"Self-organising and decision-making can be very rewarding, but at times equally challenging"
Being run for the benefit of members means that profits are ploughed back into the business or paid as member dividends instead of interest on investment being paid to external shareholders or distant owners.
We love co-ops and we think they are an important part of an economy that works for everyone, not just the 1%. But how do they work? Who makes the decisions if there's no boss? Since there are so many types of co-op, it's difficult to generalise, but key features are open membership, structures that allow decision-making to be delegated amongst teams or individuals, accountability to members and democracy – one member one vote.
"No bosses is a pretty big one!": What do Bristol's co-op workers like most about their workplace?
With many thanks to:
Ella Charles and Graham Knight at The Folk House Co-operative: offering a welcoming environment in which to explore your creativity and learn new skills.
James Lucas at Bristol Bike Project: repairing and relocating unwanted bicycles. Helping people from all walks of life get out on two wheels in an inclusive and empowering way.
Ollie Birch at Bristol Wood Recycling Co-op: aiming to save resources from waste, to provide affordable timber to the local community, to enable social inclusion and to remain self-funding.
Self-organising and decision-making can be very rewarding, but at times equally challenging.
Self-sufficiency; working with like-minded people; supporting the community.
I love being able to rely on my colleagues.
I love teaching and empowering, and being taught and empowered by the co-op.
I have most of the benefits of being self-employed, without the loneliness and pressure of working alone.
And we asked them to identify some key things that contributed to their success:
A very open-armed, inclusive beginning that welcomed and supported new initiative and enthusiasm. This meant that we gathered momentum and new energy quickly and easily. We became very outward-facing early on, whilst still remaining agile in the way that we organised ourselves and ran things and that mix definitely helped.
Having people aware of our objectives, principles and values means people go out of their way to support us. Our DIY environment also engenders a sense of empowerment in our customers, volunteers and staff. Blurring those boundaries go a long way, some staff were once volunteers, ex staff are still customers, customers are encouraged to come down and volunteer and learn new skills. So many people say that they love our yard and business (and tell us so often) and that is partly because we are so proud of what we do and the way we do it.