Carriageworks: New developer confirmed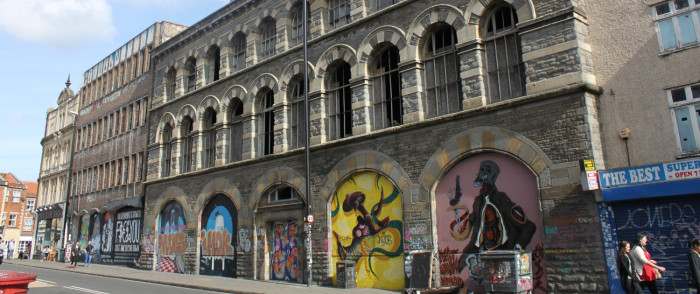 But will the issue of a paltry 9% affordable housing remain? PG Group to meet public at community meeting tomorrow.
A new developer has been confirmed for Stokes Croft's Carriageworks site.
PG Group confirmed to the Carriageworks Action Group that they had taken the contract for the site's freehold from Opecprime (aka Comer Homes).
The company aims to start work on the Carriageworks and Westmoreland House site with demolition starting in October 2017 – just three or four months away – and for construction to begin in January 2018.
On their website, PG Group describe a company philosophy which seeks to 'benefit the wider community' through its work. The company states that it donates some of its profits to a charitable trust, The Grant Bradley Charitable Trust, which according to Charity Commission information is a Roman Catholic-influenced charity aimed at anti-poverty initiatives in Bristol and abroad.
It is understood by the Carriageworks Liaison Group that the company plans to use the same plans as those that were previously granted planning permission in July 2016 – which included only 9% 'affordable' housing in a total of 112 units.
A crucial question for many locals will no doubt be whether the new owners are likely to up the offer of 9% affordable housing to 'benefit the wider community'.
The Cable has contacted PG Group for comment and will update this page as and when information becomes available.
Plans for the site's redevelopment have previously come under fire for lacking affordable housing and creating a rich 'gated community' in the heart of Bristol's supposed cultural (or counter-cultural) quarter.
A community meeting with PG Group hosted by the Carriageworks Action Group will take place tomorrow Wednesday 14 June, 6pm at the Kings Centre, King Square.
PG Group, a locally-founded firm has previously renovated Bedminster library and Old Police Station, and restored Grade 1 listed buildings in Portland Square. The company gave the following statement to the Carriageworks Action Group:
"The PG Group has acquired the site from Opecprime Properties Ltd with the benefit of the planning consent granted in July last year, and will now start work on a wide range of preliminary assessments," said Stuart Gaiger, PG Group Development Director.

Mr Gaiger said purchase of Westmoreland House would allow the creation of a development that could contribute positively to an already vibrant community and that the company had already made contact with the Carriageworks Action Group with a view to keeping the community involved in the development of the projected scheme.

"We want to deliver an enterprising development that respects and reflects the community ethos and, given the independent spirit that flourishes around the area, we look forward to some lively and interesting discussions."