Could tactical voting change this election?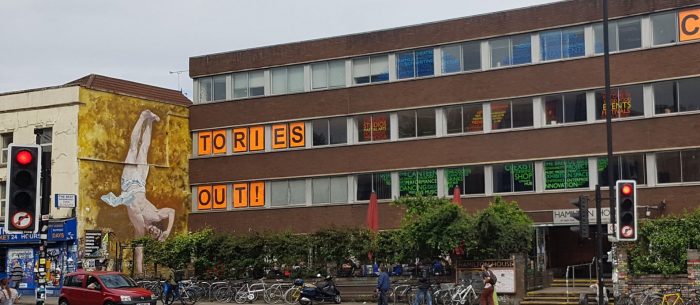 We look at how political alliances might have changed the last election, and how they might affect the results of this election.
Voting tactically this election may be the only way voters in Bristol can avoid a Conservative landslide on results day. With the 'progressive' vote (Labour, Lib Dem, & Green) diluted as the parties compete against each other, and the Conservatives absorbing the UKIP vote in everywhere but Bristol South, where they are fielding their only candidate in Bristol, the Conservative Party are set to win seats unless people vote tactically for the strongest 'progressive' party.
While political parties have generally resisted agreeing a progressive alliance, that has not stopped people in Bristol from forming their own grassroots campaigns to vote tactically.
Below we look at how the results of last general election, and the current one, might be changed by tactical voting.
Bristol East
In 2015 Labour won Bristol East against their main competitor, the Conservatives, by a margin of 3980. However, UKIP received 7142 votes. This time, UKIP are not fielding a candidate here, meaning the 7000 UKIP votes could pour into the Conservative vote share, topping the 4000 vote margin held by Labour.
Bristol North West
Bristol North West is the only seat in Bristol that was won by the Conservatives in 2015. Last month the Green candidate, Sharmila Bousa, stood aside to help Labour attempt to unseat the incumbent Conservative MP Charlotte Leslie.
Bristol South
Labour won here in 2015 by a healthy margin of 7128 votes, however this lead is not as secure as it might seem. The Daily Mail considers this seat to be a key battleground, where tactical voting by UKIP supporters in favour of the Conservatives could unseat the sitting MP, Karin Smyth. If 85% of the UKIP supporters in 2015 had instead voted Conservative, Labour wouldn't have won the seat in the first place. However, this is the only seat in Bristol where UKIP are still standing.
Bristol West
Bristol West is touted as a safe 'Tories won't Win here' seat, which the Greens have been eyeing up as a seat for their second MP. A Tory-UKIP alliance in 2015 would still have come in fourth place.
See the results of the 2015 General Election below.
Click on the filter options to see how political alliances, or tactical voting, would have changed the outcomes.
Special thanks to the Bureau Local for their assistance with data reporting.