Palestine to Bristol: Football, freedom and feminism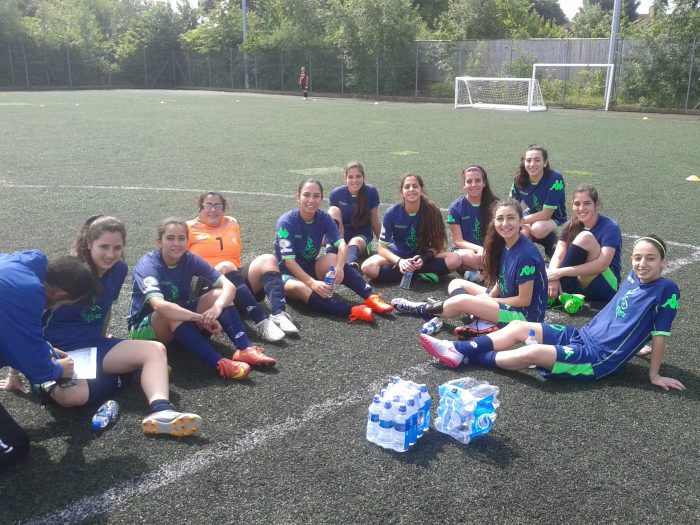 "We live surrounded by a wall, but through football we can break it down": the Palestinian women using sport to resist oppression.
Football is a way to break down barriers and reach across divides.
Palestinian women have been playing football in Bristol this past weekend. The women and girls of the Diyar academy in Bethlehem are from across the West Bank, part of a flourishing of women's football in the occupied territory. We caught up with the team in between matches at the Brunel Academy, where they were playing Bristol clubs as part of a UK tour.
For both them and their hosts, local club Easton Cowgirls, football is a way to break down barriers and reach across divides, share values of social justice, and defy stifling social attitudes. Diyar manager Rami Khader, who is accompanying the team on their tour, has seen a lot of barriers breaking and social attitudes being defied when it comes to women and sport in Palestine. A decade ago, there were six players at Diyar, while today there are more than 100 players and just under 20 teams across the West Bank, including players from the nearby Dheisheh refugee camp. Many parents are supportive of their daughters' chosen sport where a decade ago they would have been reluctant, and spectators who were nowhere to be seen then, now follow the teams with excitement.
Confident 17-year-old player Dalia Alsoos cannot imagine giving up football even if her life takes a more traditional turn.
"I say that if I get married or I have kids I will play. Because football cannot be only for one group of people … I can play something whenever I want. There's no limits."
She enjoys the chance to connect with other female players, like the Cowgirls, saying, "I think that we are related. Because football can join us together and we connect so much."
Diyar in action at Brunel Academy on Saturday
31-year-old Jackline Jazrawi loved football from an early age, but was criticised for it in her neighbourhood. Her family, by contrast, were supportive, and encouraged her to follow her passion. As female footballers are still rare in Palestine, she is keen for tournaments like this weekend's at Brunel Academy to help them transcend the limits of the occupation and get experience playing teams in other parts of the world.
Day-to-day, these players have to do what they love under difficult conditions. Cultural barriers may be porous, but physical barriers are not.
"Some of the girls come from Jerusalem," explains Khader, "and just coming to practice they have to go through a big checkpoint, where they get checked constantly and asked 'why do you go to the place' and things like that. So sometimes they reach training exhausted, tired."
One member of the Diyar team, who was refused a visa to come on the tour, lives in a village near a settlement, and risks harassment and violence every time she comes to practice. Jackline shares similar stories of uncertainty at checkpoints when trying to get to team meets, as well as the overall uncertainty in daily life, describing her experience of a 40-day army siege in Bethlehem.
"They made a curfew, and nobody could go out. We were like 40 days like this, hearing the bombs, hearing the shooting, and watching people dying, so we all live this."
However while the players describe the hardship in playing football under occupation, they see football itself as a tool for the broader struggle.
"We don't have our rights," says Dalia. "They kill us, they bomb us, they demolish our houses. And I think by football we can send a message to the world that we are talented, we are humans like everyone else, and we have minds and we are peaceful people."
Rami Khader points out that justice from occupation cannot happen without justice for women, and sees football fostering a women's revolution in the West Bank, with the surge in the number of players and teams in the last decade.
"We want women leadership in Palestine," he says. "…In 1920s the woman's movement was so strong, stronger than now, but the cycle of oppression is affecting women so hard … when men get oppressed by the occupation they take the role of oppressor.
"The people [can] advocate for social justice, gender justice, and development through football … because the occupation gets to destroy how we feel about ourselves as people. So I think football is a great way to cheer up the community, to tell people a message of hope.
"Then when they face difficulties out of checkpoints and the walls and the soldiers they have more strength to deal with them. Not only to deal with the occupation but also to creatively resist it."
In Jackline's day job she works for an organisation focused on rural areas, and regularly sees people who have had homes demolished and loved ones killed. However her passion for football makes her optimistic.
"The occupation makes us live in a small place and surrounded by a wall. But through football we can break up the walls, we can go and have exchange events, we can do whatever we want."
She is now at the age where she will stop playing with the team, but wants to stay on as a coach and pass her experience on to the next generation of girls and women playing for Diyar.
A team with a like-minded ethos of social justice, the Easton Cowgirls visited Palestine and played Diyar teams in 2014, making the film Balls, Barriers and Bulldozers about their experience. Having reunited with the Cowgirls this weekend the Diyar players will now move on to tournaments in Liverpool, Leeds and Sheffield.
A lively turnout on Saturday at the Brunel Academy, including several Bristol football teams and members of the Palestine Solidarity Campaign