Stokes Croft's Best Supermarket… and Bitcoin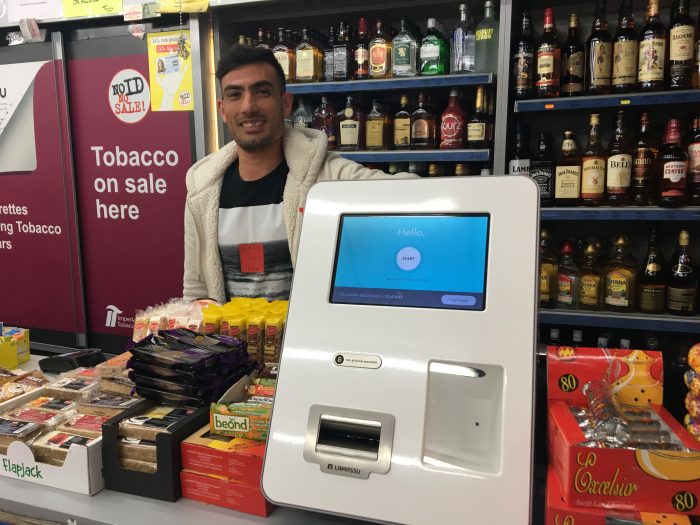 Who'd have thought that the unassuming corner shop could be home to a cryptocurrency ATM?
In lighter, totally random news unrelated to Westminster: if you ever fancy grabbing a snack at the Best Supermarket on Stokes Croft, by all means do. But as you're reaching over for that Snickers, check out the Bitcoin ATM.
Yes, you read that right. Turns out the Best corner shop next to Hamilton House is a trading post for the cryptocurrency Bitcoin. The shop's main stock and trade is still in selling fags, lollipops, endless selections of biscuits, booze etc., but it's also home to a Satoshi Point Bitcoin ATM.
Founded in 2014, the company is attempting to popularise and ease the use of Bitcoin – a decentralized peer-to-peer digital currency – which as of yet, continues to baffle most (See below for what Bitcoin is). But that's the point of these ATMs, they're simple to use and designed to appeal to people who aren't necessarily tech savvy enthusiasts.
It took a mate to point out the ATM, which is otherwise fairly inconspicuous on the shop counter. All those oblivious Snickers-buying trips and little had I known that sat right there, was a portal into a burgeoning underground currency market – quite a contrast to the shop front that hasn't changed in years.
Doing the maths on a giant calculator, Majid Khan, who works at Best Supermarket, said that if only he had bought Bitcoin when they'd first brought the machine into the shop a year and a half ago, he'd be loaded.
"It's crazy, loads of people use this underground currency," says a bemused Khan. Sure enough, as he talks, a person finishes using the machine after topping up a Bitcoin account with £30 in cash.
She asked not to be named. And that's understandable. As well as avoiding middlemen, and the currency being a relatively steady source of growth and security for investors, one of the reasons people use Bitcoin is for the relative anonymity it provides users.
The Bitcoin user in Best said it was her first time using the ATM. Apparently she'd been inspired to try it out after hearing a talk by one of the Bitcoin founders at the Secret Garden Party festival.
Will these ATMs, which charge a fee, be a passing fad or are they a sign of things to come? According to their website, a SatoshiPoint ATM has also made its way to Fade's barbershop in Filton. Who would have figured that a barber's and a newsagents could help popularise the use of cryptocurrency in Bristol and the south west?
What is bitcoin?
As summed up by Coindesk: "Bitcoin is a form of digital currency, created and held electronically. No one controls it. Bitcoins aren't printed, like dollars or euros – they're produced by people, and increasingly businesses, running computers all around the world, using software that solves mathematical problems.
It's the first example of a growing category of money known as cryptocurrency."
Bitcoin is used to buy a range of goods and services online. Increasingly, businesses of all shapes and sizes are starting to accept the currency, from tech giants Microsoft and Dell to pubs in London and Norwich.
So how do you use the ATM?
To buy Bitcoin:
Get started by scanning your wallet's Bitcoin address at the SatoshiPoint ATM.
Add funds by inserting bank-notes into the SatoshiPoint ATM.
Press the on-screen button to send the Bitcoins you just purchased to your wallet (the Bitcoin equivalent of a bank account).
To sell Bitcoin:
Send Bitcoin to address printed out from the ATM.
Wait up to 10 mins for one confirmation.
Redeem your cash with the printed ticket.