The council is still not publishing secret documents on housing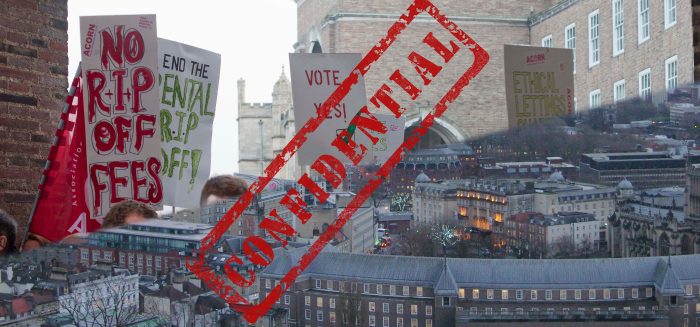 As yet another zero-affordable development gets going, delays hold back transparency policy
After long delays, the developer of St Catherine's Place in Bedminster is set to break ground on the first phase of the 188 unit development after successfully arguing they won't make enough profit if they include any affordable homes. But the public is still in the dark as to how they make their calculations to support this argument.
This is despite stated plans by the council to increase transparency on the issue of viability assessments following a community campaign, Cable investigations and a vote by cross party councillors in December 2016.
Viability assessments are the primary method used by developers to negotiate down council targets of 30-40% affordable units in major new developments. They can do so if they show they will make less than 18-25% profit.
However, the public is routinely denied access to these sums even though previous investigations in Bristol and beyond have shown the questionable nature of how they arrive at these figures.
A high profile recent example is the 40% decrease in affordable housing provision at the Battersea power station development in London. It was only later revealed the developer is set to make £1.8 billion profit on the project.
With the council struggling under restrictive planning law and policy the calls for greater transparency have been met sympathetically by cabinet member for homes and Labour councillor Paul Smith. Mr Smith gave assurances that when developers did not meet affordability targets the documents would be published as a matter of course.
While some have been released in dribs and drabs, mostly following Freedom of Information requests by the Cable, the policy is still not in place despite the vote by the councillors 7 months ago. The council are however making significant ground on other housing initiatives such as the 130 unit Alderman Moore site in south Bristol with 40% affordable homes.
Asked to explain the delay, Councillor Paul Smith said "The new affordable housing practice note which covers this is being written by our officers now. We need to ensure it is robust enough to cover the issues effectively, [in the meantime] some of our approaches have already changed".
The council has agreed in principle to phase two of the St Catherine's place development which will include 143 units. It is not clear at current what proportion of affordable homes will be included.
Off the back of several Cable investigations and a campaign led by community union ACORN, in December 2016 councillors approved a Green Party motion to publish viability reports when developers attempt to avoid affordability obligations. Bristol councillors followed the lead of Islington, Greenwich and Lambeth councils, and now it falls to Marvin Rees and his team to give force to the motion. With several major developments on the horizon, it's of crucial importance for the city that this happens pronto!