Driven underground: Bristol's continuing Spice problem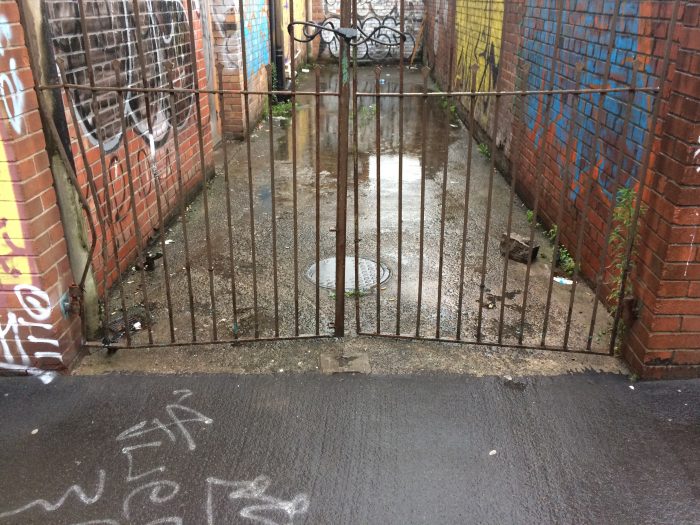 A year after the blanket ban of new psychoactive substances, evidence shows limits and effect on most vulnerable people.

Photo: Alec Saelens
"I'm worried now that if I leave my son for a couple of hours, I'll go back and he's gonna be dead." Andy Thorton's 17-year-old son is a Spice addict. They are both homeless, sleeping rough in the centre of Bristol.
credit:
wikipedia
Spice, the common name for synthetic cannabinoids, a highly potent and addictive synthetic version of the herbal drug, is just one of the substances outlawed by the blanket ban on legal highs introduced a year ago.
As the government claims a successful crackdown on new psychoactive substances (NPS) that could previously be bought from shops, evidence and analysis from people on the frontline shows that the ban has failed to reduce the harm for vulnerable populations like the homeless and disenfranchised young people.
The broad scope of Psychoactive Substances Act (PSA), introduced in May 2016, was widely criticised, because instead of considering possible harms to the health of user, it outlawed anything "capable of producing a psychoactive effect", which included a wide range of substances, including the now notorious Spice, which is ruining the lives of those on the fringes of society.
Taking a hit
Thorton's son is just one of these people. After getting a call six months ago, he went to find his son: "He was literally on the floor, he was drooling, his eyes were in the back of his head. We didn't know what it was so we phoned an ambulance and that's when we found out he'd had a Spice attack."
The pair had been staying in their car, but it was burnt out because of disputes over unpaid debts – what he called the "Spice wars".
"If you went to Castle Park now, there'd be 30-40 kids up there, where you can buy it, smoke it and then spend the rest of your life trying to work out what happened."
"I think it's a release for him to try and get away from the situation we're in. He feels guilty because I've got a room for me, but if I take it, I'd have to leave him on the street."
Danny Kushlick, founder of Bristol based drug policy think-tank Transform, which campaigns for drug legalisation, says: "It isn't a story about drugs, it's a story about distress in the same way as heroin and crack, which are used by people who want to escape their shitty lives."
Superficial crackdown?
Almost overnight more than 300 headshops stopped selling the substances over the counter and 31 were shut down nationwide.
Even those who have seen the deadly effects of NPS oppose the ban. Bristol University student Josh Torrance saw a friend die after taking a legal high bought from a shop. "It was at a party down in the countryside. There had been a spate of people getting into a particular stimulant legal high. He wandered off and was later found dead. We don't know what the fuck he died from."
Despite this personal experience, Torrance, now an activist with the Students for Sensible Drug Policy, doesn't support the ban, which he believes was implemented in a "hugely irresponsible fashion", as kilos of unsold stock were passed onto local dealers or snapped up at low prices. "Literally the night after the ban you could ring a black-market dealer and have it delivered to your door 24/7."
However, a recent report by Drugwise concluded that its primary aims had been achieved: "Firstly, to close down retail outlets, and second to stop the legal cat and mouse game whereby a drug would be banned only for the chemists to render the drug legal once more by slightly changing the formula."
During the first six months nearly 500 people were arrested, including both street dealers and those who'd previously sold the products in shops.
Almost overnight more than 300 headshops stopped selling the substances over the counter and 31 were shut down nationwide. During the first six months nearly 500 people were arrested, including both street dealers and those who'd previously sold the products in shops.
Jeremy Sare of Mentor UK, a charity that lobbied for the legislation, says: "So far it has done what it has set out to do. If you take so many shops out of the supply chain then that's a lot of material that's no longer in circulation."
He argues that only "a relatively small proportion" of the market has gone underground, that the substances will lose their appeal as they become more expensive and less easily available, and that when stockpiles run out there won't be high enough demand in the homeless community and in prisons to sustain the replenishing of supplies given there are other lucrative drug markets.
Ban side effects
However, Kushlick strongly disagrees: "How we've dealt with NPS makes a mockery of the whole policy making process. They are a product of the prohibition of more traditional drugs so the idea of applying a second prohibition is almost criminal stupidity and incompetence."
"The problem is that the Home Office isn't interested in reducing harm. It had only one goal, which was to close headshops, so with that they've done great, but the job of government is to protect its citizens and they can't show the PSA has done that."
"It's all cosmetic," says Caroline Chatwin, Professor of Criminology at University of Kent. "The Act makes it look like the government is taking it seriously. The Act has been quite effective because it's made the public feel like it's disappeared, but from the perspective of people whose lives are actually blighted by these substances, I doubt it's having any positive impact at all."
Rick Bradley of charity Addaction, who works with young drug users, hasn't seen any impact whatsoever on stigmatised populations like kids in care, young offenders, and those no longer in mainstream education:
"The problem hasn't gone away, it's just increasingly disenfranchising already disenfranchised groups… They don't really care if it's illegal if it gives them the opportunity to block out whatever is going on in their life, whether it's having a dysfunctional home life or no job."
"What has changed is that supply has gone into the hands of street dealers," which for these vulnerable young people creates "increased risks of mugging, drug debt, people being exploited as drug runners, or for sexual exploitation, particularly with young females."
For these groups in cities like Bristol, it's hard to escape Spice. Thorton talks about how lots of dealing used to happen outside a particular homeless shelter. "By the time they opened the doors at 10:30, there'd be men outside being sick and comatose, ambulances were being called five times a day, they had to shut the café, throw away all the food so no one could eat," he says.
Dealers often simply set up near former shops and in city centres to peddle the product alongside heroin, cocaine and cannabis. As predicted, prices have gone up, variation in strength has increased and the amounts sold are less consistent.
A street level gram can now range from 0.5g to 0.8g. Instead of paying £10 for 1.5g, users can now pay £40 for the equivalent amount.
Thorton says dealers are making more off the drug than they ever did from crack and heroin, and that they deliberately get people hooked by offering them cannabis laced with Spice. He lists off recent violent episodes in central Bristol, including stabbings related to Spice.
Shifting policy
A staunch opponent of the ban, he blames it for spiralling potency, unpredictability and related crime: "I think the government is responsible. It's OK to ban something but it's the fallout afterwards, it's the people addicted to it now – they need help now." Although critical of the government, he is full of praise for Bristol Drugs Project and their attempts to minimise the drug's hold on the city.
Observers suggest that, one year on, the legislation has reduced non-problematic, experimental use, but problems persist among disenfranchised populations like the homeless, the prison population and disenfranchised young people.
Prevalence of NPS is small compared to traditional illegal drugs, but as synthetic cannabinoids have now been classified as Class B drugs, they are added to the long list of problematic drugs that destroy the lives of vulnerable people.
The Home Office has just announced their 2017 drug strategy, with a renewed focus on NPS and supposedly more reliance on harm reduction, including closer collaboration between sexual health services and other relevant groups, and better support to help users find housing and employment. Although welcomed by some, it lacks extra spending commitments and for many represents too small a step in the right direction.
Transform's Martin Powell said: "It won't protect young people and communities because it is the same failed old recipe of criminalisation and under-funding. It doesn't even acknowledge the existence of measures proven to save lives and reduce crime – from decriminalising people who use drugs, to safer drug consumption rooms and heroin prescribing."
As Thorton tries to help his son get his life back on track, he wants exactly this approach: "The government should legalised weed, regulate it, and tax it – if it's legal the appeal of Spice might not be there anymore."
In a mixture of pessimism and optimism, Kushlick says: "Over the next 5-10 years, even drug policy here will shift – just don't expect the UK to lead the way."

*Names of vulnerable people have been changed