Edition 12 OUT NOW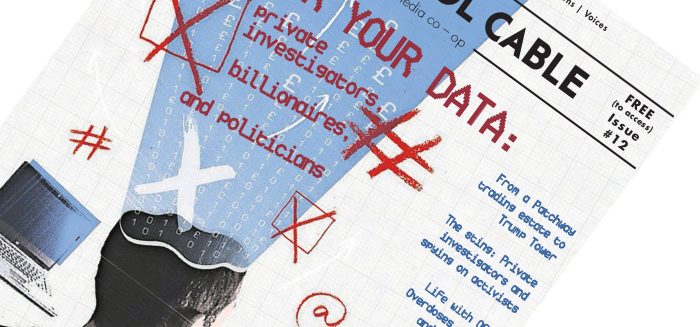 READ MORE FROM
THE 12TH EDITION
Welcome Bristol Cable readers,
It couldn't be clearer that the media landscape in the UK is seriously broken. Throughout the election period the rightwing press gave a glaring demonstration of their attitude towards fair and accurate reporting.
Attack-lines straight from the Conservative party playbook were relentlessly pumped out, and it set the terms of the debate. When so many voters start from the position that the leader of the opposition is a 'far-left extremist' and 'terrorist sympathiser' it makes it pretty hard to have a rational debate about policies.
Maybe this time they pushed it too far. We were told that a Conservative victory was a foregone conclusion, and millions of people around the country called 'bullshit'. By the time the dust had settled after the election, most of the mainstream media had proved once again just how out of touch it is with the rest of the country. While the press focused on broadcasting their own message, they forgot they're supposed to listen too.
Darker and more dangerous things happen when the media stops paying attention to the communities they serve. It wasn't just the contractors and the council that failed the residents of Grenfell Tower, it was the media too. Although the hyperlocal blog, Grenfell Action Group, knew exactly what the problem was and tried its best to warn everyone about it, the warnings went ignored. When the Kensington and Chelsea News – the only weekly local paper in a borough of 160,000 people – has only one reporter, is it any surprise?
Journalists are supposed to be the backstop to inaction by the authorities, but we can only do it if we have two things: time and trust. We need the time to get out and about speaking to people, whereas all too often we find ourselves overwhelmed by the grind and chained to our desks. And we need the communities we serve to trust us – to take their concerns seriously and report on them fairly.
While we're nowhere near perfect we think that a cooperative model of journalism, owned and run by its members, is a hell of an improvement on most news organisations. So if you're not happy with the way the media landscape looks right now, take control of it and join us in trying and make something better: a journalism that's more responsive and more responsible.


Yours,
The Bristol Cable Team