Factory farms: Six-fold increase in Gloucestershire and Somerset permits since 2010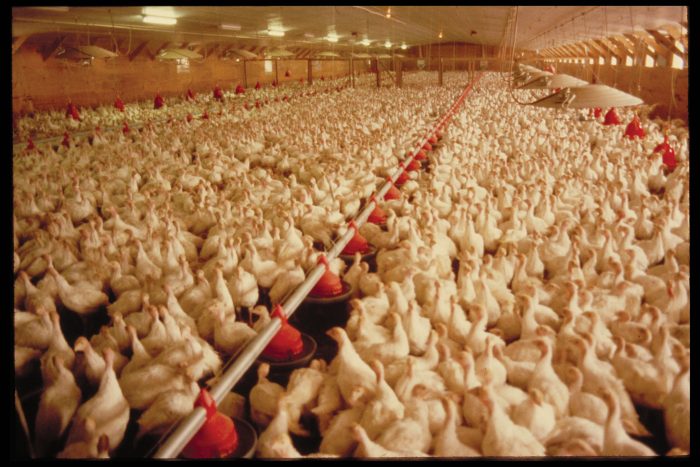 Intensive farming has rapidly expanded across the UK in the last decade. The Cable takes a look at the south-west picture.
There have been huge increases in the number of intensive farms in the UK, recently released data from the Environment Agency shows – and Bristol's rural neighbours of Somerset and Gloucestershire have witnessed rapid growth of the industry in the last decade.
The number of permits issued for new 'intensive farms' in the Somerset and Gloucestershire regions has increased six-fold since 2010, from ten to over 60. Nationally, the number has increased by a quarter in the last six years.
The Bureau of Investigative Journalism retrieved data on the number of intensive farming permits issued by the Environment Agency. Intensive farms are those with a capacity of over 40,000 poultry, 2,000 production pigs or 700 breeding pigs. In Gloucestershire and Somerset combined, over 60 intensive farming permits were issued between 2007 and 2017.
These included 32 US-style 'mega farms', according to the US Environment Agency definition of a 'concentrated animal feeding operation' (CAFO) for farms with livestock capacities of over 125,000 broiler chickens, 82,000 laying hens, 2,500 pigs, 700 dairy cattle or 1,000 beef cattle. (There is no equivalent UK definition.) Nationally, there are nearly 800 'mega farms'.
The growth of the industry is controversial. Large scale producers say intensive methods are necessary to meet consumer demand and that welfare, hygiene and environmental impacts can be mitigated in well-run operations. Yet animal welfare charities say such farms are cruel and unnecessary, and they have previously come under fire for levels of salmonella and campylobacter bacteria in produce.
'Factory farms' have also been criticised for overuse of antibiotics, which enter the food chain and contribute to increasing antibiotic resistant infections in humans. Intensively reared pigs and poultry account for 85-95% of all antibiotics used in farming, according to research by the Soil Association. Bristol East MP Kerry McCarthy, when shadow secretary for Environment, Food and Rural Affairs, spoke out about the need for firm targets to reduce antibiotic use in farming.
"The increase in these very large indoor units is worrying from a number of perspectives," says Soil Association chief executive Helen Browning. "If a problem emerges, such as disease, or a breakdown in ventilation systems, it can very quickly become a welfare catastrophe. Eradicating disease in such large flocks and herds can be extremely difficult, as vets increasingly acknowledge. The animals have no opportunity to experience a good life."
"It makes no sense environmentally either. Very large quantities of feed travel huge distances to supply the CAFO, and then the manure (usually described as 'waste' when it should be a valued resource for surrounding farmland) becomes a disposal problem."
The majority of the intensive farms in the Gloucestershire and Somerset regions are poultry (52) while the remaining nine are pig farms. The closest farm to Bristol, in South Gloucestershire, is one of three in the region which is owned and operated by PD Hook, one of the country's largest poultry and chick producers that is able to produce 10 million day-old chicks and 6 million chickens a week, according to the company website.
Hook2Sisters, a poultry producer that is 50% owned by PD Hook has a further four farms in the area. The companies supply all major supermarket chains and restaurant chains such as Nando's. The growth in intensive farms is partly attributed to high customer demand for low cost meat.
Despite the rapid increase, the Somerset and Gloucestershire regions are nowhere near as popular with intensive farming as other regions in the UK. Counties such as Norfolk have emerged as the country's capitals in intensive farming. Norfolk is home to over 70 'mega farms'.