Breaking: Future of Hamilton House in Stokes Croft thrown up in the air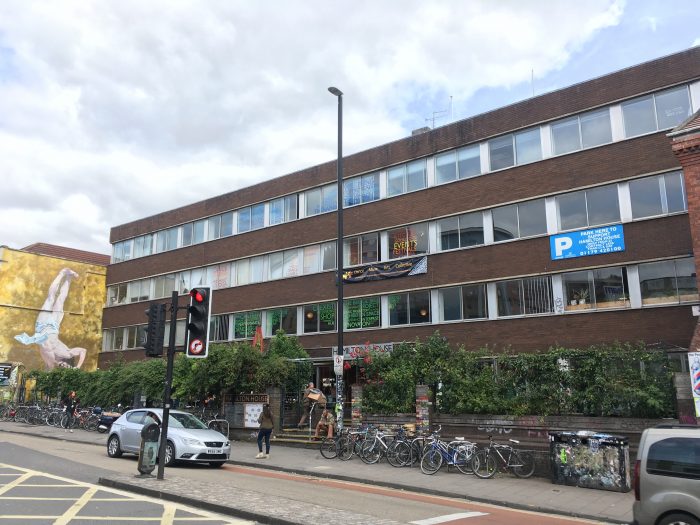 The future of  Hamilton House, an iconic social enterprise and community hub on Stokes Croft, has been made uncertain.
Connolly and Callaghan (C&C), the business that owns Hamilton House, has issued an unexpected formal demand that the property is made vacant by Coexist the social enterprise that has managed and created the space since 2008.
The "vacant possession notice" sets a deadline of August 11th. However, the notice was also accompanied by verbal statements from representatives of C&C that none of the 200 organisations, projects and artists that inhabit the building would be expected to leave, and that new terms of a lease would be offered to Coexist. These seemingly contradictory messages from C&C, have confused tenants and Coexist alike, as to the future of the building.
Danny Balla, a spokesperson for Coexist said they "were shocked and dismayed" to receive the notice and although the notice to vacate gives "the community mixed messages, we are dedicated to continuing the dialogue to secure a positive solution and making Hamilton House a community asset in perpetuity". Danny Balla continued that
"Coexist has sought legal advice on this confusing contradiction to establish its legal position and what appropriate action to take […]. On the 12th July Coexist instructed lawyers to act not only on our behalf, but on behalf of all of our licensees [organisation and individuals that rent space], however we do appreciate C&C's assurance that no one will be asked to leave the building, and continue to await legal documents to that support this."
This recent development follows a period of instability since November 2016 when property owners C&C triggered the process to sell the large building. A subsequent purchase bid of £5.5 million by Coexist was rejected, sparking rumours that C&C intended to sell or develop the building into apartments. The building was originally bought by C&C for £2.1 million in 2004. In 2012 the council granted a planning application by C&C to develop the building into 79 units with on site affordable units, though this application has now expired.
In a press statement, Andrew Baker a spokesperson for C&C said, "C&C is taking this action with the aim of providing future certainty for members of the Hamilton House community in view of the expiry of Coexist's lease". Mr Baker alluded to the possibility of the conversion to an apartment block saying that "C&C is examining the viability of developing a portion of the building to create a true mixed-use scheme [residential and commercial], in accordance with the original vision."
When the Cable asked Mr Baker the reason for the notice, and to explain why the lease was not rolling on year to year as it had done since 2008, Mr Baker said, "There are a number of complex issues at the moment." Mr Baker would not go into what those complex issues are.
Mr Baker said that ""Rents at Hamilton House will not be increased by C&C, although some who are presently paying no rent may asked to contribute if they wish to stay." The final decision is held by sole company director Martin Connolly. It has been rumoured by tenants of Hamilton House that he is on a retreat in India and proving hard to reach.
The apparent lack of clarity and unexpected nature of the notice to vacate has created frustration and concern about the future of the building and the area. Danny Balla added that "While Coexist can and always has appreciated the need for C&C's 'commercially flexible' approach, the ramifications of this not only on the financial aspects of Coexist as a business, but on the emotional and mental well-being of all involved have been significant."
C&C are involved in multiple business activities such as eco-housing and the provision of temporary emergency accommodation. In 2016 a Cable investigation showed how C&C had evicted settled tenants, in order that the purchased block of flats could be turned into emergency accommodation which can attract highly lucrative rents paid by Bristol City Council.